Client News: Linetec hires Jason Morrey as safety manager
Posted on October 5th, 2020 by Heather West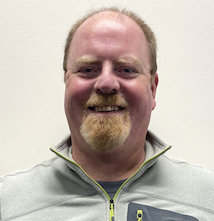 Wausau, Wisconsin (Oct. 2020) – Jason Morrey joins Linetec as a safety manager. He will collaborate across all departments to continue building on Linetec's award-winning safety culture. Reporting to Mike Schauls, vice president of operations, he will be responsible for developing and leading the company's safety programs, injury prevention and compliance initiatives.
"Linetec's culture and core values put safety as our first priority," said Mike Schauls, Linetec's vice president of operations. "Each department and every person plays a role in supporting the safety of our associates."
Schauls added, "Linetec maintains an exceptional safety record far better than the three-year industry average." Honoring its safety record and culture, Linetec won a 2017 Wisconsin Corporate Safety Award from the Wisconsin Safety Council. For metal finishing and coating businesses, the U.S. Occupational Safety and Health Administration reports a three-year industry average injury incident rate of 5.0. To date, Linetec's estimated incident rate is 1.0 for the 2020 calendar year.
Enhancing Linetec's safety programs, Morrey draws from 24 years of manufacturing experience and more than a decade in safety, health, security and property protection programs. Most recently, he served as the corporate safety and health manager for Verso Corporation's four paper manufacturing facilities and 2,800 employees. Prior to joining Verso in 2011, he served as a safety advocate for NewPage Corporation in Stevens Point, Wisconsin.
A long-time resident of Mosinee, Wisconsin, Morrey studied occupational health and safety at Alabama-based Columbia Southern University.
Learn more about joining Linetec's growing team of associates by visiting https://linetec.com and clicking "Careers" at the top of the page.
About Linetec
Located in Wisconsin, Linetec serves customers across the country, finishing such products as aluminum windows, wall systems, doors, hardware and other architectural metal components, as well as automotive, marine and manufactured consumer goods. The company is a subsidiary of Apogee Enterprises, Inc. (NASDAQ: APOG).
Linetec is a member of the Aluminum Anodizers Council (AAC), the American Institute of Architects (AIA), the Association of Licensed Architects (ALA), the Fenestration & Glazing Industry Alliance (FGIA), the National Glass Association (NGA) and the U.S. Green Building Council (USGBC).
###
---
Filed under: Linetec
---
Story Resources
Portrait: Jason Morrey
Word document
Request high res photographs for publication