Association News: Window Safety Week observed April 4-10
Posted on March 29th, 2021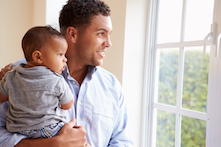 Schaumburg, Illinois - As spring arrives, the Window Safety Task Force, in partnership with the National Safety Council, encourages parents and caregivers to recognize the importance of practicing window safety during Window Safety Week, being observed April 4-10. However, open windows any time of year can be dangerous for young children who are not properly supervised. These measures and levels of supervision have been even more important in the last year, as the spread of COVID-19 has led to many families to stay indoors for long periods of time.
"Because of the pandemic, families are sheltering in place and children have been home from school, meaning the risk for window falls increases," said Angela Dickson, co-chair of the Window Safety Task Force. "To avoid needless tragedies, the task force asks those in the industry to share window safety tips to keep children safe – post tips on your website and share via social media to help spread the word."
Each year, the Window Safety Task Force takes the first full week in April to educate on the importance of practicing window safety year-round.
"Falls from a window can result in serious injury or death and pose an especially dangerous threat for children," said Jeffrey Inks, senior vice president, advocacy, co-chair of the Window Safety Task Force. "Installing window opening control devices that are compliant with ASTM F2090 prevents a window from opening more than four inches, avoiding accidental falls."
Every year, about eight children under age five die from falling out a window, and more than 3,300 are injured seriously enough to go to the hospital.*
To protect children, the Window Safety Task Force offers the following tips:
1. When young children are around, keep windows closed and locked.
2. When opening a window for ventilation, use those located out of a child's reach.
3. Avoid placing furniture near windows to prevent young children from climbing.
4. Don't allow children to jump on beds or other furniture to help reduce potential falls.
5. Don't rely on insect screens to prevent a window fall. Insect screens are designed to keep bugs out, not to keep children in the home.
6. Supervise children to keep child's play away from windows, balconies or patio doors.
7. Install ASTM F2090-compliant devices designed to limit how far a window will open or window guards (with quick-release mechanisms in case of fire or other emergency) to help prevent a fall.
Visit the window safety sections of the FGIA and WDMA websites to learn more. Follow the Window Safety Task Force on Twitter and Facebook for more tips and updates on this important safety issue. Additionally, an infographic providing window safety tips is available for download and use on social media.
* According to Safe Kids Worldwide's 2015 Report to the Nation: Protecting Children in Your Home
About the Window Safety Task Force
The Window Safety Task Force was formed in 1997 to promote greater awareness of window safety. The task force is comprised of members representing the Fenestration and Glazing Industry Alliance (FGIA) and the Window & Door Manufacturers Association (WDMA) in cooperation with the National Association of Home Builders (NAHB), and other organizations, as well as manufacturers of windows, doors and screens. The National Safety Council is a mission-based organization, focusing on eliminating the leading causes of preventable death so people can live their fullest lives.
###
---
---
Story Resources
Word document
Request high res photographs for publication