Client News: Jessie Eccles Quinney Ballet Centre features Valspar high-performance PVDF finishes
Posted on June 18th, 2015 by heatherwestpr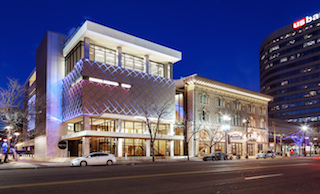 Constructed during the 50th anniversary of Salt Lake City's Ballet West, the new Jessie Eccles Quinney Ballet Centre opened as scheduled for the 2014 production of "The Nutcracker." Helping distinguish this new cultural center, Valspar's Fluropon® coating systems were selected in four colors for the building's exterior wall panels, automatic entrances, louvers, interior metal doors and storefront, column covers, skylights and other aluminum framing systems.
Designed by HKS Architects, the 68,000-square-foot, $24 million facility is owned by Salt Lake County Center for the Arts. Housing Ballet West and the Ballet West Academy, the new dance center contains five rehearsal studios, an expanded costume shop, event and entertaining spaces, offices for artistic and administrative staff, and an expanded public lobby that connects with the historic Capitol Theatre lobby. With respect to its surrounding community and environment, and in accordance with Salt Lake County building standards, the project was designed, built, and certified to the U.S. Green Building Council's LEED® Gold criteria.
General contractor Okland Construction sought to achieve all of the project's goals. The groundbreaking was in September 2013 and construction was completed the following year. Working closely with Okland, Steel Encounters installed many of the project's finished architectural products.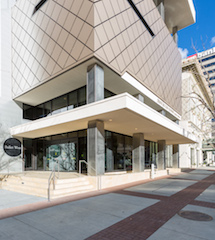 Utah-based Ameritech applied Valspar's coatings to the formed metal wall panels and metal plate wall panels. The exterior metal wall panels' diagonal pattern and Champagne Bronze color finish, visually connect the new building to the brick patterning and terra cotta façade of its 101-year-old neighbor, the recently renovated Janet Quinney Lawson Capitol Theatre.
"The brick pattern is reinterpreted in the diagonal metal panel rain-screen system with integrated color-changing LED backlighting," explained Brian Junge, director of design at HKS Salt Lake City. "The new building edifice takes numerous cues from the historic building and interprets the classic design in a modern way. This similar, but different approach is the essence of the overall project, as the new building relates in many ways to the scale, proportion and color palette of the old building, but interprets these elements as contemporary abstraction."
Welcoming patrons to the new building, the Center's automatic entrance systems were manufactured by Kawneer, as were the louvers, interior metal doors and storefront, column covers, skylights and other aluminum framing systems. All are finished in Valspar's 70 percent PVDF resin-based Fluropon coatings in Gatwick Silver, Black, Dark Bronze or, matching the exterior wall panels' Champagne Bronze.
"Whenever more than one architectural product manufacturer or finishing applicator are collaborating on a single project, careful coordination is needed to ensure the correct color match. Our architectural coatings experts assist with color evaluation, performance recommendations and product selection," says Jeff Alexander, vice president of sales for Valspar's global coil and extrusion businesses. "For Ballet West's new facility, our Fluropon coatings provide color retention, long-lasting performance, reliable quality, batch consistency, application ease and highest value."
Valspar's Fluropon coatings meet or exceed the American Architectural Manufacturers Association's stringent standard, AAMA 2605 high-performance exterior specification. Fluropon demonstrates reliable performance including resistance to harmful ultraviolet rays, chemical degradation, abrasions and humidity. These attributes and proven durability also support green building goals as the project seeks LEED Gold certification.
In addition to creating an environmentally responsible, world-class facility, "we believe it will become an important anchor in the Salt Lake Cultural Core, attracting new businesses and audience members, and increasing our capacity to service the community," predicted Scott Altman, Ballet West's executive director.
Previously serving more than 100,000 students and teachers each year, the new space allows the Ballet West Academy to quadruple its existing programs and enrollment, and to improve the quality of educational programs for pre-professional dancers. The program expansion supports new opportunities to reach a larger audience.
Recognizing the project's achievements, the new Jessie Eccles Quinney Ballet Centre earned the Utah Construction & Design 2014 Outstanding Projects of the Year – Entertainment.
**
The Jessie Eccles Quinney Ballet Centre, 52 West 200 South, Salt Lake City, Utah; https://www.balletwest.org
* Owner: Salt Lake County Center for the Arts; Salt Lake City; http://www.slccfa.org
* Architect: HKS Architects, Inc.; Salt Lake City; http://www.hksinc.com/offices/salt-lake-city
* General contractor: Okland Construction; Salt Lake City; http://www.okland.com
* Specialty contractor: Steel Encounters; Salt Lake City; http://steelencounters.com
* Entrances, skylights, storefront, louvers and column covers – manufacturer: Kawneer Company, Inc.; Norcross, Georgia; http://www.kawneer.com
* Wall panels – architectural coatings applicator: Ameritech; Salt Lake City
* Architectural coatings provider: The Valspar Corporation; Minneapolis; http://www.valsparinspireme.com
* Photos by: Dana Sohm
###
---
---
Story Resources
Word document
Request high res photographs for publication