Client News: EFCO partners with Armoured One to develop the industry's first shooter attack-tested windows, entrances, storefront and curtain wall
Posted on December 7th, 2021 by Heather West
Monett, Missouri – EFCO Corporation and Armoured One have signed an agreement to partner on the development of the industry's first complete fenestration assemblies to successfully pass the Shooter Attack Certification Testing method.
The assemblies include EFCO's high-performance, aluminum-framed curtain wall, storefront, entrance and window systems. All are glazed with Armoured One's 1-inch insulated glass with a proprietary, attack-resistant interlayer. The rigorous, independent testing process by Filti Testing & Development is certified by the National Safety Security Protection Association (NSSPA) for protection against active shooter attacks.
"We are honored to be partnered with Armoured One on this very exciting product, which not only provides a designed, tested product for the market, but more importantly improves the available life-safety protection within our nation's buildings," said EFCO's president, Chad Hoffmann.
Hoffmann continued, "By combining the glazing technology of one of the premier security glazing firms in the business with the design expertise and technical knowledge within the EFCO brand of products, we are now able to provide a high-quality, tested solution, which addresses a growing need within the security glazing space. We couldn't be more proud of bringing a product to market that is certain to have the impact that these EFCO products will have in protecting the occupants of buildings."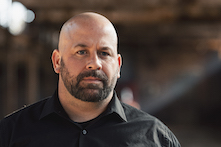 Tom Czyz, CEO of Armoured One, agreed and added, "Armoured One's mission is to save lives from active shooters and violent attackers. We needed a partner with the leading manufacturer in the glass, door and window industry. We also needed a company that wanted to step up and protect our nation. EFCO not only answered the call, but helped bring security to the next level. It was clear the team at EFCO wanted to offer its customers a solution that worked. This partnership will provide additional security and protection for America's schools, businesses and government buildings."
"Security products are always evolving, but the way in which they are tested tends to fall behind. EFCO and Armoured One joined forces to test complete assemblies," explained Czyz. "The product is only as strong as the weakest component of the total assembly. The goal is to slow down attackers, giving the people inside more time to react, and emergency response teams more time to arrive at the scene and defuse the situation."
Improving upon existing industry standards, the Shooter Attack Certification Testing method adds ballistic testing immediately prior to impact testing. The glass is shot 10 times with an AR15 .223 round and then hit with a 100-lbs. ram at a minimal force of 50-ft.-lbs. After being shot the glass is struck minimally two times at 50-ft.-lbs. of force by the ram and must stay together. Impact force is continually increased until a breach occurs. The tested specimen demonstrates how the whole product assembly would perform if an active shooter were to attack.
Headquartered in Monett, Missouri, EFCO Corporation is a leading manufacturer of architectural aluminum window, curtain wall, storefront and entrance systems for commercial architectural applications. The company is a subsidiary of Apogee Enterprises, Inc. (NASDAQ: APOG).
To learn more about EFCO Corporation and its products, please visit www.efcocorp.com or call 800-221-4169.
###
---
---
Story Resources
Portrait: Chad Hoffman, EFCO Corporation, President
Portrait: Tom Czyz, Armoured One, CEO
Word document
Zipped folder with two portraits and Word document
Request high res photographs for publication