Client News: Linetec publishes five brochures on its expanded capabilities and its anodize, paint and specialty finishing services
Posted on August 8th, 2019 by Heather West
As a single source solution for anodize, paint and specialty finishing, as well as value-added services, Linetec has published five new brochures available for download or, by request, in print.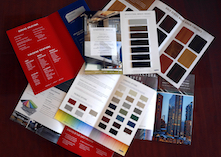 The anodize and painted finishes brochures present benefits, specification criteria, care and cleaning, and describes Linetec's color choices, processes, quality control, material size guidelines and warranties.
* "Anodize Finishes: Beauty made to last" highlights the metallic aesthetic, durable performance benefits and the American Architectural Manufacturers Association's AAMA 611 specification standard for Class I and II anodized aluminum. Linetec offers clear, champagne, light bronze, medium bronze, dark bronze, extra-dark bronze and black as standard anodize colors.
* "Paint Finishes: Unlimited choices" showcases Linetec's premiere and standard color options, and its custom color matching and in-house blending services achieve any imaginable hue meeting AAMA 2603, 2604 and 2605 standards. In addition, the brochure promotes Linetec's online "Select and Spec" tool to order paint color samples from more than 50,000 coating colors.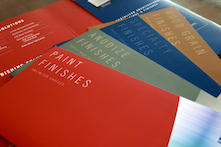 "Specialty Finishes: Unique & durable aesthetics" provides an overview of Linetec's innovative, proprietary finish options for architectural aluminum products. The brochure features:
* Copper Anodize that retains its shiny appearance, unencumbered by salt run-off stains, galvanic corrosion and patination
* Brushed Stainless Anodize that delivers a cost-effective, lightweight alternative to real stainless steel
* Terra Cotta coatings that mimic the texture and appearance of natural terra cotta at a lower cost and with a shorter lead time
* Anti-microbial painted finishes helping to inhibit the growth of stain- and odor-causing bacteria for 24/7 protection
* Spattercoat finishes combining multiple colors, depths and textures to simulate natural marble, stone and brick, or create unique, custom patterns
* Wood Grain painted and textured finishes without the maintenance of actual lumber
"Wood Grain Finishes: Maintenance-free beauty" elaborates on the Specialty Finishes brochure's summary and displays the 16 Gold Series textured wood grain finishes. Unlike natural wood, the Linetec's wood grain finishes for aluminum do not swell, rot, warp or attract insects. These durable finishes are fire retardant; resist corrosion, water and humidity; and meet the stringent standards of AAMA 2604.
"Beyond finishing, Linetec seeks to provide greater value to our customers by offering additional services that are both upstream and downstream of the finishing process," said Linetec's marketing manager Tammy Schroeder, LEED® Green Associate. "These additional services provide customers with a single source solution and typically save you freight and lead time."
Along with Linetec's new Service Capabilities brochure, these value-added services are featured on the website's Services section and include:
* Aluminum stretch forming
* Thermal improvement services – poured-and-debridged or thermal strut
* Stock flat sheet and extrusion
* Linetec Managed Inventory – customer material warehouse
* Linetec managed trucking
* Brake metal and fabrication
* On-site repair and restoration
* Packaging and shipping
To download copies of Linetec's new brochures, and learn more about Linetec's finishing and value-added services, please call 888-717-1472, email sales@linetec.com or visit https://linetec.com.
About Linetec
Located in Wisconsin, Linetec serves customers across the country, finishing such products as aluminum windows, wall systems, doors, hardware and other architectural metal components, as well as automotive, marine and manufactured consumer goods. The company is a subsidiary of Apogee Enterprises, Inc. (NASDAQ: APOG).
Linetec is a member of the Aluminum Anodizers Council (AAC), the American Architectural Manufacturers Association (AAMA), the American Institute of Architects (AIA), the Association of Licensed Architects (ALA), the National Glass Association/Glass Association of North America (NGA/GANA), the U.S. Green Building Council (USGBC) and the Window and Door Manufacturers Association (WDMA).
###
---
Filed under: FGIA, Linetec, Products
---
Story Resources
Photo 1: Linetec's new brochures
Photo 2: Linetec's new brochures
Word document
Request high res photographs for publication