Client News: RHEINZINK's zinc downspouts and rainwater products support effective roof drainage with stylish appeal
Posted on October 28th, 2020 by Heather West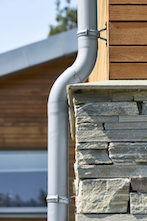 Woburn, Massachusetts (Oct. 2020) – RHEINZINK offers its patented, precision-welded, round or box-shaped, rainwater drainage downspouts in a choice of RHEINZINK prePATINA® blue-gray and graphite-gray architectural grade zinc. Supporting effective roof drainage, RHEINZINK's downspouts and rainwater products are well suited for new construction and renovation applications in both residential and commercial building projects.
The natural zinc metal develops a protective patina that ensures RHEINZINK's downspouts and rainwater products are low-maintenance and will remain functional for decades. These zinc products deliver time-tested performance and a timeless appearance that complements both traditional and contemporary designs.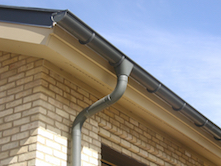 "Used in Europe for centuries, zinc's character gains an attractive patina as it ages and constantly evolves in its depth, complexity and rich appearance. Its natural beauty, flexibility, longevity and sustainability make it a highly desirable product," said RHEINZINK America's president, Chip McGowan. "Managing rainwater, stormwater and runoff with dependable downspouts and gutter systems is part of an essential strategy to maintain and extend the lifecycle of a building's roof and façade."
RHEINZINK's rainwater drainage systems adapt to most roof configurations and are compatible with most roofing materials, including asphalt shingle, slate and zinc roofing applications. Downspouts are available in standard 4-inch widths for box-shaped downpipes and in 3-1/8-inch and 4-inch and diameters for round pipes.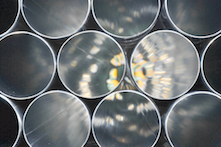 Zinc's natural metallic properties contribute to RHEINZINK products' self-healing, low-maintenance, corrosion-resistant performance and a potential lifespan of 30 years or more. At the end of its useful life on the building's exterior, it remains 100% recyclable. RHEINZINK prePATINA downspouts and gutters are Cradle to Cradle Certified™ Bronze. Products with these material health certificates support building teams pursuing sustainable and wellness project goals, such as the U.S. Green Building Council's LEED® v4 rating systems.
In addition to round downspouts, RHEINZINK's extensive portfolio of rainwater diversion and collection products, parts and accessories also include: leaf guards and collectors, expansion joints, end caps, brackets, elbows, hangars, adapters, wedges, gutter systems and more.
To learn more about RHEINZINK Gutter Systems, please visit https://www.rheinzink.us.
RHEINZINK America, Inc. led the introduction of architectural zinc in North America and continues to offer one of the industry's most reliable, trusted brands. Architects and contractors are supported by unparalleled customer service and technical assistance. RHEINZINK is readily available through an established network of qualified distributors and systems partners across the United States, Canada and Mexico. Ideal for roofing, façade, gutter and interior applications. RHEINZINK is environmentally friendly, 100% recyclable and offers a potential lifespan of 100 years or more. For more information on RHEINZINK, call 781-729-0812 or visit www.rheinzink.us.
###
---
Filed under: Products, RHEINZINK
---
Story Resources
Word document
Request high res photographs for publication