Client News: RHEINZINK panels highlight rooftop area of high-end, D.C. apartment building
Posted on February 14th, 2019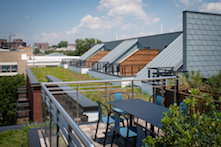 The new Reed Row apartment community in the Adams Morgan neighborhood of Washington, D.C., offers 132 units of stylish and sustainable living with contemporary, minimalist design in an urban setting. Reflecting an area that is well known for its broad mix of cultures and activities, the 100,000-square-foot property's rooftop deck atop the fifth floor offers a social space for residents to mingle.
In creating Reed Row's exterior, R2L:Architects of Washington, D.C., faced the challenge of selecting a building material that complemented the appearance of both the building and the neighborhood, and was suitable for all-season, long-lasting, outdoor performance with minimal maintenance. In addition, the project was designed to achieve LEED® Silver certification through the U.S. Green Building Council.
R2L's project designer/manager, Donrico Washington said, "We wanted to pay homage to the historic neighborhood with a material palette that offered the proper aesthetic fit." The building's exterior expression is informed by the materials and scale of the traditional masonry buildings found in the seven different historic districts located within two blocks of the site.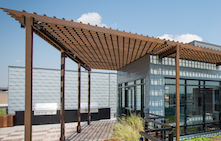 "In the early stages of our design process, we noticed that numerous nearby buildings had mansard roofs with diamond-shaped tiles and shingles," continued Washington "That's what led to our selection of the RHEINZINK Flat-Lock Tiles." In addition, RHEINZINK Standing Seam Panels were used to clad the sloped roofs over stairways in the units below the roof deck leading up to outdoor terraces.
To meet the project's multiple specifications, MSM Roofing of Hampstead, Maryland, fabricated and installed the zinc products on Reed Row. In total, approximately 3,000 square feet of RHEINZINK prePATINA graphite-grey Flat-Lock Tiles on the vertical walls and 1,000 square feet of RHEINZINK Standing Seam Panels on the sloped roofs were provided. David Peterson, owner of MSM, described the installation as "a piece of cake."
Zinc's natural material and aesthetic was ideally suited for Reed Row's sustainably designed, enduring exterior application. It is 100 percent recyclable and capable of lasting performance for more than 100 years with minimal maintenance.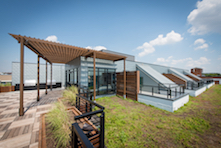 Demonstrating their quality and durability, the zinc products have received ASTM approval per the B69-16 Architectural Rolled Zinc Type 1 and Type 2. Along with weathertight performance, the standing seam panels, oriented vertically, complement the building's geometries.
The graphite-grey color, flat-lock tiles selected for Reed Row are specially processed to achieve the natural, pre-weathered patina during production. This ready-made, natural surface is the only product to meet the ASTM B69-16 Type 2 specification standard.
The overlapping seams of the flat-lock tile system can combine various sizes and seam lines to create a breadth of design options. On Reed Row, a rectilinear grid pattern resembles the area's brickwork. As the zinc ages, it will continue to naturally patina and blend with its historic surroundings.
"The reaction to the RHEINZINK from the residents has been outstanding," according to Washington. "Everyone loves it because it's a material that's not typically seen."
Washington added that Reed Row's rooftop provides an "intimate, exterior amenity space" for residents to enjoy an enviable view of the city. Located approximately 1.5 miles from the White House, the building rose from the site of a former parking garage.
The property was developed by KETTLER, one of greater Washington, D.C.'s leading real estate development and property management companies. "There is no luxury apartment community in Washington, D.C., like Reed Row," said Robert C. Kettler, Chairman and CEO of KETTLER. "This is a creative, functional, and intimate apartment community that we are proud to offer in Adams Morgan. Reed Row embodies our core values of designing living spaces that are distinctive and innovative. Everything from the architecture and apartment layout, to the finishes and functionality of the living spaces, sets us apart from everything on the market."
Recognizing the Reed Row's accomplishments, KETTLER accepted the Property Management Association's 2018 Apartment Community Excellence Awards for Judge's Choice in the Lease-Up category.
RHEINZINK America, Inc. led the introduction of architectural zinc in North America and continues to offer one of the industry's most reliable, trusted brands. Architects and contractors are supported by unparalleled customer service and technical assistance. RHEINZINK is readily available through an established network of qualified distributors and systems partners across the United States, Canada and Mexico. Ideal for roofing, façade, gutter and interior applications, RHEINZINK is environmentally friendly, 100 percent recyclable and offers a potential lifespan of 100 years or more.
For more information on RHEINZINK, call 781-729-0812 or visit www.rheinzink.us.
###
Project photographer: John Cole
---
Filed under: Projects, RHEINZINK
---
Story Resources
Word document
Request high res photographs for publication