Client News: The Rockaway Hotel's beachfront destination showcases RHEINZINK wall cladding, conveying relaxed luxury with coastal resiliency
Posted on October 6th, 2021 by Heather West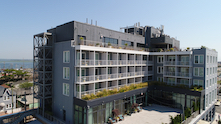 Offering an urban beach getaway with a fresh view of New York City, The Rockaway Hotel stands six stories tall, clad in resilient RHEINZINK-prePATINA® architectural zinc wall panels. Located just one block from Queens' Rockaway Beach, the hotel is part of the area's planned redevelopment following the damage caused by Hurricane Sandy in 2012. Today, the boutique hotel welcomes visitors and residents seeking relaxed luxury and resort-worthy amenities in an inviting, accessible neighborhood hub.
The Rockaway Hotel encompasses 72,000 square feet for 46 guest rooms, seven residential units and more than 25,000 square feet of hospitality venues. These indoor and outdoor event spaces include the Harbor Room, Sun Deck, The Pool and The Rockaway Rooftop with views overlooking the Atlantic Ocean, Jamaica Bay and Brooklyn and Manhattan skylines.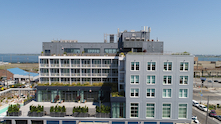 Inspired by the history and fabric of the established beachfront neighborhood, Morris Adjmi Architects said, "Essential to local character, the humble and eclectic bungalows found throughout the Rockaways were a key reference for the hotel's massing and façade. The mid-rise height of the new six-story building was carefully considered to avoid overshadowing the small historic clapboard houses nearby and zinc paneling was selected to echo their color and form."
Working closely with the architectural team early in the hotel's conception, RHEINZINK and fabricator B&B Sheet Metal presented samples of RHEINZINK-prePATINA zinc's two colors: graphite-grey and blue-grey. These products are specially processed to achieve the natural, pre-weathered patina during production. Over time, their natural finish will continue to patina.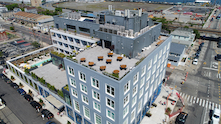 For centuries, European buildings have relied on zinc's natural beauty, corrosion-resistant performance and proven longevity. Made in Germany, RHEINZINK's architectural zinc was introduced to North America in 1992.
Morris Adjmi Architects was appreciative of the material's European heritage and time-tested performance, noted Tom Hessler, technical director at B&B Sheet Metal. He added, "They liked the color and texture of RHEINZINK's material; its compatibility in saltwater, ocean environments; and its long lifespan."
"Suitable for The Rockaway Hotel's coastal climate, RHEINZINK's material requires minimal maintenance and a potential lifespan 100 years or more. At the end of its use on the hotel, the natural zinc material is 100% recyclable," said Mike Dell'Olio, RHEINZINK's regional sales manager serving New York. "Throughout the hotel's lifespan, the zinc wall cladding's dynamic exterior appearance will evolve as formed by the Rockaways' unique local, coastal climate."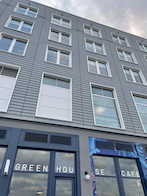 Taking additional cues from the vertically joined and horizontally lapped siding on local neighborhood homes, the upper portion of the hotel showcases prePATINA graphite-grey zinc installed vertically and blue-grey installed horizontally on the lower, larger portion. Matching RHEINZINK materials also were used to wrap the hotel's outside corner posts, for the metal coping in the pool area and for the reveal around the windows.
To ensure the intended aesthetic and weathertight performance for The Rockaway Hotel, B&B fabricated RHEINZINK-prePATINA zinc material into easily installed panel sizes. Nearly 7,000 square feet of 1mm graphite-grey was manufactured as 12-inch-wide panels with 1-inch-high ridges to create the continuous, corrugated effect. More than 13,600 square feet of blue-grey was cut to 8-inch-wide panels for the horizontal lapped look.
Not only did B&B collaborate with RHEINZINK on the fabrication and samples, but it also provided the shop drawings and submittals to the architect. In addition, B&B's associates met on site with installing contractor Adamex Construction to ensure accurate field measurements and appropriate installation methods.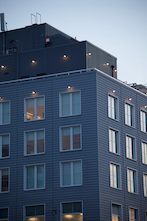 "We take a hands-on approach to support both ends of a project – the architect and the installer. A lot of fabricators don't do what we do," said Hessler. "We go the extra nine yards to help out and make sure the project is done right."
Dell'Olio added, "It's very nicely done. The thoughtful integration of RHEINZINK to this structure truly adds to the character of this section of Queens."
Within, the interiors also were designed to reflect the spirit of the Rockaways. Adjmi Architects described these as "casual and approachable with a sense of lighthearted novelty. Open concept plans and honest materials like wood, concrete, and wicker were selected to cultivate a cool and comfortable environment. The lobby in particular was designed to nurture a slower pace, intended to function as a familiar living room where guests would be happy to hang out. Abundant live greenery was incorporated throughout to soften the ambiance and add natural vibrance to both indoor and exterior spaces."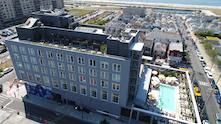 Opened in May 2020, The Rockaway Hotel currently hosts a busy schedule of events and entertainment for both visitors and residents to enjoy – from live music and DJs to the Women's Surf Film Festival, from rotating guest chefs to daily yoga classes.
The hotel's website says it offers "something for everyone. Families flock to Jacob Riis Park and the remnants of Fort Tilden, a decommissioned WWII artillery battery. Shoppers and foodies love exploring the boardwalk's concession booths and vendor stalls, while surfers have access to New York City's only designated surfing beaches. Bird lovers and outdoorsy types can't get enough of the salty, marshy Jamaica Bay Wildlife Refuge, which is home to 325 bird species each spring and fall. In the heart of it all lies The Rockaway Hotel."
**
The Rockaway Hotel, 108-10 Rockaway Beach Drive. Rockaway Park, NY 11694; https://www.therockawayhotel.com
• Architect: Morris Adjmi Architects; New York; https://www.ma.com
• Zinc wall cladding systems – installing contractor: Adamex Construction, Inc.; Brooklyn, New York
• Zinc wall cladding – fabricator: B&B Sheet Metal; Long Island City, New York; http://www.bbsheetmetal.com
• Zinc material – distributor: Englert Inc.; Perth Amboy, New Jersey; https://www.englertinc.com
• Zinc material – manufacturer: RHEINZINK; Woburn, Massachusetts; https://www.rheinzink.us
• Photos by: B&B Sheet Metal
• Additional photos by: Jake Ryan
RHEINZINK America, Inc. led the introduction of architectural zinc in North America and continues to offer one of the industry's most reliable, trusted brands. Its portfolio of products includes RHEINZINK-CLASSIC® bright rolled, RHEINZINK-prePATINA® blue-gray and graphite-gray, RHEINZINK-artCOLOR® in an array of colors, RHEINZINK-GRANUM® basalte and skygrey; and RHEINZINK-PRISMO® color-pigmented, architectural-grade zinc options.
Architects and contractors are supported by unparalleled customer service and technical assistance. RHEINZINK is readily available through an established network of qualified distributors and systems partners across the United States, Canada and Mexico. Ideal for roofing, façade and wall cladding systems, gutter and interior applications. RHEINZINK is environmentally friendly, 100% recyclable and offers a potential lifespan of 100 years or more. For more information on RHEINZINK, call 781-729-0812 or visit https://www.rheinzink.us.
###
---
Filed under: Projects, RHEINZINK
---
Story Resources
Photo: The Rockaway Hotel - photo by Jake Ryan, courtesy of RHEINZINK
Word document
Request high res photographs for publication