Association News: New daylighting web page available on AAMA website
Posted on February 15th, 2018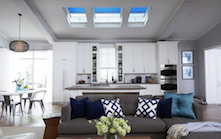 Daylighting information previously included as a fact sheet has been updated and posted as a web page by the American Architectural Manufacturers Association (AAMA). This daylighting-focused web page focused on daylighting and energy savings addresses key differences between fenestration products installed primarily vertically (windows, doors, curtain walls and storefronts) and those installed primarily overhead [skylights, roof windows and tubular daylighting devices (TDDs)] and their relation to daylighting and energy savings.
"It was important to us that this section of the site be seen as an authoritative resource on how daylighting products can lower energy costs and conserve resources," said Chris Magnuson, chairman and president of Wasco, and chair of AAMA's Skylight/Sloped Glazing Marketing Committee, which led efforts to develop the web page. "We're confident it will be useful to homeowners, industry professionals and more."
Further considerations for proper daylighting as covered on the web page are health, comfort, solar tuning and other design aspects. AAMA encourages companies to provide these web pages to their customer service representatives to serve as a third-party resource for commonly asked questions.
Visit aamanet.org/daylighting to access this online resource, as well as case studies on daylighting, and other industry news and links.
About the Skylight/Sloped Glazing Council
AAMA's Skylight/Sloped Glazing Council is an information provider and promoter of unit skylights, sloped glazing, TDDs and smoke vents in the fenestration and related building products industry. The Skylight/Sloped Glazing Council is committed to providing the latest information regarding the benefits of daylighting and the affect it has on energy savings.
More information about AAMA and its activities can be found via the AAMA website, aamanet.org.
AAMA is the source of performance standards, product certification and educational programs for the fenestration industry.SM
###
---
---
Story Resources
Word document
Request high res photographs for publication