Client News: Waste Management's LEED Platinum corporate headquarters features Rockfon ceilings and provides a sustainable, collaborative, productive workspace
Posted on November 3rd, 2022 by Heather West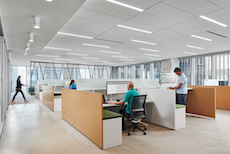 Providing a collaborative, effective and sustainably designed workspace for Waste Management Inc.'s nearly 2,000 Houston-area employees, its new headquarters has earned U.S. Green Building Council's LEED® v4 Platinum for Commercial Interiors.
Perkins&Will said its design reflects Waste Management's corporate brand and evokes "the core value that sustainability is an integral part of everyday life." The architectural team's product choices further support indoor environmental quality, energy efficiency, material and resource sustainability, and occupant health and wellness.
With these principles at the forefront, Perkins&Will carefully evaluated and selected Rockfon's acoustic ceiling solutions to meet the project's sustainability, resiliency, contemporary aesthetics, and to create a comfortable, productive atmosphere.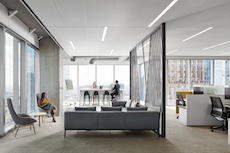 One of Houston's largest public companies, Waste Management is the leading provider of comprehensive waste management environmental services in North America. Combining its operations from two, previously separate locations in the Houston area, it relocated to nine floors encompassing 284,000 square feet of Class A office space at Bank of America Tower.
Part of Beacon Capital Partners' properties, Bank of America Tower's new 35-story, 780,000-square-foot skyscraper opened in 2019 at the corner of Capitol and Travis Streets. Waste Management began moving into its new offices in at the end of 2020.
The tower is ENERGY STAR® certified and was the nation's first and highest scoring in the world to achieve LEED v4 Platinum for Core and Shell. In addition, it is the first and largest building in Houston to earn a Fitwel® certification. As of 2020, it was the only building outside of New York City to receive the top-tier Fitwel Three Star Rating.
Continuing these healthy and sustainable strategies throughout Waste Management's new headquarters, Perkins&Will designed the space to align with the company's mission "to maximize resource value, while minimizing – and even eliminating – environmental impact so that both our economy and our environment can thrive."
Reflecting a unified brand vision, consistent appearance and reliable performance, Perkins&Will previously specified Rockfon's ceiling solutions for Waste Management's offices in Illinois, in Arizona and in Ontario, Canada.
Located on levels 25-33 of Bank of America Tower, each floor offers up to 31,000 square feet of leasable space with expansive 10-foot-high ceilings and full-height glass exterior walls. While outside views and daylight contribute to sustainable and wellness goals, hard surfaces combined with large, open areas often present acoustic challenges. Rockfon's acoustic specialist, Gary Madaras, PhD, stepped in to help solve these site-specific challenges.
For Waste Management's headquarters, Madaras understood that background sound was within optimal range, and the walls were full height to insulate and block sound between rooms. He focused on reviewing the sound absorption of the ceiling and reverberation with respect to each room's function. Ceiling panels with a 0.90 Noise Reduction Coefficient (NRC) or higher are categorized as the best performance for above-optimal sound absorption and reverberation.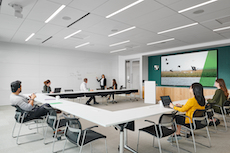 Providing a 0.95 NRC, Rockfon Sonar® was specified for open offices, private offices, meeting rooms, multi-purpose rooms, game room, respite room, wellness suites and corridors. The enclosed rooms offer an optimized acoustic experience with sound-absorbing ceiling panels and full-height sound-insulating walls to lower noise levels, allowing employees to concentrate and to keep private conversations confidential.
In the open office areas and larger rooms, sound-absorbing ceilings also support best-level acoustics as appropriate to collaborative workstyles, socializing and speech intelligibility for group communication.
All the Rockfon ceiling panels in Waste Management's headquarters are white with an elegant, lightly textured surface. Contributing to the building's energy efficiency and employee's health and wellness, the panel's bright white surface reflects up to 85 percent of light.
High light reflectance maximizes natural light, carrying daylight through the exterior windows more deeply into the office interior, and reducing the demand on electrical light sources. It also produces diffused top-lighting, which minimizes glare on monitors and screens and, in turn, lessens eye strain and headaches, making it easier and more comfortable to stay on task.
Throughout Waste Management's headquarters, ceilings are visually differentiated by the panel size and orientation. The majority of Rockfon's ceiling panels are 2-by-5 feet, some are 2-by-4 and a few are 4-by-4. The rectangular panels feature a square tegular narrow edge installed in a modern, modular grid. The square, large-format panels were set in a shiplap pattern, further distinguishing the boardroom and executive conference room on the 29th floor.
On the 30th floor, BakerTriangle prefabricated 21,000 square feet of 2-by-5-foot Rockfon Sonar panels for a seamless fit with the linear high-efficiency light fixtures. Stone wool is lightweight, simple to install and easy to cut when integrating light fixtures, life safety devices, speakers, sprinklers, air returns and other components.
DE Harvey Builders worked closely with specialty contractor BakerTriangle to install Rockfon's ceiling systems throughout Waste Management's corporate offices. Action Gypsum Supply provided BakerTriangle with more than and 245,000 square feet of Rockfon Sonar acoustic stone wool ceiling panels along with Chicago Metallic® 4600 Ultraline™ 9/16-inch suspension system and Infinity™ Perimeter Trim.
When repairs or upgrades are needed to wiring, ductwork or other equipment hidden above the panels in the plenum, Rockfon's standard 9/16-inch suspension system makes it easy to remove one panel or several. The durable panels require minimal care to maintain their clean, contemporary aesthetic.
Perimeter trim enhances the ceiling's crisp, neatly finished edges. Where ceilings transition in elevation, such as in the multi-purpose rooms, a tidy perimeter provides the expected professional appearance.
Over time, other manufacturer's acoustic ceiling tiles can deform or even fall out due to accumulated moisture. In the hot, humid Texas climate, this is not unusual. Because stone wool naturally is hydrophobic, it does not absorb water. Rockfon's ceiling panels will not sag or fall due to moisture. They also do not support the growth of mold and mildew, without the use of added antimicrobials.
Following the facts on building products that contain antimicrobial additives, Perkins&Will's 2020 white paper stated: "No evidence yet exists to demonstrate that products intended for use in interior spaces that incorporate antimicrobial additives result in healthier populations. Further, antimicrobials may have negative impacts on both people and the environment."
Rockfon offers health product declarations (HPDs) and UL-verified environmental product declarations (EPDs) to help architects, building owners and tenants make informed decisions about their material ingredients.
Further demonstrating its support on indoor air quality and healthy interiors, Rockfon Sonar stone wool ceiling panels have earned UL® Environment GREENGUARD® Gold Certification for low chemical emissions. This certification process takes into consideration safety factors that may impact those with vulnerable immune systems, children and seniors. It also is referenced by LEED and other green building guidelines.
"Bank of America Tower provides a compelling environment that enables tenants and visitors to thrive. Cleaner air, efficient systems and more green space does more than lower carbon footprints – it improves the lifestyle of the community," according to Beacon Capital Partners.
As a tenant within Bank of America Tower, Waste Management's employees also have access to a 7,000-square-foot fitness center; a 10,000-square-foot lounge, conference center and event space called "The Assembly;" a 20,000-square-foot "Understory" culinary market with upscale retail and dining; and a 20,000-square-foot elevated "Skypark" offering greenspace complete with its own resident honeybees and stunning views of the Houston skyline.
Staff and visitors have numerous transit options to reach Waste Management's downtown headquarters by car, bus, train or foot, including five pedestrian connections to Houston's 6-mile tunnel network. Once there, they can walk to the adjacent Theatre District, hotels, restaurants, parks and growing residential neighborhoods.
**
Waste Management Corporate Headquarters, Bank of America Tower, 800 Capitol Street, Houston, TX 77002, https://www.wm.com
• Owner: Beacon Capital Partners, LLC; Boston; https://beaconcapital.com
• Design architect: Perkins&Will; Houston; https://perkinswill.com
• Exterior – architect: Gensler; Houston; https://www.gensler.com
• Exterior – general contractor: Skanska USA; Houston; https://www.usa.skanska.com
• Interior – acoustical consultants: Waveguide LLC; Houston; https://www.waveguide.com; and ARUP; Houston; https://www.arup.com
• Interior ceilings – installing contractor: BakerTriangle; Houston; https://bakertriangle.com
• Interior ceilings – distributor: Action Gypsum Supply; Houston; http://www.actiongypsum.com
• Ceiling systems – manufacturer: Rockfon; Chicago; https://www.rockfon.com
• Photos by: Peter Molick / petermolick.com
• Virtual tour: https://bankofamericatowerhouston.com/vr
About Rockfon
Rockfon is part of the ROCKWOOL Group and is offering advanced acoustic ceilings and wall solutions to create beautiful, comfortable spaces.
At the ROCKWOOL Group, we are committed to enriching the lives of everyone who experiences our product solutions. Our expertise is perfectly suited to tackle many of today's biggest sustainability and development challenges, from energy consumption and noise pollution to fire resilience, water scarcity and flooding. Our range of products reflects the diversity of the world's needs, while supporting our stakeholders in reducing their own carbon footprint.
Stone wool is a versatile material and forms the basis of all our businesses. With approximately 11,500 passionate colleagues in 39 countries, we are the world leader in stone wool solutions, from building insulation to acoustic ceilings, external cladding systems to horticultural solutions, engineered fibers for industrial use to insulation for the process industry, and marine and offshore.
###
---
Filed under: Projects, Rockfon
---
Story Resources
Word document
Request high res photographs for publication