Client News: Arizona high school fieldhouse's translucent EXTECH LIGHTWALL system creates gem-like appearance and enhances daylight, comfort, durability
Posted on April 27th, 2020 by Heather West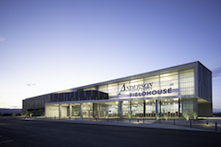 Located along the Colorado River in Bullhead City, Arizona, the new Anderson Auto Group Fieldhouse encompasses 126,000 square feet with regulation football and soccer fields, classrooms and space for up to 8,000 people. When not in use by the Colorado River Union High School District (CRUSHD)'s River Valley High School Dust Devils and Mohave High School T-Birds, the Fieldhouse is available for other athletic, academic, community and commercial uses.
The Fieldhouse, designed by Orcutt Winslow and constructed by Fleming West, features EXTECH/Exterior Technologies, Inc.'s LIGHTWALL 3440® interlocking wall system installed by Systems Contractors Inc. (SCI). The resulting translucent building envelope maximizes natural lighting during the day and creates a soft glowing appearance when lit from the inside at night. High light levels, solar control and durability were equally important attributes for the project.
"The exterior design for this facility drew on the natural and human history of place," explained Orcutt Winslow. "This history is reflected in the design through the irregular textures created by the metal panel cladding that resembles the stratification seen in the surrounding mountains and the gem-like polycarbonate panels that bring in natural daylight allude to the hidden pockets of precious metals deep below the surface of the earth."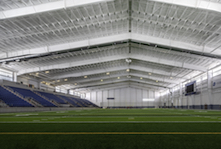 Achieving the architectural aesthetic and exterior performance requirements, EXTECH fabricated its standard LIGHTWALL 3440 system with highly insulating, 40mm cellular polycarbonate glazing (CPG) with extruded aluminum framing. "Offering a beautiful, durable and economical solution for building envelopes, LIGHTWALL 3440 is our most popular product," said Brian Hunger, EXTECH's national accounts manager.
He continued, "Used in Europe for many years, CPG is the preferred material for translucent wall systems. It is rapidly replacing fiberglass reinforced panels (FRP) as the material of choice for daylighting systems on educational and sports facilities in the U.S. Unlike FRP that can yellow, fiber-bloom and delaminate, our CPG panels present a clean, attractive, modern appearance."
EXTECH provided the CPG in an opal color panel with an exterior surface that blocks infrared (IR) and ultraviolet (UV) waves. The IR- and UV-blocking CPG material helps control unwanted solar heat gain, reduce demand on the HVAC system and save on electric lighting costs, while ensuring more comfortable interior temperatures for both athletes and spectators. LIGHTWALL 3440 also meets demanding performance specifications, including high wind loads, impact resistance, fire rating, thermal and structural performance, air infiltration and water penetration.
"Eliminating the potential for leak-prone horizontal joints, our LIGHTWALL 3440 can extend up to 54 feet long and does not require framing members within the field of the glazing," noted Hunger.
EXTECH engineers and manufactures its daylighting products at its facility in Pittsburgh to ensure performance as specified. For the Fieldhouse, the fully-fabricated 12,400-square-foot LIGHTWALL 3440 system was sent to SCI for installation.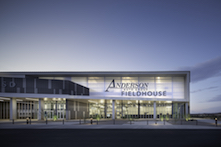 "Before shipping, we pre-fabricate all the corner miters and sloped head/sill/jamb conditions to exact angles so that each piece fits precisely at the jobsite, ensuring a weather-tight building envelope. This quality control measure substantially accelerates the installation process," explained Hunger.
"Construction teams also appreciate that our LIGHTWALL systems are considerably lighter weight than glass, which also helps with easier, faster installation," he added. "Backed with a 10-year warranty, our system continues to add value for building owners and minimize their maintenance costs for years to come."
Opened May 2019, the Anderson Auto Group Fieldhouse's fully climate-controlled venue supports Bullhead City as a sports tourism destination for both youth and adult recreation, bringing sports enthusiasts from the Tri-State Area. Funding for the $32 million fieldhouse project was provided by a voter-approved bond issue.
**
Anderson Auto Group Fieldhouse, 3663 Bullhead Pkwy, Bullhead City, AZ 86442; https://andersonautogroupfieldhouse.com
* Owner: Colorado River Union High School District; Bullhead City, Arizona; https://www.crsk12.org
* Architect: Orcutt | Winslow; Phoenix; http://www.owp.com
* General contractor: Fleming West, LLC; Mesa, Arizona; https://www.flemingwest.com
* Wall system – installing contractor: Systems Contractors, Inc. (SCI); Elizabeth, Colorado; https://scisteel.com
* Wall system – manufacturer: EXTECH/Exterior Technologies, Inc.; Pittsburgh; https://extechinc.com
* Virtual tour: http://www.owp.com/clients/cruhsd-fieldhouse-cardboard-vr/index.html
* Photographer: Matt Johnson, Winquist Photography
EXTECH/Exterior Technologies, Inc.'s mission is to improve lives through innovation in daylighting systems, natural ventilation and other unique building envelope systems. Redefining the intersection between the natural and built environments, EXTECH manufactures and designs wall, window, skylight, canopy and custom façade systems.
Learn more by calling 800-500-8083, emailing info@extechinc.com or visiting https://extechinc.com.
###
---
Filed under: Projects
---
Story Resources
Word document
Request high res photographs for publication