Client News: Mountrail-Williams Electric Cooperative's new headquarters features Tubelite's curtainwall, storefront, entrances and interior framing
Posted on February 4th, 2019 by Heather West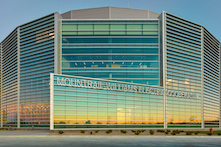 Mountrail-Williams Electric Cooperative (MWEC), one of the largest power distributor in the Upper Midwest, recently opened its brand new headquarters in Williston, North Dakota, featuring an expansive curtainwall from Tubelite.
The four-story, 85,000-square-foot building was designed by JLG Architects to achieve a LEED® Gold certification with an emphasis on highlighting the efficient use of electricity, while creating a beacon for MWEC on the north side of Williston. The construction manager for the build was the Williston office of FCI Constructors, Inc.  Gage Brothers produced precast concrete products, including the walls to anchor the large expanses of Tubelite's curtainwall finished in a Class I Clear anodize by Linetec.
"We are very pleased with our building and the ease of which the curtainwall construction was brought to the project. Most of all the beauty and the energy efficiency it brought to our building, we are so proud!" said MWEC's general manager, Dale Haugen.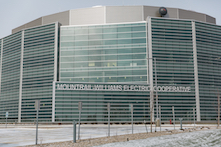 "MWEC approached JLG in 2014 about helping look at a new main office building," remembered JLG's project manager, Nick Lippert, AIA. "At the time, we were helping them answer a lot of questions about future growth, scale of project and understanding of the major project goals."
The new building was necessary to accommodate a decade of unprecedented growth at MWEC resulting from the oil boom in the Bakken Region of North Dakota. The cooperative currently has 84 substations in its service area compared to just 19 in 2007. The city of Williston's population has doubled since 2007. The demand has seen MWEC, a not-for-profit, member-owned electric distribution cooperative, nearly tripled its workforce since 2010 to manage a consistent backlog of requests for power.
"MWEC's and JLG's shared overarching design goal for the new headquarters was focused on "looking to the future," said Lippert. "The entire design aesthetic is aimed toward employee experience; not just now, but for the future generations MWEC is investing in." He added that showing commitment to the community and the co-op, plus showing commitment to being leaders in energy conservation were two more key design goals for the project.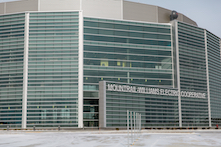 As the MWEC building's defining feature, Tubelite provided 41,000 square feet of 400TU Therml=Block® Series Curtainwall. The transparency of this glass and the aluminum systems frame the active, productive offices and collaborative workspaces within the new, modern, corporate headquarters. Fargo Glass and Paint Co. also worked with Tubelite to integrate MWEC's name in large metal letters within the façade.
In addition to creating the desired appearance for MWEC's headquarters, the curtainwall offers high performance to withstand the Dakota wind and seasonal temperature extremes. The curtainwall's custom 8-inch-deep face covers were designed to help with sun control and to meet or exceed today's stringent energy codes and current LEED criteria.
Tubelite's sales and engineering teams worked closely with JLG Architects and Fargo Glass from the project's earliest stages. Tubelite's architectural take-off (ATO) services group then provided further support to Fargo Glass during the bid stage. Tubelite's local representative, Hillesheim Architectural Products, Inc. (HAP, Inc.) also was involved throughout the project.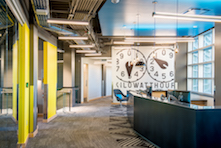 Tubelite can provide ATO services for qualified clients on special, larger projects, according to Rick Hillesheim, HAP, Inc.'s president and Tubelite's territory client development manager. For the MWEC project, the Tubelite ATO services group supplied the shop drawings plus related engineering services.
JLG's Lippert noted that the Tubelite's team's understanding of the project's energy-efficiency goals was helpful in reaching the performance targets. "Also working with the design team to create a simple, repeatable system that improves the experience of the building from the inside and exterior."
"Tubelite's products create a vast majority of the exterior envelope," said Lippert. Complementing the façade, Tubelite provided 400 Series Curtainwall, E14000 Series Storefront Framing, Narrow Stile Entrances to complement the and Therml=Block Wide Stile Entrances. A total of 96,168 lineal feet, 18.2 miles, of aluminum weighing approximately 141,000 pounds was installed by Fargo Glass. Along with the extensive use of Tubelite's systems on the building envelope, its curtainwall, storefront framing and Narrow Stile Entrances are used throughout the interior lobby and 97 offices.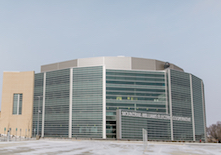 Insulated, tempered and laminated glass units using low-e coatings for high thermal performance contributed to achieving the project's requirements. With the nearby highway, the high-performance glazing also helped meet the acoustic specifications. Multiple glass types were selected for the vision and spandrel applications. "Some of these bays are 64 feet tall and made up of 32 separate units," noted Joe Haider, branch manager at Fargo Glass.
Hillesheim added, "In my 30 years with Tubelite, this is the largest Tubelite metal package we've ever supplied in my immediate coverage area."
Haider agreed and noted, "We had dedicated truckloads because there was so much material."
The on-site project work by Fargo Glass was managed by FCI Constructors, Inc. from June 2017 to Oct. 2018, including over a cold winter. Three people would fabricate the system in Fargo Glass' shop in Minot, North Dakota. The pre-assembled framing system would be trucked to the job site in Williston, where a team of eight would install it in the field.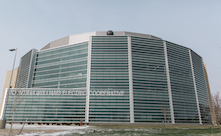 Approximately a dozen people were able to complete this massive project, said Haider. He continued, "We've been a Tubelite client for a very long time, since the 60s. It's our day-to-day stock. We're very familiar with the material, so it was pretty easy for us to do the job based on the spec's that Tubelite and JLG provided. Of course, there are always a few hiccups along the way."
One such hiccup, Hillesheim remembered, was encountered just before a holiday weekend. "Tubelite responded quickly, fixed it over the weekend and communicated all the way through each stage of the process. I've never seen something turned around so quickly," he praised.
Validating the system's dependable performance, Haider said that when the field air/water testing was conducted on the installed, four-story 28-by-64-foot bay, "the engineers said it was the best test results they had ever seen."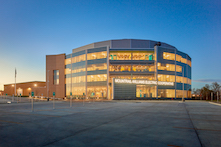 "It's phenomenal to see the whole building now that it's complete," echoed Hillesheim.
"The bar was set very high for weather-tightness and everyone on the construction team rose to the challenge," praised Lippert. "The building serves as a testament to careful planning, detailing and careful craftsmanship by Fargo Glass and FCI to create one of the most efficient buildings in the region."
The finished project showcases many environmentally responsible and energy-efficient components, which presents MWEC as a leader by its example. The building's orientation and thoughtful application of Tubelite's glazing systems maximizes the abundant natural light. MWEC's facility also incorporates motion and sound sensors for optimizing electric lighting use throughout the building. In addition, 150 geothermal wells on the property, each drilled down to 300 feet, heat and cool the entire building with renewable energy.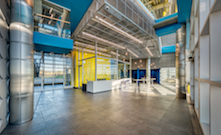 Another environmentally friendly design decision included recycling 92 percent of the weight of the old building when constructing the new and expanded headquarters. One visible example is seen on the walls of each conference room, where the old interior wood trim was repurposed for decorative touches, connecting MWEC's humble beginnings to its burgeoning future.
Today, the new corporate headquarters house all of MWEC's 79 employees in Williston, as well as employees from Basin Electric Power Cooperative, while allowing extra room for additional employees to come. To promote collaboration, there are "huddle rooms" on each of the four floors, where employees can gather to work together on challenges. Some of the rooms are equipped with video screens and cameras so the co-op's employees in New Town and Stanley can join meetings.
"It's good to have everyone under one roof," Chris Brostuen, MWEC's manager of public relations and communications told the Williston Herald at the facility's open house. "It will help with collaboration, which ultimately lets us serve our members and the public better."
**
Mountrail-Williams Electric Cooperative (MWEC), 218 58th St. W., Williston, ND 58802; https://www.mwec.com
* Owner: MWEC; Williston, North Dakota; https://www.mwec.com
* Architect: JLG Architects; Williston, North Dakota; http://jlgarchitects.com
* General contractor: FCI Constructors, Inc.; Williston, North Dakota; https://www.fciol.com
* Precast concrete: Gage Brothers; Sioux Falls, South Dakota; http://gagebrothers.com
* Glazing contractor: Fargo Glass and Paint Co.; Minot, North Dakota; https://www.fargoglass.com
* Glazing systems – glass: Oldcastle; Albertville, Minnesota; https://obe.com
* Glazing systems – curtainwall, entrance and storefront systems manufacturer: Tubelite Inc.; Walker, Michigan; https://www.tubeliteinc.com
* Glazing systems ­– manufacturer's representative: Hillesheim Architectural Products, Inc. (HAP, Inc.); Faribault, Minnesota; https://www.hap-inc.net
* Glazing systems – finisher: Linetec; Wausau, Wisconsin; https://linetec.com
* Exterior photos by: Kirsten Braaten Photography
* Additional exterior and interior photos by: Chad Ziemendorf, courtesy of FCI Constructors, Inc.
Please visit www.tubeliteinc.com, to learn more about Tubelite's project success stories, product design details, test reports, installation instruction and specific performance data. For additional information or personalized assistance in selecting aluminum fenestration products, please email dependable@tubeliteinc.com or call 800-866-2227.
About Tubelite Inc.
For more than 70 years, glazing contractors have counted on Tubelite's dependable service, fabrication and distribution of architectural aluminum products. Part of Apogee Enterprises, Inc., the company is an industry leader in eco-efficient storefront, curtainwall and entrance systems, and recognized for its fast, reliable and consistent delivery.
Tubelite's corporate office, fabrication, warehouse and shipping operations are located in Walker, Michigan. Its Dallas location provides additional fabrication, warehouse and shipping operations. Its facility in Reed City, Michigan, houses the company's aluminum extrusion operation. The company also has offices in Rock Hill, South Carolina, and Warwick, Rhode Island.
Tubelite and its staff are members of the American Architectural Manufacturers Association (AAMA), the American Institute of Architects (AIA), the Construction Specifications Institute (CSI), the National Fenestration Rating Council (NFRC), the National Glass Association/Glass Association of North America (NGA/GANA), the Society of Military Engineers (SAME) and the U.S. Green Building Council (USGBC).
###
---
Filed under: Projects, Tubelite
---
Story Resources
Word document
Request high res photographs for publication