Association News: 2018-2019 AAMA event dates, locations announced
Posted on October 29th, 2017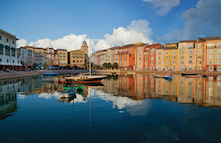 The American Architectural Manufacturers Association (AAMA) will be traveling to Orlando, Florida, for the AAMA 81st Annual Conference, to be held Feb. 19-22, 2018, at the Loews Portofino Bay at Universal Studios. While making travel arrangements, please note that this is the first conference AAMA is hosting with the association's new Monday through Thursday conference schedule, as opposed to the previous Sunday through Wednesday timeframe.
Registration will open later in 2017, along with separate registration for the AAMA Southeast Region Spring Meeting, which will immediately follow the national conference in the same location Feb. 22-23. Additional 2018 events also will be held Monday through Thursday, with the exception of the Western Region Summit, which is happening Thursday through Friday:
* AAMA National Summer Conference: June 11-14, 2018 | Olympic Valley, California (Lake Tahoe)
* Western Region Summit: June 14-15, 2018 | Olympic Valley, California (Lake Tahoe)
* AAMA National Fall Conference: Oct. 15-18, 2018 | Tucson, Arizona
2019 Events
Event dates for 2019 have been scheduled as well:
* AAMA 82nd Annual Conference: Feb. 25-28, 2019 | Indian Wells, California
* AAMA National Summer Conference: June 17-20, 2019 | Victoria, British Columbia, Canada
* AAMA National Fall Conference: Sept. 30-Oct. 3, 2019 | Austin, Texas
Webinars 
AAMA webinars are scheduled throughout the year, with at least one occurring each month, with the exception of conference months. The next AAMA webinar will be Nov. 14 and will provide an update on the window and door industry. Registration is now open to the public.
Additionally, a Dec. 12 webinar will repeat a session from the AAMA Fall Conference about LinkedIn. Registration for that webinar is now open, as well.
Check back with the AAMA Events page for information on future webinars, and visit AAMA's Vimeo page for recordings of previous sessions open to non-members.
More information about AAMA and its activities can be found via the AAMA website, https://aamanet.org.
AAMA is the source of performance standards, product certification and educational programs for the fenestration industry.SM
###
---
---
Story Resources
Word document
Request high res photographs for publication