Seattle Convention Center's new, vertical Summit building features Technoform's warm edge spacer and thermal barrier in high-performance curtain wall
Posted on September 22nd, 2023 by Heather West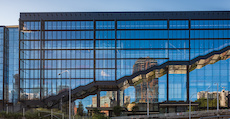 One of the first vertical convention centers in North America, the 15-story Seattle Convention Center (SCC) Summit building's striking curtain wall features Technoform's best-in-class building envelope products. Supporting the SCC project's multiple goals for overall sustainability, energy efficiency and indoor comfort, Technoform's products help Summit achieve high thermal and acoustic performance, resist condensation, and enhance the building's appearance and longevity.
• The insulating glass units (IGUs) that compose the convention center's curtain wall, CareyGlass International selected Technoform's plastic hybrid stainless steel (PHSS) warm-edge spacer as its edge seal solution.
• The aluminum-framed curtain wall, manufactured and installed by Enclos, also integrates Technoform's polyamide thermal barriers throughout the fenestration assembly.
Commerce, Community, Connection
The addition of the Summit building nearly doubles SCC's capacity and positions it to recapture lost revenue associated with hundreds of events it could not previously accommodate. Located at the intersection of commerce, community and culture in downtown Seattle, the Summit building is part of the largest revitalization and construction effort in the city's history.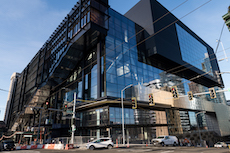 As an urban hub, the new, expanded SCC blurs public-private interactions, tethering commercial, retail and residential development for a thriving mixed-use district. The Summit building's vertical, stacked configuration maximizes the efficiency of the site and effective flow of attendees between event spaces.
Strengthening connections within and around the SCC, the Summit building's substantial glass and aluminum façade presents a transparent and inviting space. Inside, visitors and staff are treated to expansive views and abundant natural light from the large atriums to "The Hillclimb" glass-enclosed staircase, into the exhibit halls, and up to the grand ballroom.
Energy-Efficient Design
LMN Architects' thoughtful design decisions prioritized high thermal performance and energy efficiency to meet the City of Seattle's stringent energy codes. Morrison Hershfield also consulted on Summit's building envelope design. The project team is pursuing Gold certification or higher through the U.S. Green Building Council's LEED® rating system for new construction. According to the SCC, the Summit building is anticipated to improve the facility's energy performance by 30% over the baseline performance rating compared to similar structures.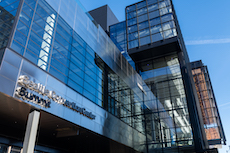 Seattle's nation-leading building codes required the convention center's curtain wall to meet high thermal performance requirements and be verified through the National Fenestration Ratings Council's (NFRC) commercial certification program. The architectural team also specified high acoustic performance for the curtain wall, balancing appropriate interior sound levels with the vibrant urban setting.
"Increasing thermal efficiency of fenestration not only helps save energy costs and carbon emissions, it also provides the freedom to design with more glass to create delightful, well-lit, welcoming spaces that are both comfortable and healthy for building occupants. Minimizing condensation also lowers the opportunity for mold and mildew, which supports good air quality, health and wellness," said Technoform's Bill Blazek.
Large IGUs with warm-edge spacers
Michael Carew, North American sales director at CareyGlass, said Technoform's PHSS warm-edge spacers offer superior thermal performance without compromising design and, most importantly, durability throughout the IGU's service life on a building. "We use Technoform's products on all of our U.S. projects with large IGUs because of its in-service thermal and durability performance and for its extra rigidity and low-risk system design, which supports large, high-quality IGU manufacturing," Carew elaborated.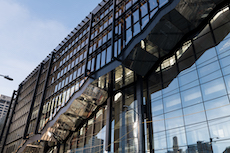 Technoform's PHSS warm-edge spacers are composed of a high-performance engineered polymer with thin low-conductivity stainless steel wrapping the back and sides to minimize heat transfer, and to maximize protection against gas leakage and moisture penetration.
"As IGU manufacturers are producing larger and larger IGUs, we continue to respond with solutions for improved handling and placement of spacer frames onto glass. Our spacer solutions also help them meet or exceed the toughest expectations for thermally efficient building envelopes in all climates, without compromising durability," said Technoform's Helen Sanders.
"Along with improving thermal performance, our PHSS spacer solutions give design professionals the freedom they need to achieve their aesthetic vision by visibly improving sightlines. Our wide range of sizes, models and colors blend with nearly any window frame," added Sanders. For the Summit building, CareyGlass selected black spacers for a neutral appearance.
The IGUs were manufactured using Guardian Glass' SuperNeutral™ SN 62-34 solar control low-e coating on UltraClear® low-iron glass. The IGUs were incorporated within the curtain wall to deliver a high-performance fenestration solution for the Summit building.
High-performance curtain wall with thermal barriers
Enclos designed, engineered, procured and installed the 2,400+ curtain wall units and 332 tons of steel to envelop a 172,820 square feet of wall area. According to Enclos, the curtain wall design "intended to create a transparent edge to blur the boundaries between the building and the city, including large atriums with expansive glass to maximize natural daylight. Part of the solution was to invert the façade or introduce reverse glazing, where the frame is on the exterior allowing the interior surface to be a flush glass plane."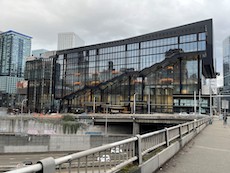 Because aluminum is an excellent conductor of thermal energy, the curtain wall's framing must be thermally "broken" and insulated to avoid thermal bridging. Technoform's polyamide thermal barriers help keep exterior heat and cold outside, maintaining a comfortable interior temperature and optimizing the building's energy use.
Additional sustainable choices
Enhancing building performance and interior comfort for SCC's staff and visitors, sensors on Summit assist with "daylight harvesting" to make maximum use of natural light and manage solar heat. The lighting sensors dim interior electric lights when outdoor lighting achieves the desired interior illumination level in a given area. HVAC sensors control window shades, opening to allow passive solar heat to warm the rooms or closing to avoid overheating.
Other sustainable features on SCC's Summit building include:

• Use of salvaged wood throughout the public areas sourced from the site's previous structure
• Ballroom ceiling composed of 3,800 boards from salvaged log booms
• Concrete mat foundation with a low-embodied energy mix
• Radiant floor heating and cooling in pre-function areas in combination with a dedicated outside air system to provide better interior comfort and energy efficiency
• Mechanical plant using heat recovery chiller, reducing energy use and carbon emissions
• Above-grade 14,000-square-foot outdoor terrace and green roof plus 150 kW photovoltaic rooftop array
• Rainwater collection to supply non-potable water for exhibit halls and lobby/registration area and water-efficient landscaping irrigation
• Convenient access to rail and bus service, bike storage and showers for employees, and minimal on-site parking with electrical vehicle charging stations
Enriching the community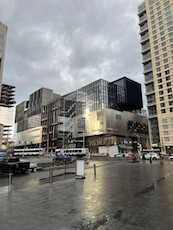 "The design of convention centers has evolved to include an expansive agenda that broadly enriches the community," observed LMA's partner, Mark Reddington, FAIA. "The convention center as a destination is not a building. It's about the city. It's about the quality of the urban framework, the quality of the landscape, the quality of the pedestrian environment, the quality of the climate and the daylight, and the culture of the street life. That's at the heart of the way we think about this project."
"With its striking vertical elements and large subterranean spaces, the Summit building is unlike any other convention center in North America," added Ben Eitan, project director for Clark|Lewis, the joint venture team responsible the construction effort.
After a decade of design, planning and preconstruction, general contractor Clark|Lewis broke ground on the Summit building in August 2018. The project was completed in 2022. Ahead of its completion, in April 2022, the facility's name and brand was updated from Washington State Convention Center to Seattle Convention Center better reflecting its pride and place within the city.
Officially opened in January 2023, SCC's new $2 billion Summit building offers 573,770 square feet of event space including 62 meeting rooms; a 58,000-square-foot column-free and divisible ballroom; 248,450 square feet of exhibit space; 140,700 square feet of naturally lit lobby space; and the 14,000-square-foot outdoor Garden Terrace.
**
Seattle Convention Center Summit building, 900 Pine St., Seattle, WA 98101
• Owner: Washington State Convention Center Public Facilities District dba Seattle Convention Center; Seattle; https://seattleconventioncenter.com
• Owner's representative: Pine Street Group, LLC; Seattle; https://www.pinest.com
• Architect: LMN Architects; Seattle; https://lmnarchitects.com
in association with:
- Graham Baba Architects; Seattle; http://www.grahambaba.com
- Scharrer AD; Seattle; https://www.scharrerad.com
- Rolluda Architects, Inc.; Seattle; https://www.rolludaarchitects.com
- Tiscareno Associates; Seattle; https://www.tiscareno.net
• General contractor: Clark|Lewis Joint Venture; Seattle, Washington
- Clark Construction Group; Seattle; https://www.clarkconstruction.com; and
- Lease Crutcher Lewis; Seattle; https://lewisbuilds.com
• Building envelope consultant: Morrison Hershfield; Seattle; https://morrisonhershfield.com
in association with:
- McClintock Façade Consulting, LLC; Walnut Creek, California, https://mccfacades.com
- RDH Building Science; Seattle; https://www.rdh.com
- RDWI Consulting Engineers; Los Angeles; https://www.rwdi.com
• Curtain wall – manufacturer and glazing contractor: Enclos Corp.; Eagan, Minnesota; https://enclos.com
• Curtain wall – aluminum extruder: Keymark Corporation; Fonda, New York; https://www.keymarkcorp.com
• Curtain wall – IGU fabricator: CareyGlass International; Annbrook, Ireland; https://www.careyglass.com
• Curtain wall IGU – coated glass supplier: Guardian Glass; Auburn Hills, Michigan; https://www.guardianglass.com
• Curtain wall – thermal barriers and IGU warm edge spacers: Technoform North America; Twinsburg, Ohio; https://www.technoform.com
• Photography
- Credit: Elena_Alex-stock-adobe-com, courtesy of Technoform
- Credit: iStock, courtesy of Technoform
- Credit: Michael Carew, CareyGlass, courtesy of Technoform
For more information on Technoform's high-performance solutions and success stories, please email info.us@technoform.com, call 330-487-6600 or visit www.technoform.com.
Technoform provides high-performance solutions that improve the thermal performance of façade, fenestration and cladding systems. Its best-in-class building envelope products are developed through collaboration with its customer partnerships to boost thermal performance of insulating glass, windows, doors, curtainwall, storefront and opaque façades. The relative low cost and high performance of Technoform's components help building designs to balance energy efficiency with occupant health and comfort without compromising aesthetics.
###
---
Filed under: Projects, Technoform
---
Story Resources
Word document
Request high res photographs for publication