Client News: Seguin Public Library in Texas earns LEED Gold and awards, features Tubelite's curtainwall and entrance systems
Posted on March 9th, 2018 by Heather West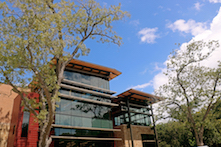 When the City of Seguin, Texas, decided to tear down its old library and build a new one, the priority was to leverage the natural beauty of its site along the banks of Walnut Creek. In Nov. 2017, the project earned LEED® Gold certification through the U.S. Green Building Council. Bringing the outdoors inside of this two-story facility, Tubelite's curtainwall and storefront frames these natural views and leverages natural light. In addition, cantilevered decks overlook the creek and a popular walking and biking trail.
Designed by PGAL of Los Angeles and 720 design inc. of Dallas, the 43,000-square-foot library is three times the size of the original building, providing more area for books, technology and spaces to sit, read and enjoy the natural surroundings. Thanks to Tubelite's curtainwall with high-performance glass, a quiet room extends into the branches of a pecan tree letting visitors feel as if they are sitting in a transparent tree house.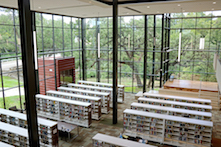 Representing Tubelite, Sage Architectural Products, LLC provided glazing contractor Bulverde Glass, Inc. of San Antonio with 16,300 square feet of Tubelite's 400 Series Curtainwall and T14000 I/O storefront, plus four Wide Stile doors and frames. Along with Tubelite's curtainwall, Sage also supplied Bulverde with champagne-colored aluminum sun screens from Industrial Louvers to shade library patrons from the Texas heat. In addition, the library incorporates metal accent panels, local limestone and brick with exposed wood roof decking for the exterior.
Todd Joubert with Sage notes, "Tubelite was selected for its service and value." Commercial building teams have depended on Tubelite's 400 Series since the 1980s. Throughout the decades, the curtainwall continues to prove its aesthetic flexibility and reliable structural performance. Contributing to this reliability, Linetec finished the aluminum framing members in a dark brown anodize.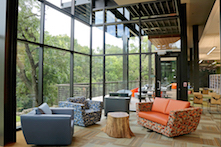 Providing one the most durable finishes for architectural aluminum products, Linetec's eco-friendly anodize process also supports environmentally responsible practices and design-forward thinking. It creates a frosty matte appearance, hides small defects common in recycled aluminum, contains no VOCs and meets or exceeds all AAMA 611 specifications. When it is time for the installed architectural product to be removed, anodized aluminum is 100 percent recyclable, lending itself to post-consumer recycled content during demolition or restoration of the building.
Tubelite's products are manufactured to meet the aesthetic, performance and environmental goals of each project, as well as for easy fabrication and installation. Demonstrating its dependability and partnership, Tubelite's Damage Free Guaranteed ensures orders are delivered undamaged, complete and on time.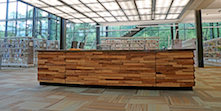 Byrne Construction Services began construction on the new Seguin Public Library in 2014 and competed it on scheduled. Tyler Messer of Bulverde Glass notes, "It came together pretty well and went up fairly easy. We hit the target dates. We're happy and everybody else seems happy with it, too."
The building celebrated its grand opening in September 2016. This year's LEED Gold certification is one of many accolades the project has received. Additional awards include the TEXO Distinguished Building Award-$10 to $30 Million, the Best of Texas presented by Engineering News Record and the Project of the Year Between $10-$25 Million by the American Subcontractors Association, San Antonio Chapter.
"It's no surprise to us that our gorgeous, one-of-a-kind Seguin Public Library is receiving these kinds of accolades. It is without a doubt a masterpiece of architecture and construction," said Library Director Jacki Gross.
**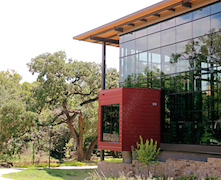 Seguin Public Library, 313 W Nolte St. Seguin, TX 78155, http://www.seguintexas.gov/landing_library.php
* Owner: City of Seguin; Seguin, Texas; http://www.seguintexas.gov
* Lead architect: PGAL; Los Angeles; https://www.pgal.com
* Additional architect: 720 design inc.; Dallas; http://www.720design.net
* General contractor: Byrne Construction Services; San Antonio, Texas; http://www.tsbyrne.com
* Glazing contractor: Bulverde Glass, Inc.; San Antonio; Texas; http://www.bulverdeglass.com
* Glazing systems - curtainwall and sun shade manufacturers' representative: Sage Architectural Products, LLC; Austin, Texas; http://sage-ap.com
* Glazing systems - sun shade manufacturer: Industrial Louvers, Inc.; Delano, Minnesota; http://www.industriallouvers.com
* Glazing systems - curtainwall, doors and frames manufacturer: Tubelite Inc.; Walker, Michigan; https://www.tubeliteinc.com
* Glazing systems - curtainwall, doors and frames finisher: Linetec; Wausau, Wisconsin; http://linetec.com
* Glazing systems - glass supplier: Columbia Commercial Building Products; Rockwall, Texas; http://ccbpwin.com
* Glazing systems - glass fabricator: Vitro Architectural Glass, Solarban® 70XL; Cheswick, Pennsylvania; http://www.vitroglazings.com
* Photos courtesy of Seguin Gazette
About Tubelite Inc.
For more than 70 years, glazing contractors have counted on Tubelite's dependable service, fabrication and distribution of architectural aluminum products. Part of Apogee Enterprises, Inc., the company is an industry leader in eco-efficient storefront, curtainwall and entrance systems, and recognized for its fast, reliable and consistent delivery.
Tubelite's corporate office, fabrication, warehouse and shipping operations are located in Walker, Michigan. Its Dallas location provides additional fabrication, warehouse and shipping operations and its facility in Reed City, Michigan, houses the company's aluminum extrusion operation. The company also has offices in Rock Hill, South Carolina, and Warwick, Rhode Island.
Tubelite and its staff are members of the American Architectural Manufacturers Association (AAMA), the American Institute of Architects (AIA), the Construction Specifications Institute (CSI), the Glass Association of North America (GANA), the National Fenestration Rating Council (NFRC), the Society of Military Engineers (SAME) and the U.S. Green Building Council (USGBC).
###
---
Filed under: Linetec, Projects, Tubelite
---
Story Resources
Word document
Request high res photographs for publication