Client News: Rowan University Discovery Hall features Rockfon ceiling systems, offers expanded space to meet growing enrollment in STEM fields
Posted on October 26th, 2022 by Heather West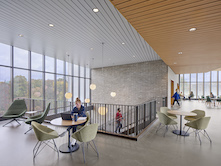 As the gateway to the east end and academic core of Rowan University's Glassboro, New Jersey campus, the new Discovery Hall offers expanded space to meet growing enrollment in the School of Earth & Environment and the College of Science & Mathematics.
Opened in September 2021, the 68,000-square-foot academic and research building provides a holistic learning environment for students pursuing in-demand careers in the science, technology, engineering and math (STEM) fields.
In designing Discovery Hall, KSS Architects LLP selected Rockfon's ceiling systems to provide a biophilic wood-look design with sound-absorbing, moisture-resistant, fire-resistant and sustainable performance.
"We researched metal ceilings that had the wood look we wanted and could provide the acoustic control we needed," said KSS Architects' associate, Beth Emig, R.A., LEED® AP BD+C, AIA. After careful review, she chose Rockfon® Planar® Macro metal ceiling panels with Maple Metalwood® Woodgrain finishes.
To optimize acoustics, a Noise Reduction Coefficient of 0.70 NRC was specified to absorb sound in student collaboration areas, while still providing an energetic atmosphere. To achieve these performance requirements, an acoustical insulation backing was added to the metal ceiling panels. The panels' sound absorption was further enhanced with a small-diameter perforation pattern.
"From the floor looking up, you don't notice the perforations. The finish color is a good match. It came out really well," complimented Emig. "The result is a ceiling system with an elevated look, executed to meet the university's needs, and will be easy to work with throughout the building's life."
Durability and maintenance also were key to the university's facilities team. Rockfon's metal ceilings are resistant to moisture, humidity and sagging. The linear planks can be removed individually if updates are needed to equipment or other systems concealed in the plenum above the panels.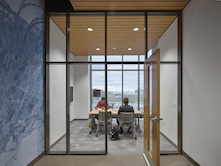 Supporting sustainable goals, Rockfon's metal ceiling systems are manufactured with up to 85 percent recycled content and are 100 percent locally recyclable. Environmental Product Declarations (EPDs) and additional documentation are available to assist design and facilities teams in evaluating and specifying Rockfon's comprehensive product offering.
A total of 21,000 square feet of Rockfon Planar Macro square edge, linear metal ceiling systems were installed by Bigelow Brothers, Inc. Air supply and return grills, smoke detectors and sprinklers, wireless access point hardware, occupancy sensors and energy-efficient light fixtures were incorporated into the completed ceilings.
Discovery Hall's floorplan unites a four-story west section and a two-story east section with a first-floor lobby and second-story lounge. In these common areas, main corridors and student collaboration spaces, Rockfon's metal ceilings feature the woodgrain appearance.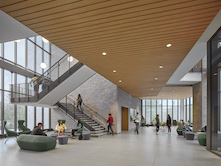 On the first, third and fourth floors, the metal ceiling panels align in parallel running the entire length of the building. On the second level, the largest hallway ceiling span runs 200 feet long. Where collaboration spaces meet and merge with the second-floor corridor, Rockfon's white-finished metal ceiling panels intersect to form contrasting perpendicular patterns.
Rowan University's Discovery Hall includes 12 classrooms, student collaboration space, two conference rooms, faculty offices and research labs, and six teaching laboratories. Specialty labs serve geology, paleontology, environmental science, computational research and molecular paleontology, one of just two research spaces in the nation dedicated to the study of ancient proteins in fossils.
**
Rowan University, Discovery Hall, 600 Whitney Ave., Glassboro, New Jersey 08028; https://earth.rowan.edu
• Owner: Rowan University; Glassboro, New Jersey; https://www.rowan.edu
• Project developer: Gloucester County Improvement Authority; Clarksboro, New Jersey; https://www.gcianj.com
• Project planning and development: Rowan University – Division of Facilities, Planning & Operations; Glassboro, New Jersey; https://sites.rowan.edu/facilities/About
• Architect and interior designer: KSS Architects LLP; Princeton, New Jersey; https://kssarchitects.com
• General contractor: Terminal Construction Corporation; Wood-Ridge, New Jersey; https://terminalconstruction.com
• Construction manager: New Road Construction Management Company, Inc.; Cherry Hill, New Jersey; https://newroadconstruction.com
• Ceiling systems – installing contractor: Bigelow Brothers, Inc.; Haddon Heights, New Jersey
• Ceiling systems – distributor: Freedom Materials LLC; Newark, Delaware; https://freedommaterials.com
• Ceiling systems – manufacturer: Rockfon; Chicago; https://www.rockfon.com
• Photographer: Todd Mason, ©Halkin Mason Photography LLC
• Video tour: https://www.youtube.com/watch?v=Ouni7FEcpNI
About Rockfon
Rockfon is part of the ROCKWOOL Group and is offering advanced acoustic ceilings and wall solutions to create beautiful, comfortable spaces.
At the ROCKWOOL Group, we are committed to enriching the lives of everyone who experiences our product solutions. Our expertise is perfectly suited to tackle many of today's biggest sustainability and development challenges, from energy consumption and noise pollution to fire resilience, water scarcity and flooding. Our range of products reflects the diversity of the world's needs, while supporting our stakeholders in reducing their own carbon footprint.
Stone wool is a versatile material and forms the basis of all our businesses. With approximately 11,500 passionate colleagues in 39 countries, we are the world leader in stone wool solutions, from building insulation to acoustic ceilings, external cladding systems to horticultural solutions, engineered fibers for industrial use to insulation for the process industry, and marine and offshore.
###
---
Filed under: Projects, Rockfon
---
Story Resources
Word document
Request high res photographs for publication