Client News: 707 Fifth office tower offers an attractive, energy-efficient, comfortable workplace in downtown Calgary
Posted on July 17th, 2019 by Heather West
Triple-glazed, curtain wall system features Technoform's TGI Spacer M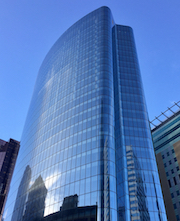 The new 707 Fifth "AAA" office tower in downtown Calgary, Alberta, features a distinctive, curved glass appearance with high energy-efficiency and a comfortable interior. In spite of the cold climate, the 27-story, 564,000-square-foot (52,400m²) building met its energy targets, due in part, to the use of Technoform's TGI® Spacer M in the triple-glazed, curtain wall system. The project is designed to achieve LEED® Gold certification through the Canadian Green Building Council.
World-renowned architects Skidmore, Owings and Merrill (SOM) designed the iconic, energy-efficient structure. The building's façade combines convex and concave forms to shape elliptical and undulating elevations. The floor-to-ceiling glass maximizes internal daylighting and comfort, minimizes unwanted solar heat gain and heat loss, and provides panoramic views of the city and the Rocky Mountains.
The building's lead tenant is PetroChina, whose employees and visitors have a choice of nearby transit solutions and a breadth of on-site amenities, retailers and restaurants. The soaring 30-foot-tall lobby and interconnected winter garden provide an attractive, year-round setting.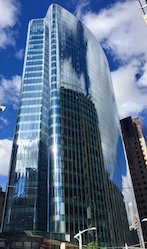 Bringing the vision to reality, construction manager EllisDon worked closely with Contract Glaziers West Inc. to engineer the custom, high-performance, unitized, structurally glazed, aluminum-framed curtain wall system, and to manufacture and install it to precise specifications.
The curtain wall relies on Tianjin North Glass' (TNG's) state-of-the-art, bent, triple-pane insulated glazing units (IGUs) with two low-e coatings from G-Crystal Glass Group. Technoform's bendable, yet durable, warm edge spacer separates the three panes of glass, creating an insulating barrier at the perimeter of the IGU to improve thermal performance. This combination of high-performance components allows the IGUs to meet the project's high thermal performance requirements and achieve the overall energy-saving, sustainability goals.
Clarity Architectural Products introduced TNG to the 707 Fifth project team as its preferred supplier for the building envelope, capable of fabricating the sophisticated, bent, multi-pane, insulating glass in custom shapes, large sizes and at the high level of quality specified. In total, TNG supplied 220,000 square feet (20,400m²) of glass to Contract Glaziers West, which fabricated the curtain wall in its Windsor, Ontario, facility then transported the system to Calgary for installation on the project.
"TNG was one of the few glass manufacturers willing to accept the challenge of producing IGUs with custom low-e coatings, such that they looked the same whether in the concave or convex orientation," explained Technoform's Helen Sanders, PhD. Technoform's TGI Spacer-M serves as the standard for TNG and its large, premium insulating glass products.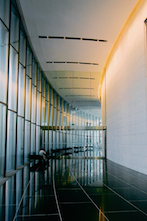 "Using Technoform's spacer for this application came from a recommendation by the Tianjin North Glass team," said Contract Glaziers West's Steve LeBlanc. "We affirmed their preferred spacer solution via our thermal modelling for the project, thus establishing that it would provide the performance values we required."
The thermal performance requirements of 707 Fifth included stringent whole unit U-factors of 0.91 W/m²K (0.16 hr/ft²F), according to Dirk Schulte, formerly with TNG. He said, "TNG proposed Technoform due to its unique portfolio of spacer systems, providing the ideal product solution for this high-end glass unit."
LeBlanc continued, "Due to Technoform's industry reputation as a leader in providing thermal IGU spacers, thermal breaks and isolators, the product was readily accepted into the design. Overall, with the two layers of high-performance low-e and the warm edge spacers provided, we were able to achieve the wall performance desired by the design team and consultants."
Before beginning construction in 2014, EllisDon's virtual design and construction team produced three-dimension conceptualizations using building information modeling (BIM) tools. According to the construction manager, this visualization of the project led to "a complex, yet achievable coordination process" guiding the way to its successful conclusion.
Reiterating the key aesthetic goals for the 707 Fifth, LeBlanc described, "The façade had a geometry of both concave and convex radius glazing, as well as the east and west elevations' inverted slope from ground level to the top of the building. All flat and curved glass had to match in color and performance as per the design specifications."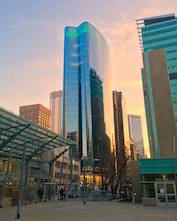 Schulte complimented the solution: "Technoform's hybrid spacer, made of engineered plastic and a strong supporting stainless steel cover, has been extremely helpful to smoothly fabricate the curved and triple-insulating units with concave and convex shaped bends – without incorporating any additional stresses around the perimeter edge seal of the insulating glass panes."
"The overall exterior visible quality and glass flatness was a huge concern. Therefore, the outer lite was specified as 2-by-8mm laminated glass to lower the risk of visual distortions – all intended to provide a higher level of flatness on the exterior surface," emphasized Schulte.
SOM's associate Eric Pasche, AIA, added, "Laminated glass was also preferred by the client to provide an additional level of safety in the event of glass breakage.
"The architectural team at SOM also was very concerned about color matching between flat, concave and convex shaped panels," noted Schulte. Anisotropy, which is the property of being directionally dependent, also was an important consideration.
Custom coatings met the architectural vision and aesthetic intention. Schulte elaborated, "Clarity developed a plan with G-Crystal and TNG to customize a low-e (coating) for the surface #5 vs. surface #4 to receive similar reflection and solar performance values throughout the glass."
Pasche clarified, "This strategy was only used at the concave units. Most of the tower has the low-E coating on the #4 surface. The surface stresses for concave curved glass would cause the typical low-e coating on surface #4 to stretch and break, so a custom coating was developed for surface #5 on the concave units to create the same visual effect as the typical units."
Schulte continued, "This let the building envelope look shiny from a distance, but more transparent and neutral up close. From a spacer perspective, the color was specified in black to have the spacer virtually disappear into the window system without any perimeter reflection."
TNG produced the units, working closely with Clarity's inspection process and team. "The owner required a 100 percent inspection of fabricated glass, which TNG accepted and welcomed to prove the high level of production quality and workmanship on the final glass. Clarity managed to keep all the loose ends together to develop, produce, inspect and deliver a tailor-made product from China at the highest aesthetic and quality standards," said Schulte.
"The ease of handling Technoform spacers for flat and curved glass units streamlined the production process to an efficient output of units per day in order to meet the high expectations of the client on quality, schedule and delivery time," he praised. "Clarity handled all of the local logistics – from China to Windsor – which included between 85-100 containers on the tower portion of the project." Additional shipments were added for the podium and glass roof portion of the building.
Anticipating the needs of Contract Glaziers West, TNG and Clarity delivered the glass prior to installation. Schulte shared that EllisDon had expressed excitement for how the supply chain was "seamlessly executed on the delivery timing and level of quality." The project was completed on time in for a grand opening in April 2017. Total construction costs are estimated at $200 million.
"Overall this was a challenging, yet highly successful project, with a unique vision that all team members collaborated well on in bringing it to fruition," concluded LeBlanc.
**
707 Fifth, 707 5th St. SW, Calgary, AB T2P 0Y3 Canada; http://www.707fifth.com
* Architect: Skidmore, Owings & Merrill LLP (SOM); Chicago; https://www.som.com
* Construction Manager: EllisDon Corporation; London, Ontario; http://www.ellisdon.com
* Project consultant and manager: WSP (and formerly Pivotal); Toronto; https://www.wsp.com
* Glazing system – designer, manufacturer and installer: Contract Glaziers West Inc.; Calgary, Alberta; http://www.contractglaziers.com
* Glazing system – manufacturer's representative: Clarity Architectural Products; Toronto
* Glazing system – glass fabricator: Tianjin North Glass; Tianjin, China; http://www.northglass.global
* Glazing system – glass coatings: G-Crystal Glass Group Corporation; Beijing
* Glazing system – spacer: Technoform; Twinsburg, Ohio; https://www.technoform.com
* Exterior photos (images 1 and 2) by – Steve LeBlanc
* Interior photo by – Davide Colonna on Unsplash
* Skyline photo by – Chad Koski
* Video – topping off event: https://www.youtube.com/watch?v=6LPNFjfyOK0
Technoform provides high-performance insulative solutions for façades, cladding and fenestration systems. Its best-in-class building envelope products are developed through collaboration with its customer partnerships to boost thermal performance of windows, curtain wall and opaque façades. The relative low cost and high performance of Technoform's components help building designs to balance energy efficiency with occupant health and comfort without compromising aesthetics.
For additional information about Technoform and its solutions for the North America market, please email info.us@technoform.com, call 330-487-6600 or visit Technoform.com.
###
---
Filed under: Projects, Technoform
---
Story Resources
Word document
Request high res photographs for publication