Association News: AAMA advocates on industry's behalf at recent International Code Council Committee Action Hearings
Posted on May 31st, 2019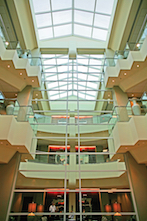 The American Architectural Manufacturers Association (AAMA) worked on behalf of its members during International Code Council (ICC) Committee Action Hearings (CAH) April 28-May 8 in Albuquerque, New Mexico. AAMA represented its members, working with other industry groups and interested individuals to take positive action on behalf of the fenestration industry.
"AAMA was able to earn committee approval on a number of proposals which had failed to earn approval in previous code cycles," said Kathy Krafka Harkema, AAMA's codes and regulatory affairs manager. "Earning committee approval on code proposals is an important step in the ICC code development process. The next hurdle AAMA will work to clear is public comment hearing approval."
"AAMA also worked hard to oppose changes that might harm those in our membership and the industry," said Jen Hatfield, AAMA's codes consultant. "By strategizing and working with others throughout the code hearings, AAMA was able to find ways to protect our members' interests. All aspects are important strategic pieces in the code development process in order to be successful."
AAMA will represent the interests of its members and the industry at public comment hearings on Oct. 23-30, 2019, in Las Vegas as the process draws to a close later this year.
Among the fenestration-focused highlights from ICC CAH:
Skylight and tubular daylighting device-related proposals
CE39-19 - The committee moved to approve this as submitted on a 15-0 vote. This proposal ensures more appropriate standards for tubular daylighting devices (TDDs), which differ from skylights.
RE83-19 - AAMA earned committee approval 11-0. This clarifies that screens are not required below skylights and sloped glazing when laminated glass is used. While this proposal passed on the residential energy side of committee action, the structural commercial committee failed to approve a similar proposal (S190-19), stating it favored existing code language and ordering, compared with the proposed revision.
RE161-19 - AAMA negotiated with opponents to earn committee approval 7-4. It adds criteria for consideration of skylights in standard reference design building, when performance-based design is used for residential buildings. Skylights were inadvertently removed from the table when "glazing area" was redefined as "vertical fenestration" and "skylights and sloped glazing" in a prior code cycle. This issue went unresolved in prior code cycles.
Commercial energy proposals
CE39-19 IECC – C, Sections 202, C303.1.3, C402.4.2, C402.4.2.2, and National Fenestration Rating Council (NFRC) Chapter 6 – The committee approved the AAMA proposal as submitted by 15-0 vote. This commercial energy proposal defines "Visible Transmittance, Annual" and adds language to include TDDs, requiring these devices to meet NFRC 203. It also adds NFRC 203 into the reference standards chapter.
CE-84-19 - Part of the ICC International Energy Conservation Code (IECC) Table C402.4, this proposal passed out of committee on a motion to approve it 15-0, making IECC provisions consistent with provisions of 2019 ASHRAE 90.1. This is a joint proposal by the Glazing Industry Code Committee (GICC), Aluminum Extruders Council (AEC), the Window and Door Manufacturers Association (WDMA) and AAMA.
Residential energy proposals
RE6-19-IECC – R, Section 202 – The committee approved this AAMA proposal as submitted on a 15-0 vote. This adds TDDs to the definition of skylights, clarifying that requirements for skylights also apply to TDDs. It also ensures alignment with the definition of skylights in the IECC-C (commercial), IRC and International Building Code (IBC).
RE24-19 - Agreeing with the fenestration industry testimony, the committee disapproved with a vote of 8-3. AAMA opposed RE24-19, because it sought to implement code requirements that exceeded those of ENERGY STAR. Fundamentally, fenestration industry representatives from numerous organizations noted that the intent of ENERGY STAR is to recommend guidelines above code levels in terms of energy efficiency.
RE83-19 - The committee voted to disapprove on a vote of 8-3. The fenestration industry opposed this proposal related to non-typical window shape framing areas, because if those installing foam insulation do it improperly, it can have a negative impact on the performance of windows.
RE161-19 -The committee voted to approve on a vote of 7-4, consistent with the fenestration industry's position.
More information about the ICC Group B code development cycle is available online.
Additionally, more information about AAMA and its activities can be found via the AAMA website, https://aamanet.org.
AAMA is the source of performance standards, product certification and educational programs for the fenestration industry.SM
###
---
---
Story Resources
Word document
Request high res photographs for publication