Columbia Business School's Geffen and Kravis Halls in New York's Manhattanville neighborhood feature Rockfon's ceilings
Posted on April 27th, 2023 by Heather West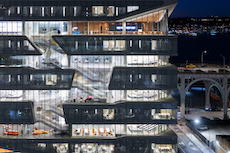 Expanding into new communities, Columbia University acquired a multi-block site in New York's Manhattanville neighborhood of West Harlem, between 12th Avenue and Broadway. On the block bordered by 130th and 131st streets, two recently opened buildings now serve the growing number of students at Columbia Business School (CBS). Together, the eight-story David Geffen Hall and the 11-story Henry R. Kravis Hall, span approximately 492,000 square feet, doubling the business school's previous square footage.
Designed by Diller Scofidio + Renfro, in collaboration with FXCollaborative and with associate architect AARIS Design, the CBS buildings reflect the fast-paced, high-tech and highly social character of business in the 21st century. Also designed to have minimal impact on the environment, the Manhattanville campus is the first neighborhood development in New York City to earn the U.S. Green Building Council's prestigious LEED® Platinum certification, and both buildings were awarded LEED for New Construction Gold certification.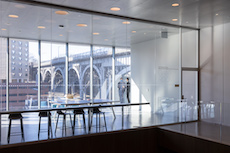 Supporting the project's sustainable goals, modern high-tech aesthetic, high acoustic performance requirements and collaborative learning environment at CBS, the design team specified Rockfon metal ceiling systems for several interior spaces. Geffen and Kravis Halls feature Rockfon Spanair Torsion Spring concealed metal panels on the high ceilings in classrooms, boardrooms, student social lounges and game rooms, and throughout "The Network."
"As the connective tissue of the school, the Network links the primary programs of each building with a generous circulation stair, intimate lounges, flexible seminar spaces, open-breakout, tiered seating, carrels and informal hang-out spaces into a new type of academic space," described Columbia Business School (CBS).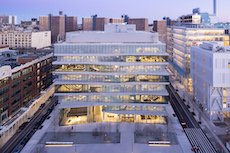 The CBS buildings' layer-cake floorplan and multifunctional spaces foster a sense of community, cultivate relationships and promote the open exchange of ideas between students, faculty, alumni and practitioners. "The Square," a one-acre public park, connects the two buildings and helps connect the campus to the larger Harlem community.
Balancing the CBS buildings' lively communal spaces and quieter learning areas, Cerami & Associates provided acoustics design for the project. For Geffen and Kravis Halls, all Rockfon's metal ceiling panels were perforated in a staggered pattern and improved for high acoustic performance.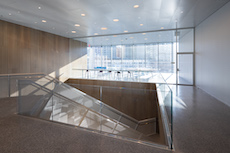 On CBS, Rockfon Spanair Torsion Spring Panels were enhanced using a sound-insulating glass fiber backing to achieve a Noise Reduction Coefficient of up to 0.90 NRC. Choosing ceiling products with best-level sound absorption contributes to comfortable interiors, where students can concentrate on their lessons, clearly understand their instructors and communicate with each other.
Along with ensuring the required performance, a full-size classroom mock-up allowed the architects to visualize the installed ceiling design. To support the project, "The installing contractors moved forward and completed installation in all areas. Rockfon Spanair Torsion Spring metal ceiling panels were specified in 2-by-8-foot panel sizes with a custom "March Wind," a pearlescent RAL color-matched coating with a sandblasted finish. The architects also chose the specialized color finish for the metal design elements of CBS buildings' "Network," such as the staircases' decorative panels and the ceilings' Rockfon® Infinity 4-inch Perimeter Trim," explained Mekram Mohammad, Rockfon's Regional Sales Manager.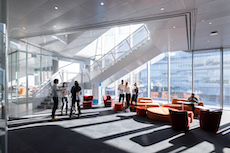 "In addition to the custom finish for the ceiling panels, we provided our Infinity perimeter trim in custom curves and sizes to create the light coves where the wall and ceiling intersect, including around the room's curved corners," Mohammad continued. "In some classrooms, the ceiling was positioned beneath the exterior curtain wall framing members. We worked closely with the design team and installing contractors to devise soffit that transitioned between the ceiling and the glazing. Using nonperforated metal, finished in the same March Wind, we engineered an angular 'hockey stick' shaped panel system with a custom grid-attachment solution for a unified appearance."
While the design of each of the CBS buildings is distinct, the two, like siblings, share a DNA unique to Columbia Business School. Both set the stage for dynamic interactions between the University's different populations by shuffling faculty floors with student floors, made legible in each building's syncopated silhouette. Every classroom takes full advantage of being embedded in New York City's urban fabric with views of the surrounding neighborhood and campus as well as the George Washington Bridge and the Hudson River. A network of stairs and social spaces emerges from the ground floor, programmed with public spaces that welcome the community. These networks weave through both buildings in dialogue across The Square, animating each façade with the school's daily activities," said Partner-in-Charge for Diller Scofidio + Renfro, Charles Renfro.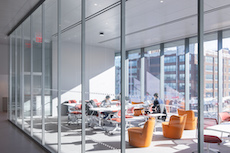 Where necessary, the installing contractors cut and shaped the finished metal panels to wrap columns and corners. Geffen and Kravis Halls' modern ceiling design also integrates numerous energy-efficient light fixtures, air registers, smoke detectors, fire suppression systems, egress signage, security cameras, wi-fi routers, microphones, projectors and other audio-visual equipment.
Rockfon Spanair metal ceiling panels install easily, using a metal grid-based suspension system. The ceiling panels are engineered with an edge spring mount, which allows the university's facilities and operation team to access the plenum when repairs or upgrades are needed for mechanical, electrical, plumbing, HVAC and other building systems. Rockfon Infinity perimeter trim was finished to match the panels and to create a neat, crisp edge.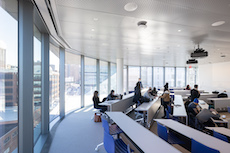 "Each building of CBS is defined by a unique, beautifully crafted, daylit stair that weaves teaching, collaboration, and socializing spaces together. Visible from The Square and each other, they reflect the dynamic interaction within the school, day and night. It has been thrilling to work with our collaborative partners, our consultant team, and the constructors to bring these buildings to life," said Project Partner-in-Charge and Senior Partner at FXCollaborative, Sylvia Smith.
Rockfon's metal ceiling systems are manufactured with recycled content and are 100 percent locally recyclable at the end of their useful life in the ceiling. Metal provides no sustenance for mold, mildew or other microorganisms. It cleans with a damp cloth and requires minimal maintenance. Columbia Business School's Manhattanville campus buildings now unite the academic and administration functions that previously were spread across the Morningside campus and rented offices on the Upper West Side. Turner Construction began work on site in 2016 and completed the structural framework in 2019. Adjusting schedules to COVID protocols, the projects were fully completed in 2021. Geffen and Kravis Halls officially opened in January 2022.
Columbia Business School (CBS), Geffen and Kravis Halls; New York, New York
• Prime architect: Diller Scofidio + Renfro; New York
• Executive architect and sustainability/LEED consultant: FXCollaborative; Brooklyn, New York
• Associate architects: AARIS Design Architects; New York
• Construction manager: Turner Construction; New York
• Ceiling systems – installing contractors:
– Henry R. Kravis Hall – Curtis Partition; New York
– David Geffen Hall – Jacobson & Company, Inc.; New York
• Ceiling systems – distributor: Feldman Lumber, a division of US LBM ; Brooklyn, New York
• Ceiling systems – manufacturer: Rockfon; Chicago
• Photographer: ©Iwan Baan Photography
About Rockfon
Rockfon is part of ROCKWOOL Group and is offering advanced acoustic ceilings and wall solutions to create beautiful, comfortable spaces.
At ROCKWOOL Group, we are committed to enriching the lives of everyone who experiences our product solutions. Our expertise is perfectly suited to tackle many of today's biggest sustainability and development challenges, from energy consumption and noise pollution to fire resilience, water scarcity and flooding. Our range of products reflects the diversity of the world's needs, while supporting our stakeholders in reducing their own carbon footprint.
Stone wool is a versatile material and forms the basis of all our businesses. With approximately 12,200 passionate colleagues in 40 countries, we are one of the world leaders in stone wool solutions, from building insulation to acoustic ceilings, external cladding systems to horticultural solutions, engineered fibers for industrial use to insulation for the process industry, and marine and offshore.
For more information, please visit https://www.rockfon.com.
###
---
Filed under: Projects, Rockfon
---
Story Resources
Word document
Request high res photographs for publication