Client News: Kolbe Windows & Doors launches virtual showroo
Posted on July 16th, 2021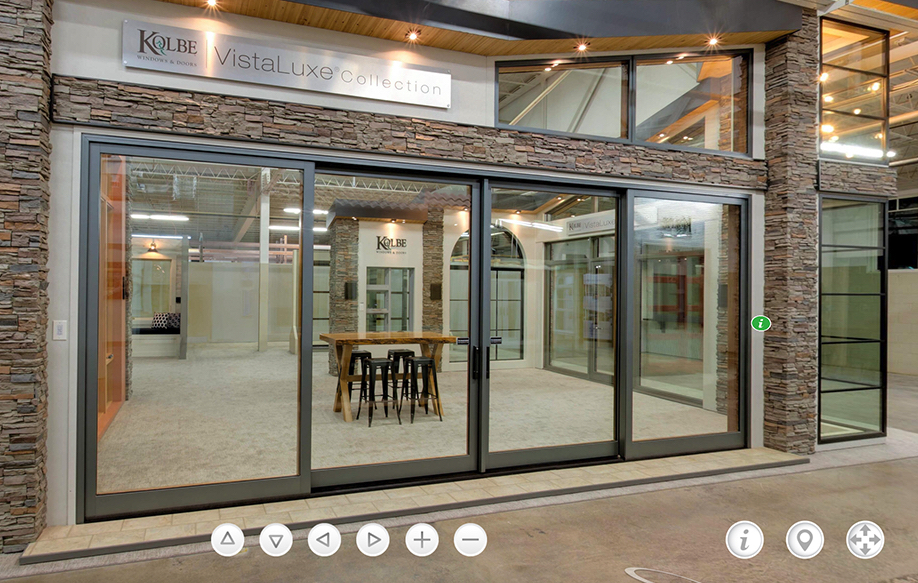 Wausau, Wisconsin (July 2021) – Kolbe Windows & Doors has added a virtual showroom to https://www.kolbewindows.com, where users can explore Kolbe's capabilities at their convenience.
Kolbe's president, Jeff DeLonay, explained, "With today's culture of living in the digital space, we wanted to provide an interactive enhancement to our website that allowed customers to explore our products at their leisure."
The 26-display showroom features products from Kolbe's VistaLuxe® Collection, Ultra Series and Forgent® Series. Various window and door types are represented – from XL awnings and casements to lift & slide doors – in unique configurations with a variety of hardware, wood and finish options.
The navigation allows the viewer to easily maneuver through the showroom space, with helpful tools, including directional buttons, floorplan maps, hot spots and pop-up information windows. Even the wall graphics and TV monitors are clickable, either opening a page of Kolbe's website in a new tab, or presenting slideshows and videos inside the showroom.
"We continually strive to provide the necessary tools for a more enjoyable user experience, and our virtual showroom opens up more options for exploration of our products and inspiration," said DeLonay.
To experience Kolbe's virtual showroom, please visit https://www.kolbewindows.com/virtual-showroom.

What began in 1946 as a two-brother team has grown into an internationally respected manufacturing company. Kolbe Windows & Doors is one of the nation's leading manufacturers of windows and doors for residential and commercial markets. After 75 years, Kolbe products are best known for superior quality, custom craftsmanship, attention to detail, as well as innovative and unique designs.
###
---
Filed under: Kolbe Windows & Doors, Products
---
Story Resources
Image
Word document
Anniversary logo
Request high res photographs for publication