Client News: Rockfon expands acoustic stone wool ceiling products – adds baffles in black and larger panel sizes in white
Posted on August 16th, 2017 by Heather West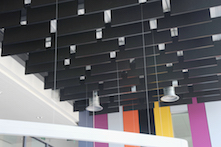 Rockfon continues to expand its selection of acoustic stone wool ceiling products with the addition of Rockfon® Multiflex™ Fibral Baffles Black, larger sizes in Rockfon Alaska® panels and larger dimensions of Rockfon Sonar® panels.
Rockfon Multiflex Fibral Baffles Black are installed vertically using a three-sided frame in 12- 18- and 24-inch widths. Because these baffles provide high sound absorption, they are ideally suited for spaces seeking acoustic comfort or corrections. This includes spaces with lively conversation, such as cafes and restaurants, or where quiet concentration is preferred, such as open plan or cellular offices, museums and light industrial applications.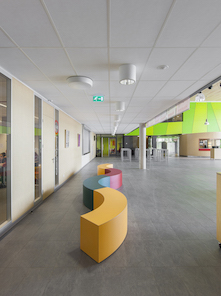 Rockfon Alaska direct mount, square lay in, square tegular narrow and angled tegular edge designs are now available in larger sizes. These expand the product line's other panel sizes and edge options. All feature a smooth white surface and offer sound absorption with a Noise Resistance Coefficient (NRC) as high as 0.90.
Rockfon Sonar are offered in larger dimensions for direct mount, square tegular narrow, angled tegular, semi-concealed and concealed-x edges. All Rockfon Sonar panels and planks have a lightly textured white surface and very high sound absorption, up to NRC 0.95.
The white finish of Rockfon Alaska and Sonar ceiling panels provide high light reflectance to maximize natural light, allowing for reduced light fixtures and increased energy savings.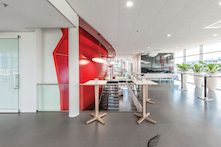 Rockfon Alaska and Sonar ceiling panels, and Multiflex Fibral Baffles Black, are all made from stone wool. Stone wool is produced using a patented technology where volcanic stone and recycled materials are melted and spun into wool. The material is resistant to water, mold and mildew, humidity and sagging; and the light weight makes these products fast and easy to install.
The complete portfolio of Rockfon acoustic stone wool ceiling products is certified GREENGUARD Gold low-VOC. Environmental Product Declarations (EPDs) also are available and certified under UL Environment's EPD Program.
With minimal maintenance and long-term durability, Rockfon stone wool ceiling products supplied in North America are supported with a 30-year warranty.
To learn more about Rockfon acoustic stone wool ceiling products, metal ceilings and suspension systems, please visit www.rockfon.com. For additional support, please call 800-323-7164 or email cs@rockfon.com.
About Rockfon
Rockfon is part of the ROCKWOOL Group and is offering advanced acoustic ceilings to create beautiful, comfortable spaces.
At the ROCKWOOL Group, we are committed to enriching the lives of everyone who experiences our solutions. Our expertise is perfectly suited to tackle many of today's biggest sustainability and development challenges, from energy consumption and noise pollution to fire resilience, water scarcity and flooding. Our range of products reflects the diversity of the world's needs, supporting our stakeholders in reducing their own carbon footprint along the way.
Stone wool is a versatile material and forms the basis of all our businesses. With approximately 10,500 passionate colleagues in more than 35 countries, we are the world leader in stone wool solutions, from building insulation to acoustic ceilings, external cladding systems to horticultural solutions, engineered fibers for industrial use to insulation for the process industry and marine and offshore.
###
---
Filed under: Products, Rockfon
---
Story Resources
Word document
Request high res photographs for publication