Client News: Minnesota's Cedar Grove Transit Center clad in Protean aluminum plate system finished by Linetec
Posted on May 25th, 2018 by Heather West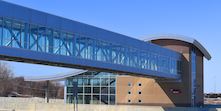 Linetec's painted mica finishes contribute to the the metallic aesthetic, high performance and lasting durability of Protean Construction Products' aluminum plate system as installed by Flynn Midwest on Minnesota's Cedar Grove Transit Center. The new station significantly expands the original facility with two buildings connected by a signature skyway bridge over TH77/Cedar Avenue. The building's design complements other stations on the Red Line.
For the Cedar Grove Transit Center, Linetec finished more than 5,000 square feet of Protean's AP-1125 aluminum, formed-plate barrier system in a Bright Silver color. Engineered for low-rise applications, Protean's wet-joint, metal plate panel system is well suited for projects that go down to grade, and feature multiple bends, shapes and conditions where a long service life is needed.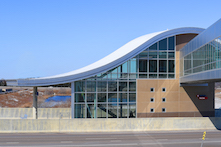 Ensuring performance as specified, Protean's system comply with ASTM standards for water penetration, air infiltration and structural integrity. Enhancing and protecting the aluminum panels, the two-coat mica Duranar® painted coatings applied by Linetec also meet the American Architectural Manufacturers Association's AAMA 2605 stringent standards for 70 percent PVDF resin-based coatings. These finishes for architectural aluminum products exhibit industry-leading resistance to humidity, color change, chalk, gloss loss and chemicals.
Along with performance and durability, Linetec's Tammy Schroeder, LEED® Green Associate, notes, "Mica paint coatings add a unique vibrancy and visual appeal to projects. Their lively appearance is caused by the way visible light is reflected off of the mica flakes. This dynamic finish presents an especially appropriate look in representing the activity of a transit center."
The Cedar Grove Transit Station connects transit riders on the METRO Red Line Bus Rapid Transit (BRT) system directly to the Mall of America Transit Station, Apple Valley Transit Station and local routes. The Highway 77/Cedar Avenue corridor is one of the busiest roads in the state – each day, about 90,000 motorists cross the Minnesota River on the road.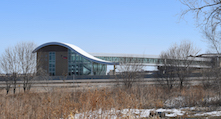 The original station, originally opened in 2010, was built adjacent to the Cedar Avenue highway, but required the buses to exit, travel to the station, then double back to re-enter the highway. Constructing a new platform in the center of the highway, METRO Red Line buses now stop at the station without leaving the highway. This safely brings riders closer to the buses and saves several minutes of travel time.
The station improvements project is a collaboration between the Metropolitan Council (Met Council)/Metro Transit and the Minnesota Department of Transportation, Dakota Regional Railroad Authority, City of Eagan, Counties Transit Improvement Board, and Minnesota Valley Transit Authority. Working closely with the Met Council/Metro Transit, Short Elliott Hendrickson Inc. (SEH) led the $15 million station upgrade design.
Protean President Troy Ethen explains, "The Met Council developed a long-range plan for improving the bus line from southeast suburbs to Minneapolis and St. Paul, one main point being the addition of a transit station on Cedar Avenue. SEH, which specializes in municipal infrastructure projects, were hired to design the station in compliance with the overall goals of the project."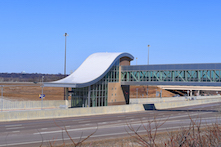 The project's four main goals included: providing a variety of safe, reliable and attractive bus transit services in the corridor; improving mobility and accessibility within the Cedar Avenue Transitway; identifying improvements that are cost-effective and well-positioned for implementation; and enhancing and promoting transit-oriented development that is compatible with community goals and helps increase ridership.
SEH noted that project challenges included designing a skyway spanning both the northbound lanes and ramp exit on Highway 77/Cedar Avenue, while avoiding major underground utilities.
Helping meet the project's goals and challenges, Ethen adds, "Protean's proposal for cladding helped meet the goals of an attractive and cost-effective solution" and a "cost-effective and consistent finish. Partnering with Flynn Midwest, Protean was able to meet the project requirements on time and under budget."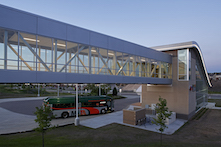 Cedar Grove Transit Center opened in May 2017, 13 months following the project's groundbreaking. The project, the Met Council and its team were recognized with an Honor Award by the American Council of Engineering Companies, Minnesota Chapter (ACEC-MN).
**
Cedar Grove Transit Station, 4035 Nicols Road, Eagan, Minnesota 55122
• Owner: Metropolitan Council Metro Transit; St. Paul, Minnesota; https://metrocouncil.org
• Design and construction services: Short Elliott Hendrickson Inc. (SEH); Vadnais Heights, Minnesota; http://www.sehinc.com
• General contractor: Ryan Companies US, Inc.; Minneapolis; https://www.ryancompanies.com
• Cladding system – specialty subcontractor: Flynn Midwest USA, part of the Flynn Group of Companies; Plymouth, Minnesota; https://flynncompanies.com
• Cladding system – manufacturer: Protean Construction Products, Inc.; Burnsville, Minnesota; https://protean.com
• Cladding system – finishing service provider: Linetec; Wausau, Wisconsin; http://linetec.com
• Photos by: Mark Long
• Additional image: by Bergerson Photography, courtesy of Protean Construction

Located in Wisconsin, Linetec serves customers across the country, finishing such products as aluminum windows, wall systems, doors, hardware and other architectural metal components, as well as automotive, marine and manufactured consumer goods. The company is a subsidiary of Apogee Enterprises, Inc. (NASDAQ: APOG).
Linetec is a member of the Aluminum Anodizers Council (AAC), the American Architectural Manufacturers Association (AAMA), the American Institute of Architects (AIA), the Association of Licensed Architects (ALA), the National Glass Association/Glass Association of North America (NGA/GANA), the U.S. Green Building Council (USGBC) and the Window and Door Manufacturers Association (WDMA).
###
---
Filed under: FGIA, Linetec, Projects
---
Story Resources
Photo by Mark Long
Photo by Mark Long
Photo by Mark Long
Photo by Mark Long
Word document
Request high res photographs for publication