Kolbe's exterior color palette blends with the trends
Posted on March 31st, 2023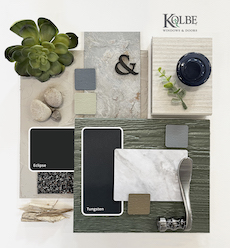 Wausau, Wisconsin – With the design trends gravitating away from stark interiors and moving toward bold earth tones with personalized touches, dark hues continue to dominate as popular color choices for windows and doors, both inside and out. To enhance this classic, timeless look with alternatives to black, Kolbe Windows & Doors has added two new dark gray exterior paint colors.

"As the median shade between white and black, the color gray reflects neutrality and balance. Our new colors, Tungsten and Eclipse, provide additional gray options that take a softer approach to dark hues," says Kolbe's marketing manager, Liz Huber.

Tungsten and Eclipse are available within Kolbe's standard color palette for all VistaLuxe WD LINE and Ultra Series windows and doors. The Forgent® Series will be offering the Tungsten Exterior/Cloud Interior on casement windows, awning windows, casement picture windows, casement direct set windows (including shapes), as well as complementary sliding and multi-slide doors. For projects that require elevated levels of personalization, inquire about Kolbe's custom color solutions.

To see Kolbe's full selection of exterior colors, please visit https://www.kolbewindows.com/solutions/style-design/exterior-colors.
What began in 1946 as a two-brother team has grown into an internationally respected manufacturing company. Kolbe Windows & Doors is one of the nation's leading manufacturers of windows and doors for residential and commercial markets. After 75 years, Kolbe products are best known for superior quality, custom craftsmanship, attention to detail, as well as innovative and unique designs.
###
---
Filed under: Kolbe Windows & Doors
---
Story Resources
Photo
Word document
Folder with Word document, logo and three images
Request high res photographs for publication