Autumn Road Trip: 12 along-the-way Wisconsin hot spots to Hamilton Wood Type & Printing Museum
Posted on August 5th, 2017 by Heather West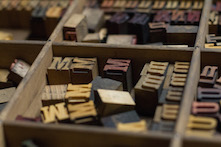 Letterpress printer Tracy Honn recently retired as curator of University of Wisconsin-Madison's Silver Buckle Press, a letterpress printing collection that now resides at Hamilton Wood Type & Printing Museum in Two Rivers, Wisconsin. Since the museum opened in 2000, Honn has been a frequent visitor and advocate for wood type and letterpress printing.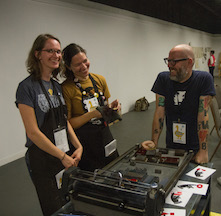 "As many times as I've been there, there's always something surprising and new to see when I return. The staff is smart and passionate. If you like geeky fun things, Hamilton Wood Type is for you," says Honn.
For other self-described type and letterpress geeks interested in making the road trip from Madison to Two Rivers, here's Honn's directions and suggested stops on the way to the museum:
From Madison, drive north on US 151, cut east on WI-23 E, and then get on I43-N to Manitowoc. Alternately, take 151 all the way there for some great views of Lake Winnebago.

1. Drive-by attraction, around Beaver Dam on US 151: Culver's blue barn sign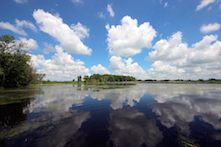 2. Worthwhile detour, Mayville/Horicon on Hwy 28: Horicon Marsh, largest inland cattail marsh in the world (Photo courtesy of Courtney Celley/USFWS)

3. Fill-up the Mt. Calvary BP on 23: B&B Express, not many miles from the 151 turnoff onto 23, there's a BP gas station with a near-rarity these days--a short-order kitchen with a small seating area that makes tasty fried chicken, grilled cheese and more.

4. History lesson, Greenbush on 23: Sylvanus Wade House, a former stagecoach inn where you can learn something new about something old from the Civil War to how to drive a team of horses.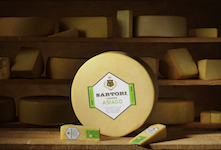 5. Cheese please, Plymouth on WI-23 E: The rolling road has some good vistas. Look for places with happy names like Greenbush and Glenbeulah, and great dairy farms, including the fourth-generation Sartori Foods. Its award-winning cheeses can be found in dairy cases across the state. (Photo courtesy of Sartori Cheese)

6. Best break, Village of Kohler: Kohler Design Center, spectacular and fully plumbed state-of-the-art show bathrooms

7. Snack time in Sheboygan: Fountain Park Farmer's Market, fresh native products directly from local farmers, open on Wednesdays and Saturdays in until November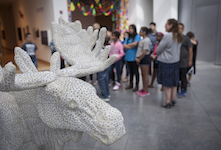 8. Artistic inspiration in downtown Sheboygan: John Michael Kohler Arts Center presents a continually changing list of exhibits focused on outsider artists; also with amazing restrooms (Tour of the Exhibition Super Natural at the John Michael Kohler Arts Center, June 2016)

9. Antique hunting, exiting I43-N to Manitowoc: Several antique shops are just off the highway near Waldo Boulevard including JJ Antique Mall

10. Back to nature in Two Rivers: Woodland Dunes Preserve, take a short hike along the wetland boardwalk or visit the nice nature center for other suggested trails

11. Smoked fish souvenir: Suzy Q Fish Company on the West shore of Lake Michigan specializes in daily fresh fish, but also has some delectable smoked varieties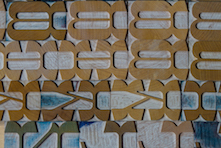 12. Hamilton Wood Type & Printing Museum, Two Rivers – You've arrived!
About Hamilton Wood Type & Printing Museum
The Hamilton Wood Type & Printing Museum is the only museum dedicated to wood type preservation, study, production and printing. With 1.5 million pieces of wood type and more than 1,000 styles and sizes of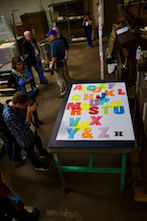 patterns, Hamilton's collection is one of the premier wood type collections in the world. In addition to wood type, the museum is home to an amazing array of advertising cuts from the 1930s through the 1970s, all of the equipment necessary to make wood type and print with it, as well as equipment used in the production of hot metal type, tools of the craft and rare type specimen catalogs.
Hamilton Wood Type began producing type in 1880 and within 20 years became the largest provider in the United States. Today, volunteers of the Two Rivers Historical Society preserve this legacy and host educational demonstrations, field trips, workshops and offer opportunities with this vast wood type collection.
Follow Hamilton Wood Type & Printing Museum on Twitter at @hamiltonwoodtyp, on Facebook, Flickr, Instagram or YouTube, or visit www.woodtype.org.
###
---
---
Story Resources
Photo from Hamilton Wood Type & Printing Museum; by Jeff Dawson/Lester Public Library. In addition to cutting wood type Hamilton Manufacturing also made their mark on the printing industry by producing the ubiquitous California Job Case, the drawers that organized the letters by frequency of use.
Photo from Hamilton Wood Type & Printing Museum; by Jeff Dawson/Lester Public Library. Workshop attendees admire a freshly printed poster at the museum.
Photo from Hamilton Wood Type & Printing Museum; by Jeff Dawson/Lester Public Library. Freshly cut wood type makes up a fragment of the 1.5 million-piece collection of type in the museum.
Request high res photographs for publication