Edgewood Elementary School features multiple Alumicor products to support transparent, daylit, energy-efficient, flexible learning spaces
Posted on October 2nd, 2023 by Heather West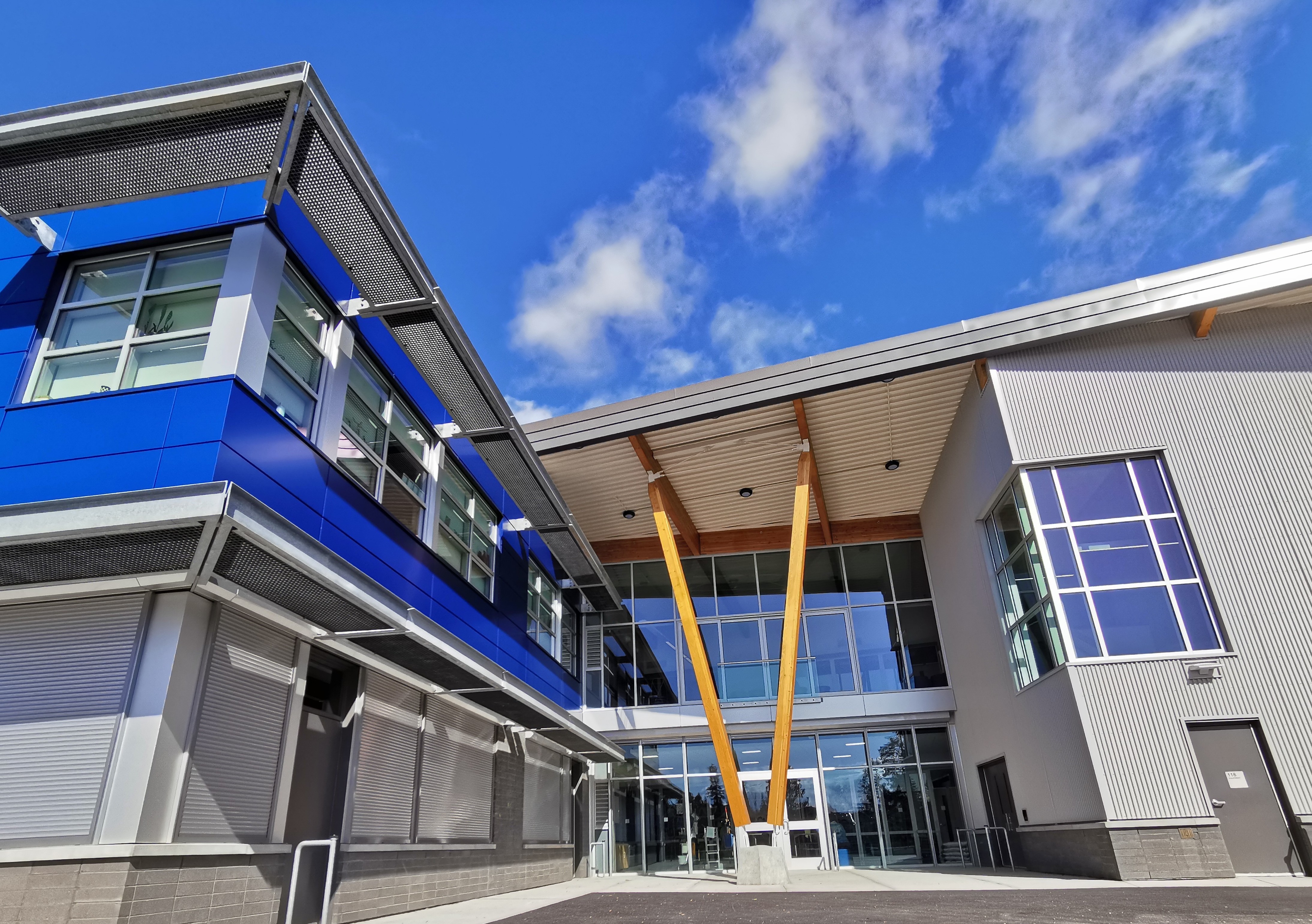 Edgewood Elementary School welcomes students, parents and faculty to the Surrey School District in British Columbia. Its sustainable, contemporary facility provides space for more than 650 students from kindergarten to Grade 7 in the burgeoning Grandview Heights neighbourhood.
Thinkspace designed the building to meet LEED® Gold criteria and specified Alumicor aluminum-framed systems. Transparent Glazing Systems (TGS) installed Alumicor curtainwall, projected window vents, sliding doors and swinging entrance doors. Combining these systems, the new school conveys a modern aesthetic and atmosphere of inclusiveness, openness and transparency. Complementing the building's generous use of glass and metal, materials emphasize warm wood, bright white, blue and "Grey Wolf" accent colours to generate a continuity of visual expression from the exterior façade through the interior finishes.
"It's an astounding building. You notice the architecture as soon as you walk into the front entrance," shared Edgewood Elementary School's principal, Shaun Nelson. "The design is very open, very expansive, there was an incredible amount of thought into traffic flows coming into the school. …Just that whole idea of bringing everyone together under one brand new roof, people are beyond excited."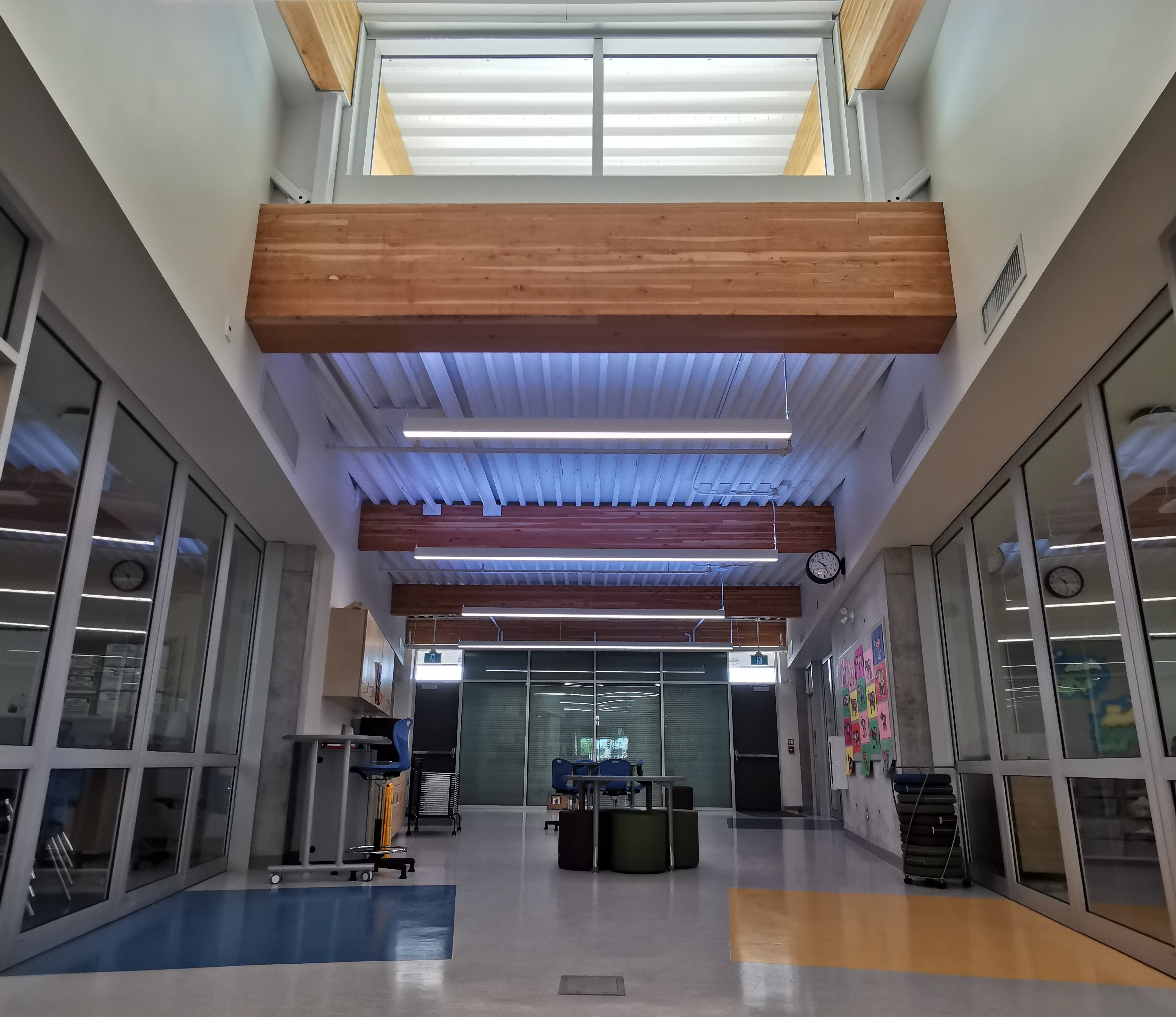 Greeting all students, staff and visitors, the two-storey curtainwall defines the school's main entry foyer. Jenna, a Grade 7 student at Edgewood Elementary, highlighted the importance of the curtainwall and windows to her "because on sunny days they make the school feel big and happy."
At the street level, the entrance doors are engineered and manufactured to withstand high-traffic and continuous use as the students' gateway to outdoor playgrounds, athletic fields and pick-up/drop-off zones. Alumicor products also provide high thermal performance suited to Canada's cold climate and LEED-level energy-efficiency.
LEED and other green building programs also recognize the value of outside views and daylight to health, well-being and sustainability. Schools with these attributes demonstrate better student performance and test scores, higher teacher job satisfaction and retention, and other positive attributes.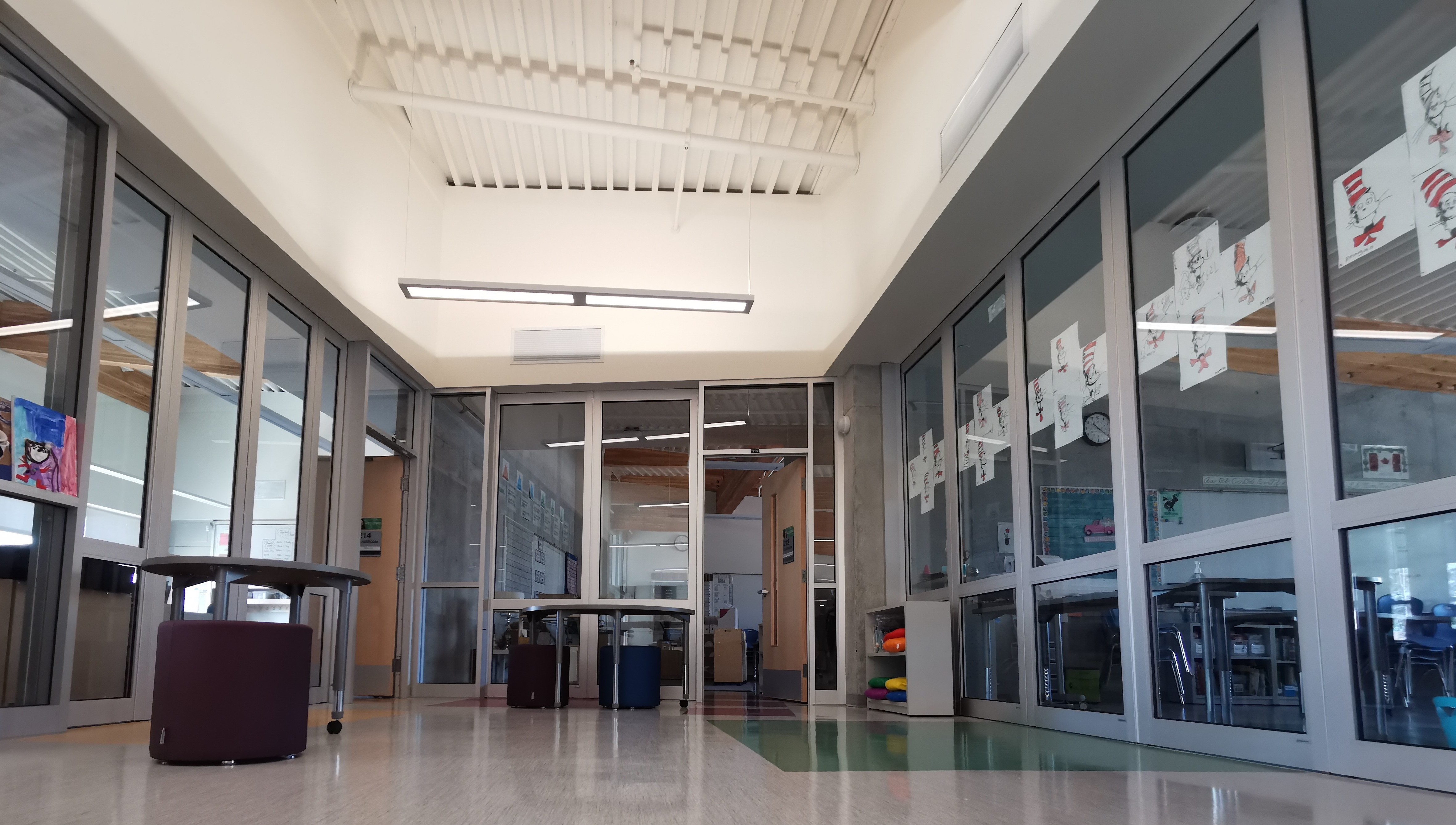 Embracing these proven qualities, Edgewood Elementary invites exterior views through expansive Alumicor curtainwall and windows. Glass sliding doors and interior framing systems line the corridors to carry in natural light. Optimizing daylight more deeply into the school, each classroom's interior walls feature fully glazed sliding doors that open into a shared project space.
"Our school design is unique and modern with many open spaces where we can all work together," shared Sonya, a Grade 7 student. "At first, we weren't sure about our glass classroom walls, but now, we can't imagine being without them as they really make our classrooms feel bright and airy. We enjoy having the option to open the walls so that we can collaborate with other classes."
The school hosts 27 classrooms organized into "learning neighborhoods," plus multiple collaboration spaces, a library, learning commons and maker laboratory. Flexible spaces are incorporated into every part of the school to accommodate different learning styles and instructional methodologies.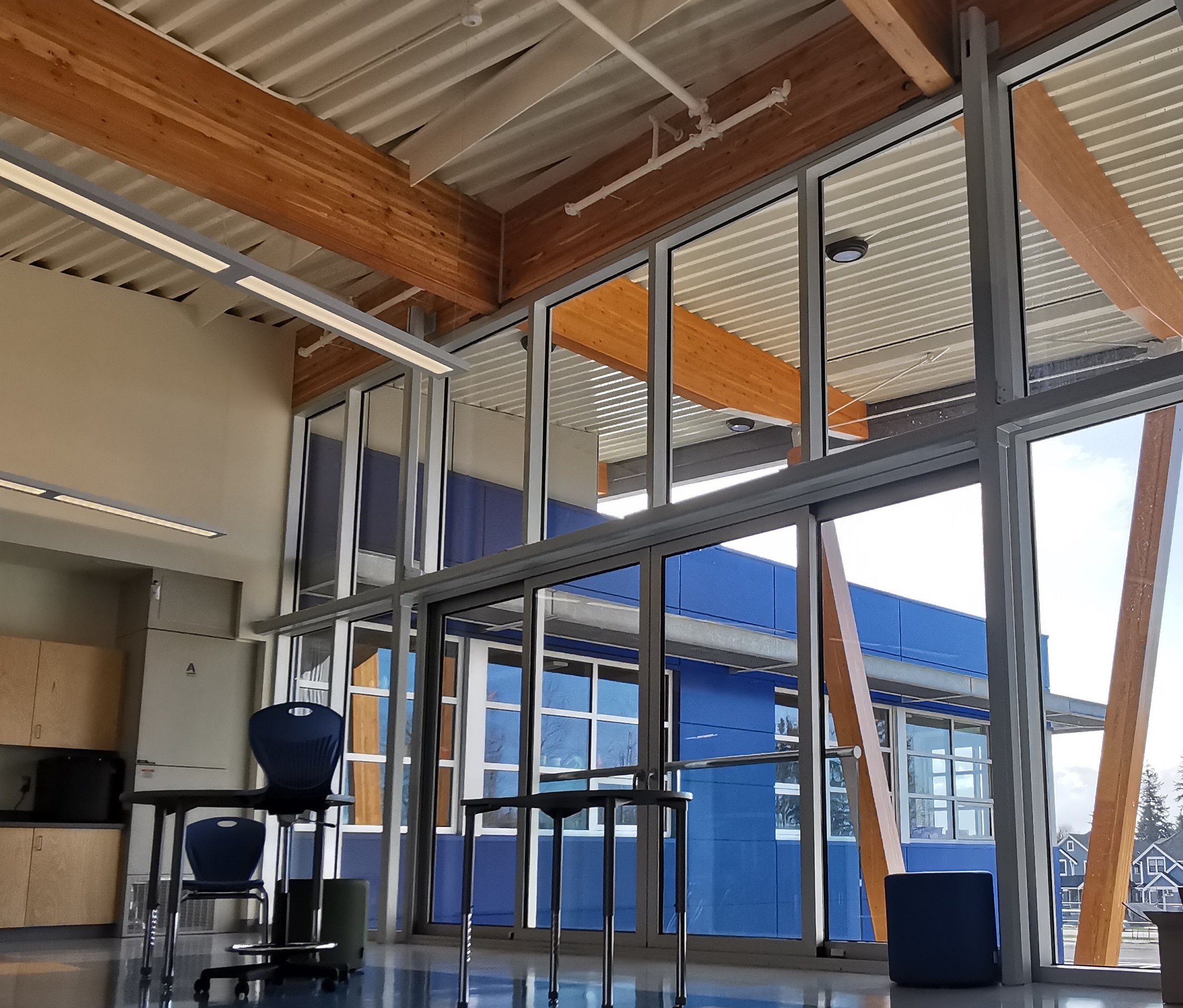 Additional community-use amenities, such as the gymnasium, multi-purpose room and meeting space, are separated from student education areas to allow for quiet learning in classrooms and after-school public access. Designed and built during the pandemic, the school includes allowances for social distancing protocols, such as the exterior classroom entrances, wide sidewalks and handwashing sinks near the doors.
D.G.S. Construction completed construction on Edgewood Elementary in late 2020. Staff worked throughout the winter break to prepare a warm welcome for students. Classes in their school began January 11, 2021. The majority of funding for the new elementary school was provided through the British Columbia Ministry of Education. The school also honours the First Nations' territory on which it is built with a permanent acknowledgement plaque and the inclusion of Coast Salish peoples in the opening ceremony.
"The opening of Edgewood Elementary represents another significant investment for students and families in the fast-growing communities of the Surrey School District," stated Jennifer Whiteside, Minister of Education (2020-22).
Whiteside continued, "Edgewood Elementary is not just a new and modern school, it is a community hub for parents, families, students, teachers and staff, and many others. This is where hundreds of young students will learn, grow, thrive and achieve their best. As we know, schools are the heartbeat of every community and become the cornerstone of our neighbourhoods. They are places and spaces where students and families make everlasting friendships and memories. …We know the leaders of tomorrow are in our classrooms today. That's why we continue to invest in students so that we continue to invest in our province's future."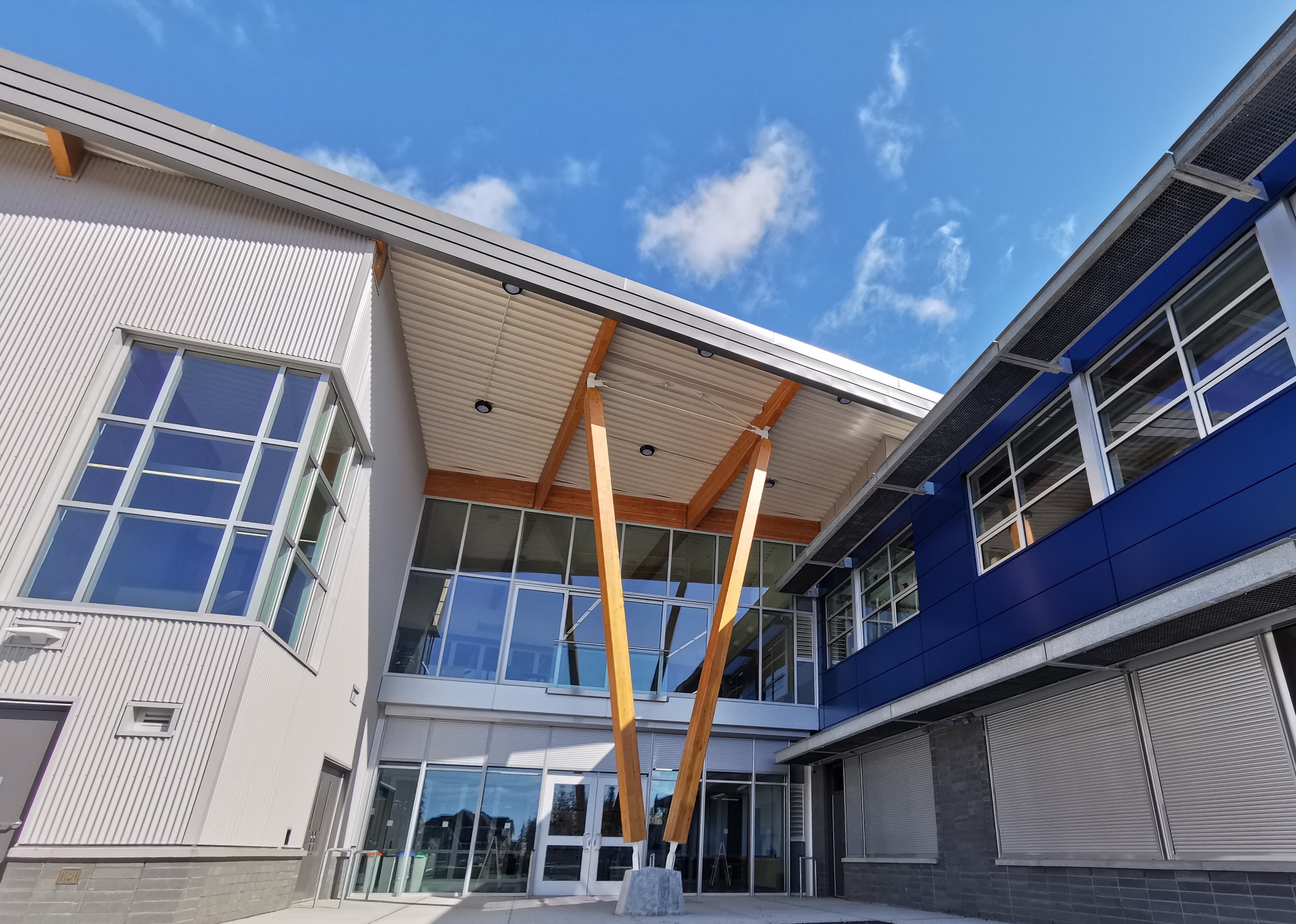 "Students and staff have created a strong, kind, caring and inclusive culture, and the school has quickly become a welcome addition that the surrounding neighbourhood can be extremely proud of," added Laurie Larsen, chair and trustee of the Surrey Board of Education. "The building itself is stunning… When you have modern, open and inspiring environments, it has a noticeable and positive impact on students, staff and visitors."
Larsen concluded, "Our Edgewood students and staff have waited a long time for this day, but it has been worth the wait. We are proud to finally showcase Edgewood Elementary as another outstanding new school in the district that will serve many young families in this area for years to come."
**
Edgewood Elementary School, 16666 23rd Ave., Surrey, British Columbia V3Z 0M7 Canada
● Owner: Surrey School District; Surrey, British Columbia; https://www.surreyschools.ca
● Architect: Thinkspace Architecture Planning Interior Design Ltd.; Surrey, British Columbia; https://www.thinkspace.ca
● General contractor: D.G.S. Construction; Surrey, British Columbia; https://www.dgsconstruction.com
● Glazing contractor: Transparent Glazing Systems (TGS); Burnaby, British Columbia; https://www.tgsbc.com
● Aluminum-framed glazing systems – manufacturer: Alumicor; Toronto; https://alumicor.com
● Photos provided by Transparent Glazing Systems (TGS)
About Alumicor Brand
Alumicor is a brand of Apogee SFS Canada, LLC, part of the Apogee Enterprises, Inc. portfolio. Alumicor is a Canadian-based supplier of architectural aluminum building envelope products. With corporate offices in Toronto, Alumicor services the North American market through manufacturing facilities in Winnipeg, Manitoba; and Toronto.
Founded in 1959, Alumicor has earned respect and recognition for technical competence, responsiveness and integrity. Alumicor joined Apogee Enterprises, Inc.'s family of brands in 2013, which includes Tubelite, an industry leader brand in eco-efficient storefront, curtainwall and entrance systems in the United States. This strengthened Alumicor's ability to provide an unrivalled level of customer support, an expansive product portfolio and dependable service.
Alumicor and its staff are members of numerous construction associations including Association de vitrerie et fenestration du Québec (AVFQ), Construction Specifications Canada (CSC), Fenestration Glazing and Industry Alliance (FGIA), Ontario Glass and Metal Association (OGMA), and Ontario Building Envelope Council (OBEC).
###
---
Filed under: Alumicor, Projects
---
Story Resources
Word document - English
Word document - French
Image 1: courtesy of Transparent Glazing Systems and Alumicor
Image 2: courtesy of Transparent Glazing Systems and Alumicor
Image 3: courtesy of Transparent Glazing Systems and Alumicor
Image 4: courtesy of Transparent Glazing Systems and Alumicor
Request high res photographs for publication