Client News: Malarkey's Pub updates historic building storefront with Kolbe Folding Windows, increases restaurant reservations
Posted on March 20th, 2017 by Heather West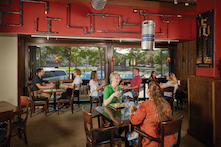 Enhancing the vibrant atmosphere of Malarkey's Pub and Townies Grill in historic downtown Wausau, Wisconsin, Kolbe Ultra Series Folding Windows match the traditional architecture, offer modern performance and offer restaurant guests prime views.
A Place in History
One year after Wausau was organized as a town in Wisconsin, Courthouse Square was purchased for $100 in 1853. The location was home to the area's courthouses for over a century and served as mixed-use property for another half-century. In 2002, the square was cleared to become green space and gathering space for community events. The newly purposed square positively transformed the views and street life of the historic buildings surrounding it. These include nine surviving structures built between 1874 and 1941, such as the 1924 Hotel Wausau in Classical Revival style, the 1927 Grand Theatre in restored Neo-Classical Revival style, and the 1929 Mayer-Lotz building in the Chicago Commercial style.
For the first time in these properties' long lives, their occupants could more deeply appreciate their architectural heritage, the open Courthouse Square and a reemerging downtown destination. Located on the street level of the old Mayer-Lotz building, the new building co-owners, Kurt Kraimer and Ed Kraimer of GK 408 3rd St. LLC, saw an opportunity to foster a greater connection to the activity and to draw more patrons inside Malarkey's Pub and Townies Grill.
Given its proximity to the theater, the old Mayer-Lotz building is often called "Grand View" by Wausau's residents. Thanks to a storefront update using Kolbe's Ultra Series folding windows, the restaurant guests now truly have a grand view. "Everyone wants to sit by the windows. It's the #1 question asked at our hostess station," says Tyler Vogt, co-owner of Malarkey's. "The windows definitely give our place a more modern, big city feel with a connection to the activities Downtown."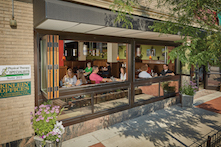 "It creates a very unique atmosphere, something we have been working on for a long time and it turned out fantastic," praises Kurt Kraimer.
Unified Look
When Malarkey's opened its restaurant in 2007, it occupied what previously had been two separate, but connected locations. The building had been divided and built-out in the 1960s for various retail businesses, offices and restaurants. "There was a disjointed look to the existing storefront. It had been updated many decades ago using large, single-pane glass. It offered a mostly unobstructed view, but it was old and the seals had deteriorated," remembers Vogt.
Kraimer continues, "There was a lot taken into consideration for the new windows' performance and aesthetic. Now, we have a uniform appearance that coordinates across our entire space and fits with the neighborhood. Because the building's almost 100 years old and Mr. Vogt is operating a restaurant, there are a lot of rules. We didn't want it to look out of touch or out of time with the other historic buildings. Kolbe made sure it looked correct, while meeting the City's requirements."
Local Experts
Kolbe president Jeff De Lonay personally worked on the project. "When the owners got in touch with me, they had an idea of the concept that they wanted. They also wanted to work with a local company to achieve the look. They were looking to remove the existing storefront and bring the sights and sounds of the neighboring park to their customers," he remembers. "Our folding window system piqued their attention after they viewed a display of the product."
The Mayer-Lotz building that houses Malarkey's features a touch of Art Deco near the roofline, geometric capitals and engraved columns. Capturing the traditional look, while offering modern performance, each of the four Kolbe folding windows is crafted with a different configuration to maximize views. Beveled glazing beads accentuate the historic aesthetic. For Malarkey's, the windows' exteriors are clad in low-maintenance extruded aluminum finished a durable Dark Bronze anodize. On the interior, oak wood is stained in a Chestnut color.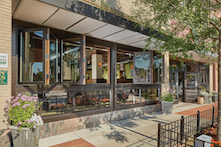 Grand Views
"Kolbe also worked with us to give us a lot of options in customizing the windows – which way each window opened, how many panels were in each window, how wide each panel was and how the mullions were balanced," adds Kraimer. "All of this helped to maximize the view of the park and minimize obstructions for Malarkey's guests."
De Lonay elaborates, "I pointed out how many panels would be needed so that the projections would be minimized on to the sidewalk in front of the building. They also loved the possibility of getting an integrated screen with the unit to keep out early-evening bugs."
All of the folding windows in Malarkey's and Townies have side-retracting, black screens. Three of the units have four panels totaling 9.5 feet wide and one has three panels totaling 6.2 feet wide. Kolbe Folding Windows can accommodate up to eight panels on each side, spanning more than 50 feet and as high as 72 inches. The units for Malarkey's are each 55.75 inches high.
Kraimer presented the renovation plans to the City of Wausau for approval. "Like me, they loved the idea of how these windows would open up the space up and bring the outdoors inside."
Guests Welcome
Vogt agrees and notes, "We elevated the tables along the windows to give customers an even better view of the park's activities. When there are concerts in the summer, we can open the windows for everyone to enjoy the music, too. When the windows are closed at night, especially as the weather turns cool, there's this warm reflection off the windows when looking in from the outside. It creates this unexpectedly nice vibe that makes people want to come inside and join the activity. It's very welcoming."
Precision Glass and Door installed Malarkey's new Kolbe windows, as well as additional components for the entrance and vestibule. "It's a great facelift," echoes Don Turzinski, owner of Precision Glass. "Before, you could go by it almost without noticing. Now, you want to stop and go inside."
Turzinski offers additional praise, saying, "Kolbe was great to work with. They helped pretty much every step of the way, from shop drawings through installation. They even came down to help us as we were putting the windows in."
"The project went well and it turned out great," reiterates Turzinski. "The open windows and outdoor service make a big difference for the restaurant. I think it will really help Downtown as well."
"All of our customers seem to love them," says Vogt. He shares several customers' comments from Facebook:
"We LOVED dining with the windows open! An awesome addition."
"Looks great!!"
"Gorgeous!"
"Love it!!"
"Unique and awesome!"
Beyond compliments, Vogt noticed a boost in business. He says, "Since the windows have been added, we've increased our reservations by 150 to 200 percent. We're the busiest we've ever been."
**
Malarkey's Pub and Townies Grill, 408 N. Third St., Wausau, WI 55403, http://www.malarkeyspub.com
* Building co-owners: Kurt and Ed Kraimer, GK 408 3rd St. LLC; Wausau, Wisconsin
* Window installer: Precision Glass and Door, LLC; Stevens Point, Wisconsin; http://www.precisionglasswi.com
* Window manufacturer: Kolbe; Wausau, Wisconsin; http://www.kolbe-kolbe.com
* Photos by: Peter Vance
* Interactive map of historic downtown Wausau, by the Marathon County Historical Society: http://www.marathoncountyhistory.dreamhosters.com/our-history-online/big-bull-falls-map
What began in 1946 as a two-brother team has grown into an internationally respected manufacturing company. Kolbe Windows & Doors is one of the nation's leading manufacturers of windows and doors for residential and commercial markets. After 70 years, Kolbe products are best known for superior quality, custom craftsmanship, attention to detail, as well as innovative and unique designs.
###
---
Filed under: Kolbe Windows & Doors, Projects
---
Story Resources
Word document
Request high res photographs for publication