Now available in North America: Rockfon Mono Acoustic stone wool monolithic ceiling systems present smooth, continuous appearance with high sound absorption
Posted on November 13th, 2023 by Heather West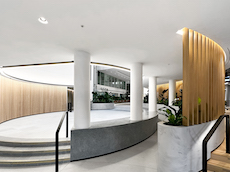 Rockfon proudly presents an addition to its North American portfolio range: Rockfon® Mono® Acoustic ceiling systems. This stone wool monolithic ceiling solution creates a smooth, seamless, uninterrupted surface with best-level sound-absorption. For years, these products have inspired European architects, design professionals and their clients. Now, they are available in select regions of North America supported with qualified, certified installers. These areas currently include the U.S. Northeast and Texas, and Ontario, with more being added.
Rockfon Mono Acoustic systems combine high-end aesthetic appeal with the high-performance benefits of stone wool, including acoustic comfort with a Noise Reduction Coefficient (NRC) up to 0.95, Class A fire protection, healthy indoor air quality, high light reflectance, moisture and sag resistance, and long-lasting durability. Stone wool naturally resists moisture, mold and mildew, and gives no sustenance to microorganisms. Rockfon Mono Acoustic ceiling panels have earned UL® Environment GREENGUARD® certification for low VOC emissions.
The modern, clean, visually continuous Rockfon Mono Acoustic ceilings are well-suited for flat or curved applications with direct-mount or suspended installations in either newly built or renovated commercial interiors. They also may be used for angled and arched transitions and also on sloped or vertical walls.
A choice of three Rockfon Mono Acoustic tapered edge (TE) ceiling systems are offered:
• Rockfon® Mono® Acoustic TE attaches to Chicago Metallic™ Drywall Suspension
• Rockfon® Mono® Acoustic TE Direct adheres to existing smooth, flat surfaces
• Rockfon® Mono® Acoustic TE Flecto attaches to concave or convex surfaces
Each of these systems is backed with a 15-year limited product warranty.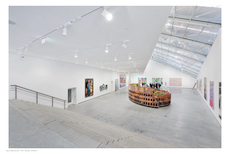 "Continuing to expand on our complete portfolio range, we're proud to offer Rockfon Mono Acoustic ceiling systems. These elegant ceilings combine a premium, smooth, flowing appearance with unmatched acoustic performance in spaces designed for conversation, contemplation and comfort," said Tom Smith, Rockfon's business development manager. "Any interior space where drywall or acoustical plaster ceilings are considered, Mono Acoustic can provide an elegant look with improved acoustics."
Smith suggests applications beyond the expansive monolithic ceilings seen in spacious lobbies and central corridors. He recommends pairing this elevated aesthetic with optimized acoustics in classrooms, meeting rooms, restaurants, libraries, galleries, places of worship, hospitals and medical clinics, and transportation centers.
Success Stories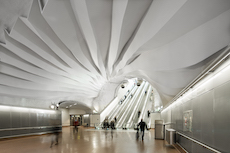 See project case studies featuring Rockfon Mono Acoustic installations, and watch Rockfon's video with European design professionals and their clients. Examples include:
• ARK office building refurbishment in London, designed by Gensler
• Astrup Fearnley Museum in Oslo, Norway, designed as a collaboration between Renzo Piano Building Workshop and Narud Stokke Wiig Architects
• Stockholm City Station in Sweden, featuring "Commuters Cathedral" art installation by visual artist Karin Lindh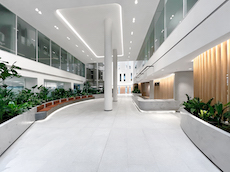 Qualified, Certified Installers
Trained, Rockfon-certified installers ensure Rockfon Mono Acoustic ceiling solutions achieve each project's goals for elevated aesthetics, optimized acoustics and high performance.
Currently, Rockfon Mono Acoustic ceiling systems are available for commercial interior ceiling designs in: New York, Massachusetts, Connecticut, Rhode Island, New Jersey, Eastern Pennsylvania, Delaware; Baltimore, Maryland; Washington, D.C.; Alexandria and Richmond, Virginia; Oklahoma; Texas and Southwestern Ontario, Canada. More locations will be added in the coming months.
Learn More
To explore Rockfon Mono Acoustic ceiling systems, please visit Rockfon.com to watch a video, order a sample and locate a certified installer.

About Rockfon
Rockfon is part of ROCKWOOL Group and is offering advanced acoustic ceilings and wall solutions to create beautiful, comfortable spaces.
At ROCKWOOL Group, we are committed to enriching the lives of everyone who experiences our product solutions. Our expertise is perfectly suited to tackle many of today's biggest sustainability and development challenges, from energy consumption and noise pollution to fire resilience, water scarcity and flooding. Our range of products reflects the diversity of the world's needs, while supporting our stakeholders in reducing their own carbon footprint.
Stone wool is a versatile material and forms the basis of all our businesses. With approximately 12,000 passionate colleagues in 40 countries, we are one of the world leaders in stone wool solutions, from building insulation to acoustic ceilings, external cladding systems to horticultural solutions, engineered fibers for industrial use to insulation for the process industry, and marine and offshore.
For more information, please visit https://www.rockfon.com.
###
---
Filed under: Products, Rockfon
---
Story Resources
Word document
Request high res photographs for publication