Client News: Valspar Acrylicoat acrylic finish announced a cost-effective, one-coat, finish for extruded-aluminum products
Posted on October 12th, 2017 by Heather West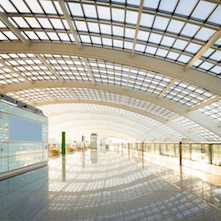 Valspar Acrylicoat™ is a new, cost-effective, acrylic coating with a propriety resin system developed by Sherwin-Williams Coil and Extrusion Coatings. This new coating delivers a smooth, glass-like finish and an extremely hard surface on extruded-aluminum architectural products.
Well suited for high-traffic residential, commercial and industrial areas, such as schools, airports and shopping centers, Acrylicoat is ideal for window and door frames, metal panels, column covers and other aluminum extrusions in both interior and exterior applications. Acrylicoat's hard surface resists scratches and meets or exceeds the American Architectural Manufacturers Association (AAMA) 2603-17 industry standard for high-performance coatings.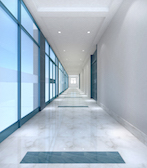 Offered in a wide range of gloss levels and 18 standard colors, custom solid and metallic colors also are available upon request. Regardless of the color, Acrylicoat's high-solids formulation results in enhanced coverage that yields more square footage coated per gallon. Better hiding reduces the need for a second pass through the production coating line, reducing costs over time.
Acrylicoat offers extruded aluminum applicators a number of benefits throughout all steps of their coating process to help reduce applied costs, including line time and rework, while providing a durable, attractive finish for high-traffic building products. "We're proud to present a true single-coat solution that applies better, hides better and ultimately costs less," says Jeff Alexander, vice president of sales for Sherwin-Williams Coil and Extrusion Coatings. "With a wide curing window, it also offers applicators the option of curing at a lower temperature to save energy and money, or curing at a higher temperature for increased throughput at a higher line speed."
The new Sherwin-Williams Coil and Extrusion Coatings division was created by the recent acquisition of Valspar by The Sherwin-Williams Company. The Division supports architects and designers with its proven high-performance coating systems, industry-leading technical expertise, color-matching and sustainability resources, responsive customer service and high-priority lead times. Learn more at http://www.valsparcoilextrusion.com.
About Sherwin-Williams Coil Coatings
Sherwin-Williams Coil Coatings delivers a full range of high-performance coatings in polyvinylidene fluoride (PVDF), silicone-modified polyester (SMP) and polyester formulas, designed to meet the most demanding environmental requirements while providing protection against weathering and pollution. The Division is part of the Sherwin-Williams Performance Coatings Group, which supplies a broad range of highly-engineered solutions in more than 120 countries around the world. Founded in 1866, The Sherwin-Williams Company is a global leader in the manufacture, development, distribution, and sale of paints, coatings and related products to professional, industrial, commercial, and retail customers.
For more information about Sherwin-Williams, visit www.sherwin-williams.com.
###
---
---
Story Resources
Word document
Request high res photographs for publication