Client News: Kolbe responds to design trends with innovative solutions
Posted on February 21st, 2019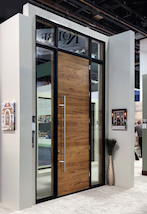 With a reputation for quality craftsmanship, attention to detail and innovative design, Kolbe Windows & Doors brings inspiring examples of the latest trends in windows and doors to the National Association of Home Builders International Builders' Show (NAHB IBS) in booth # C2519.
"Kolbe takes the lead in introducing new design trends to the window and door market. Our aesthetic, architectural and sustainable solutions provide fresh alternatives for today's home," states Kolbe's vice president of marketing, Cindy Bremer.
Some examples of Kolbe's approach to design trends are represented in booth #C2519.
* A reclaimed barnwood door presents a sustainable solution for an entrance that blends rustic character with modern design. This impressive 3-foot-6-inch by 10-foot door, constructed of reclaimed wood, creates a dramatic entryway. A stylish Hoppe pull handle in a contrasting brushed stainless finish adds to the vertical appearance, extending 63 inches along the door. Direct set sidelites welcome light on each side of the door, with a transom above that accentuates the height even more.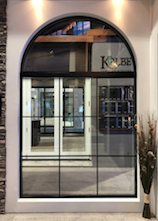 * The appearance of steel windows is demonstrated within Kolbe's award-winning VistaLuxe® Collection. A 6-by-3-foot, half circle, direct set mulled above a 6-foot-by-6-foot-2-inch direct set with 5/8-inch performance divided lites has the appearance of steel windows. The coal black prefinished pine interior creates crisp, clean lines to frame views. On the exterior, a custom-textured terra cotta finish further enhances the Flush style unit.
"Kolbe's VistaLuxe Collection has the versatility to serve as an alternative to – or in conjunction with – steel products, and presents a perfect solution for the desired aesthetic. The narrow frames, with a choice of finishes, offer a similar appearance to steel, with the added benefits of greater energy efficiency, shorter lead-times and affordability," says Bremer.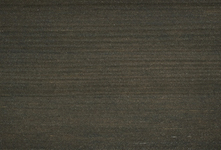 * For interiors other than black, Kolbe presents a custom dark gray stain as the "new black" for interior wood finishes. This tonal shift denotes a sophisticated trend toward a soft, organic appearance that accentuates the character of the wood and highlights the grain.
Gold influences also are popular in today's design and can be seen in Kolbe's booth, with two new Dallas hardware options.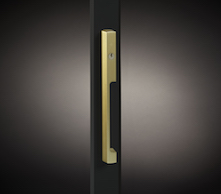 * An elegant brushed gold handle set is available for VistaLuxe Collection, Ultra Series and Heritage Series sliding patio and multi-slide doors.


* A striking two-toned matte black/brushed gold handle set is available for inswing and outswing doors within the VistaLuxe Collection, Ultra Series and Heritage Series. With a brushed gold handle, and a matte black escutcheon, turn knob and key cylinder, this option is sure to make a statement.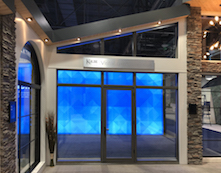 Bremer adds, "Kolbe continually innovates to expand our offering as a leader in the window and door industry. We are excited to share our latest options in stains, finishes, textures and sustainable solutions for an organic aesthetic that aligns with the trends."
For more design inspiration and information about Kolbe's capabilities and custom solutions, please visit https://www.kolbewindows.com.
What began in 1946 as a two-brother team has grown into an internationally respected manufacturing company. Kolbe Windows & Doors is one of the nation's leading manufacturers of windows and doors for residential and commercial markets. After more than 70 years, Kolbe products are best known for superior quality, custom craftsmanship, attention to detail, as well as innovative and unique designs.
###
---
Filed under: Events, Kolbe Windows & Doors, Products
---
Story Resources
Photo 1: Kolbe's Barnwood Door at NAHB IBS 2019
Photo 2: Kolbe's VistaLuxe Collection's Radius Direct Set at NAHB IBS 2019
Photo 3: Kolbe's VistaLuxe Swing Door at NAHB IBS 2019
Photo 4: Kolbe's Custom Gray Stain as shown at NAHB IBS 2019
Zipped folder: Word document and 6 photos
Word document
Request high res photographs for publication