Client News: ROCKFON North America facility construction on schedule to begin production in mid-2017
Posted on March 28th, 2017 by Heather West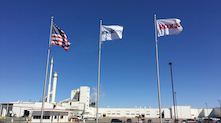 Construction remains on schedule for the first ROCKFON North America manufacturing facility to begin producing stone wool acoustic ceiling products by mid-year. A grand opening celebration will be planned once the new facility is operational.
Located in Marshall County, Mississippi, the ROCKFON facility broke ground in March 2016. The completed building spans 130,000 square feet (12,000 square meters) with room for future expansion. Equipment installation and interior build-out are being finalized. Helping launch production this year, approximately 100 people will initially be employed at the facility.
The ROCKFON business is a subsidiary of Denmark-based ROCKWOOL International A/S. The new facility represents an investment of approximately $40 million U.S. dollars by ROCKWOOL.

"We are excited that the first U.S.-based, stone wool ceiling product manufacturing facility will help meet the growing demand for our products in North America, and extend our capacity across the globe," said ROCKFON President – Americas John Medio. "The investment by ROCKWOOL and the guidance provided by our worldwide network of associates to our North American teams has helped us move forward exactly as planned to ensure the same high quality and performance products as offered by our other facilities."
When it opens, it will be the fifth ROCKFON manufacturing facility in the world. The ROCKFON business will continue to manufacture its specialty metal ceiling panels and Chicago Metallic suspension systems in its Chicago and Baltimore facilities. Chicago Metallic suspension systems also are manufactured in Belgium, Malaysia and China. Other ROCKFON stone wool manufacturing facilities are located in the Netherlands, Poland, France and Russia.

About the ROCKFON business
The ROCKFON business is a leading provider of acoustic stone wool and metallic ceiling solutions and suspension systems.
With the acquisition of Chicago Metallic Corporation Inc., the ROCKFON business provides customers a complete ceiling system offering combining stone wool and specialty metal ceiling panels with Chicago Metallic suspension systems.
ROCKFON complete ceiling systems are a fast and simple way to create beautiful, comfortable spaces. Easy to install and durable, they protect people from noise and the spread of fire, while making a constructive contribution toward a sustainable future.
The ROCKFON business is a subsidiary of Denmark-based ROCKWOOL International A/S, the world's largest producer of stone wool products. ROCKWOOL International A/S is listed on the NasdaqCopenhagen stock exchange. More than 10,000 people in 37 countries are employed within the ROCKWOOL Group.
In North America, the ROCKWOOL Group operates under the name ROXUL Inc., ROCKWOOL®, ROXUL® and ROCKFON® are all registered trademarks of ROCKWOOL International A/S.
For more information, visit www.rockfon.com.
###
---
Filed under: Events, Projects, Rockfon
---
Story Resources
Photo 1
Photo 2
Photo 3
Word document
Request high res photographs for publication