Client News: Long Island Rail Road updates Lynbrook station's platforms with EXTECH's custom skylight and canopy systems
Posted on June 29th, 2021 by Heather West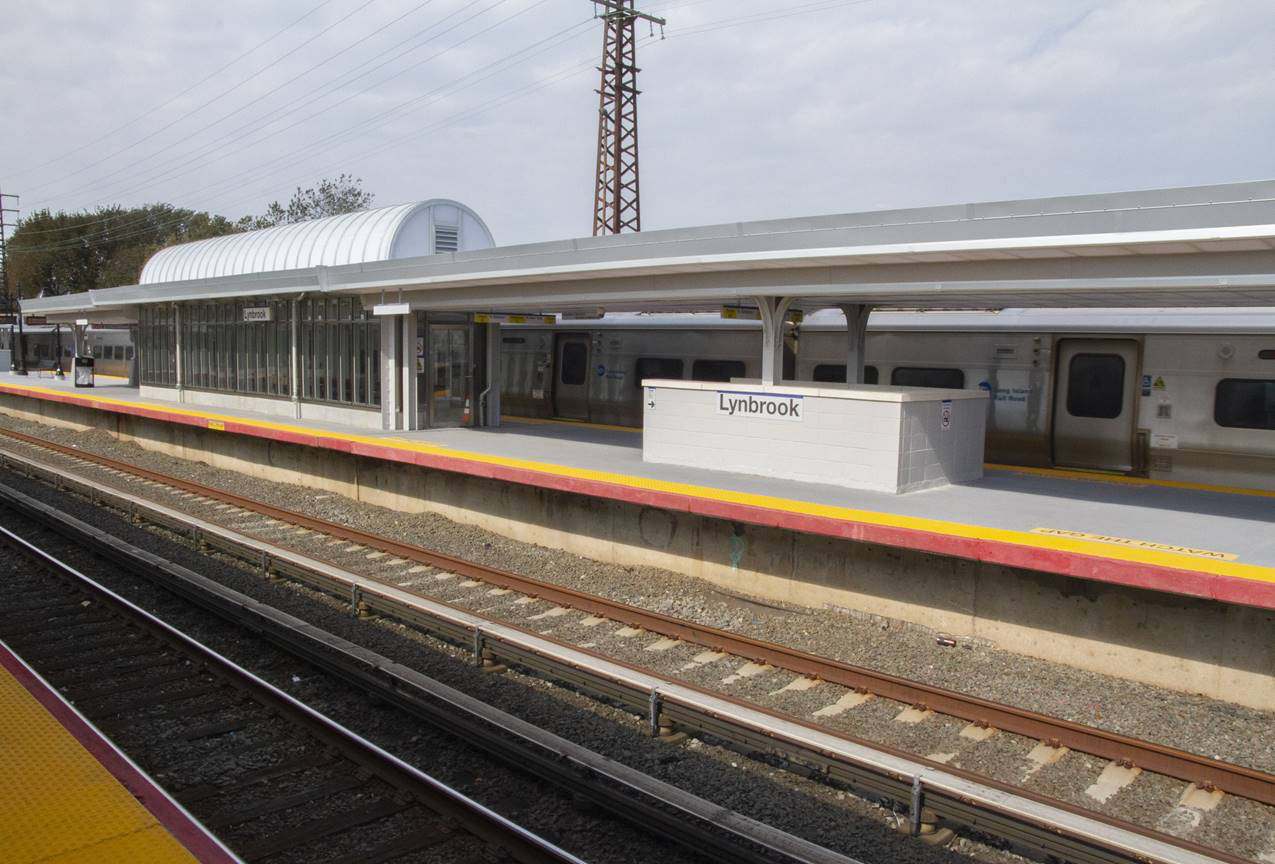 Pittsburgh (June 2021) – Recently opened, New York's Lynbrook Station renewal project showcases new waiting areas and outdoor platforms for passengers taking the Long Island Rail Road (LIRR). Working closely with Zion Contracting, EXTECH/Exterior Technologies, Inc. engineered and fabricated the station's new translucent skylight and canopy systems to shelter passengers and commuters from the sun and rain.
Originally constructed in 1936, Lynbrook Station was built before World War II and in need of significant modernization improvements to serve its approximately 5,000 weekday riders. In 2018, the Metropolitan Transportation Authority (MTA) and the LIRR announced a $17.9 million initiative to upgrade the station's infrastructure and customer experience.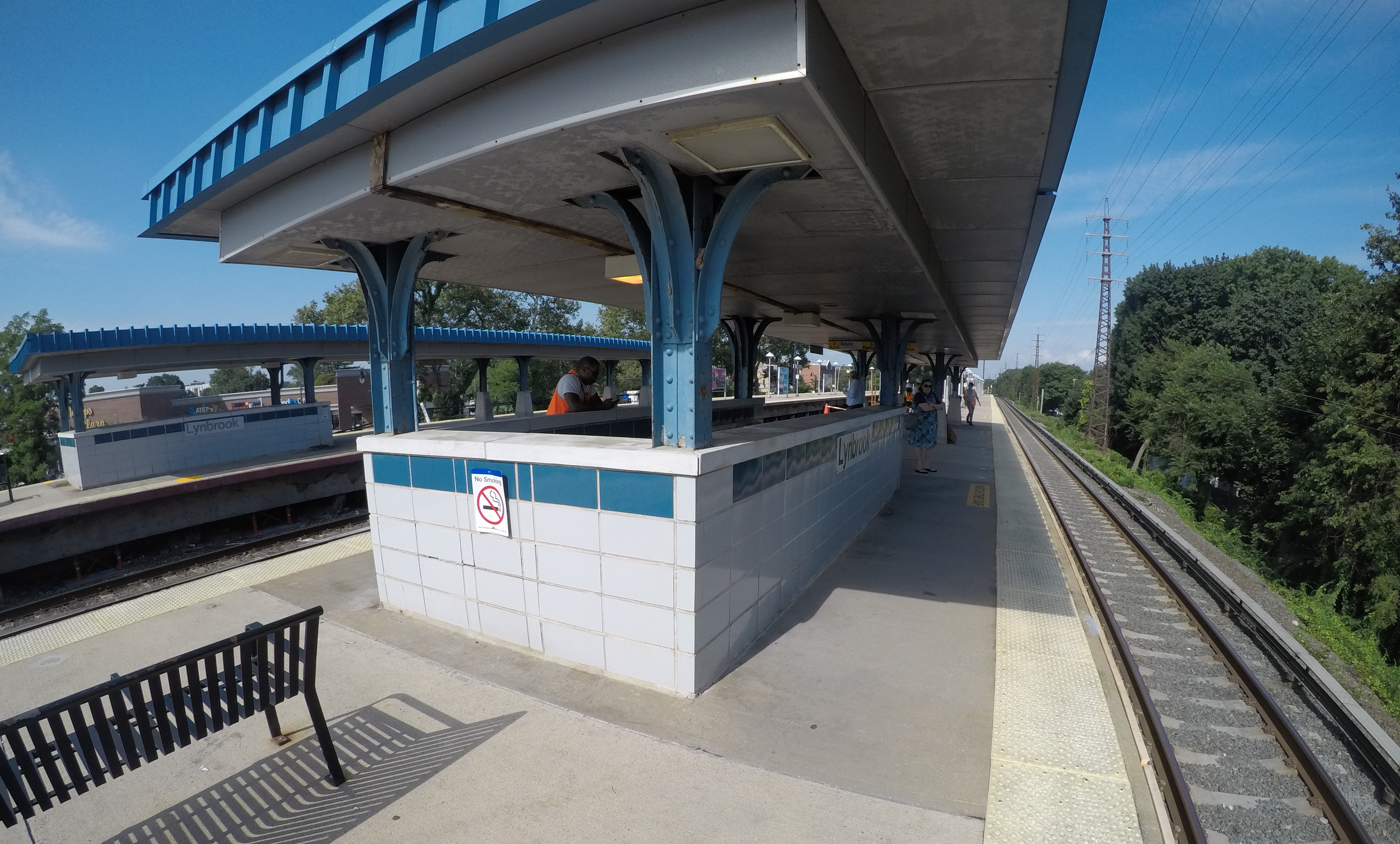 On-site work for the Lynbrook Station Enhancement Project began in the summer of 2019. Zion Contracting completed construction ahead of schedule in July 2020. The four-track elevated station now features updated eastbound and westbound platforms with new canopy systems from EXTECH. There are three polycarbonate canopies on each platform.
"The preexisting platforms and shelter structures were ripped out, but the steel was left to build on," explained Ron Clelland, EXTECH's architectural representative for New York City. Working with these remaining structural supports, EXTECH designed a custom replacement that combines elements from both its SKYGARD skylight and SKYSHADE canopy systems.
"This is the first application that we know of using polycarbonate material in this area. The results are a more modern visual look with great rain and sun protection for the passengers! Replacing the existing canopies with EXTECH's skylight systems makes the station look amazing," praised Zion Contracting's president, Hely Manuel Duarte, MSc.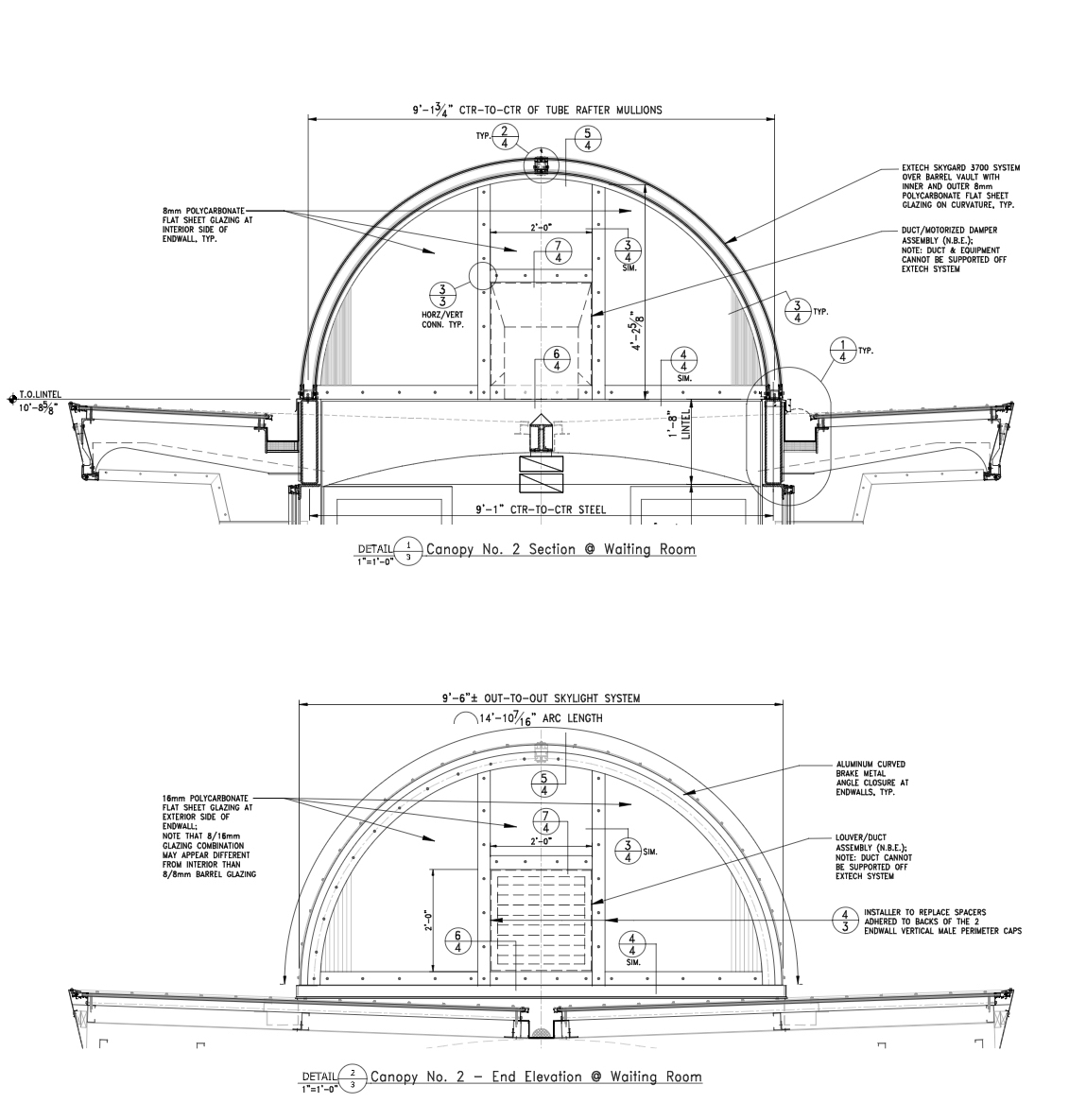 The three translucent canopies on each platform are approximately 83, 74 and 227 feet long, for a combined total of 771 linear feet. The translucent, 20mm, polycarbonate panels were selected in an opal color and with a UV-resistant coating to manage solar heat gain. "Nearly 2,000 individual panels create the six canopies and thousands of feet of custom brake metal join it all together within the anodized, extruded aluminum framework," explained, Jim Leslie, EXTECH's general manager.
Sloped, standing-seam canopy systems cover the elevators, escalators and main circulation paths to board and exit from the platforms. A custom, barrel-vaulted "skylight within a canopy" design was created for above the stairwells. Each one spans a little more than 88 feet long by 23.5 feet wide and incorporates 200-plus polycarbonate panels. The unique design is composed of the top-side glazing and the "soffit" underneath.
The customized canopy solution enhances passengers' comfort at Lynbrook Station, while adding height, light and a sense of openness. Natural light illuminates the station during the day and diffuses the direct top-lighting to help reduce glare and excess heat. At night, high-efficiency LEDs positioned above the polycarbonate soffits light the platform and create a soft, glowing appearance from the outside.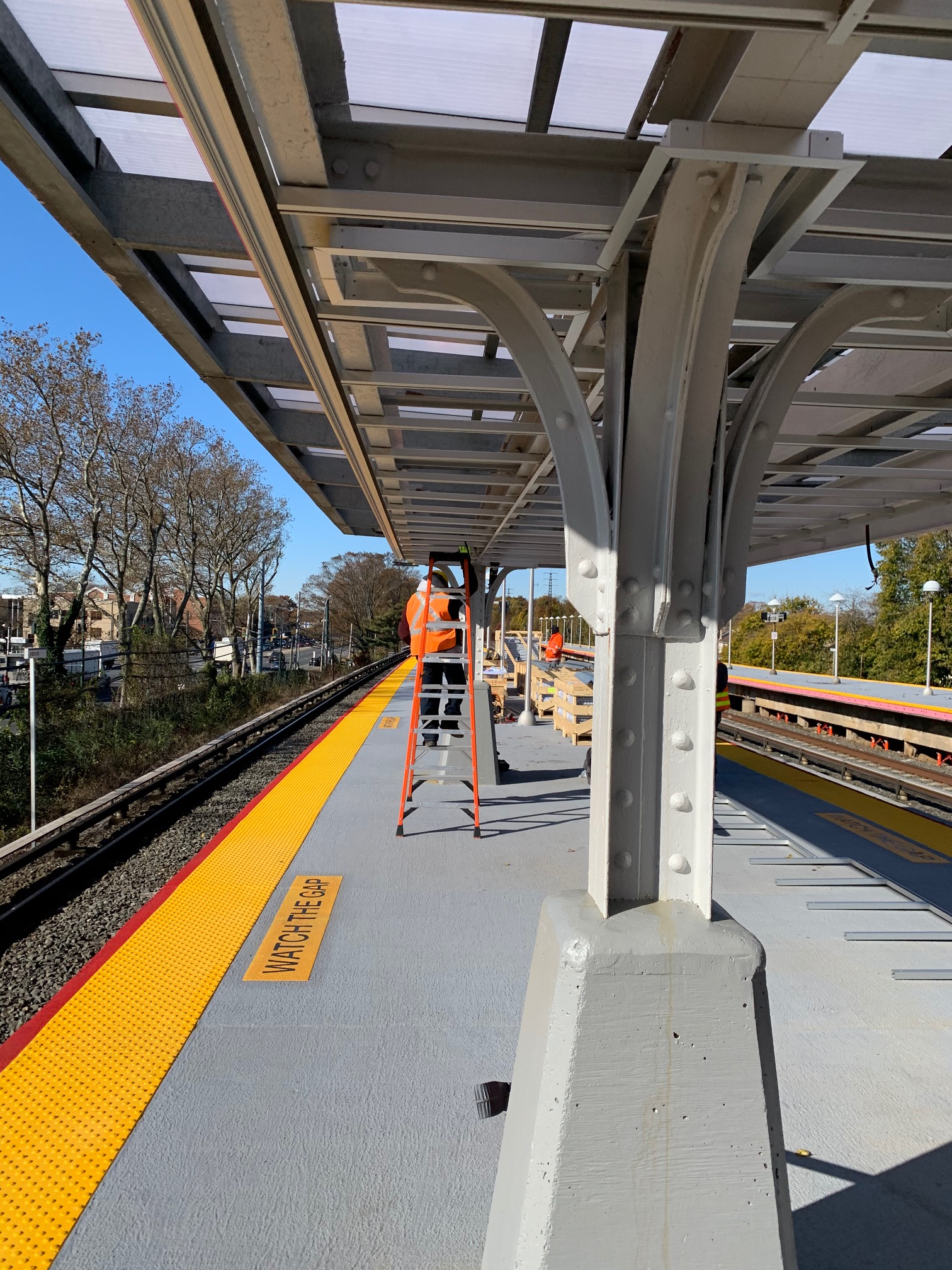 For structural integrity, EXTECH's aluminum framing also integrates low-friction gaskets that accommodate the thermal movement inherent to polycarbonate panels of any significant length. Recycled composition is standard in EXTECH's manufacturing practices. After its useful life on Lynbrook Station, the metal is 100% recyclable.
To ensure a lifetime of performance as specified, EXTECH manufactures all of its daylighting products at its facility in Pittsburgh. Due to the systems' outdoor installation and their proximity to accelerating and decelerating trains, EXTECH's skylight and canopy systems for Lynbrook Station were tested to successfully meet the required wind pressures.
The polycarbonate panels also provide high resistance to impact, such as for blowing debris and heavy precipitation. Understanding that water management was critical, EXTECH engineered Lynbrook Station's custom canopy and skylight with a proprietary, separate gutter system to direct rainwater and snow melt, control condensation and mitigate leakage.
While no one likes being dripped on, the LIRR also appreciates the system's reliability and durability. The verified performance of EXTECH's system means there is less maintenance and fewer repairs over its lifespan, which saves the owners both time and money.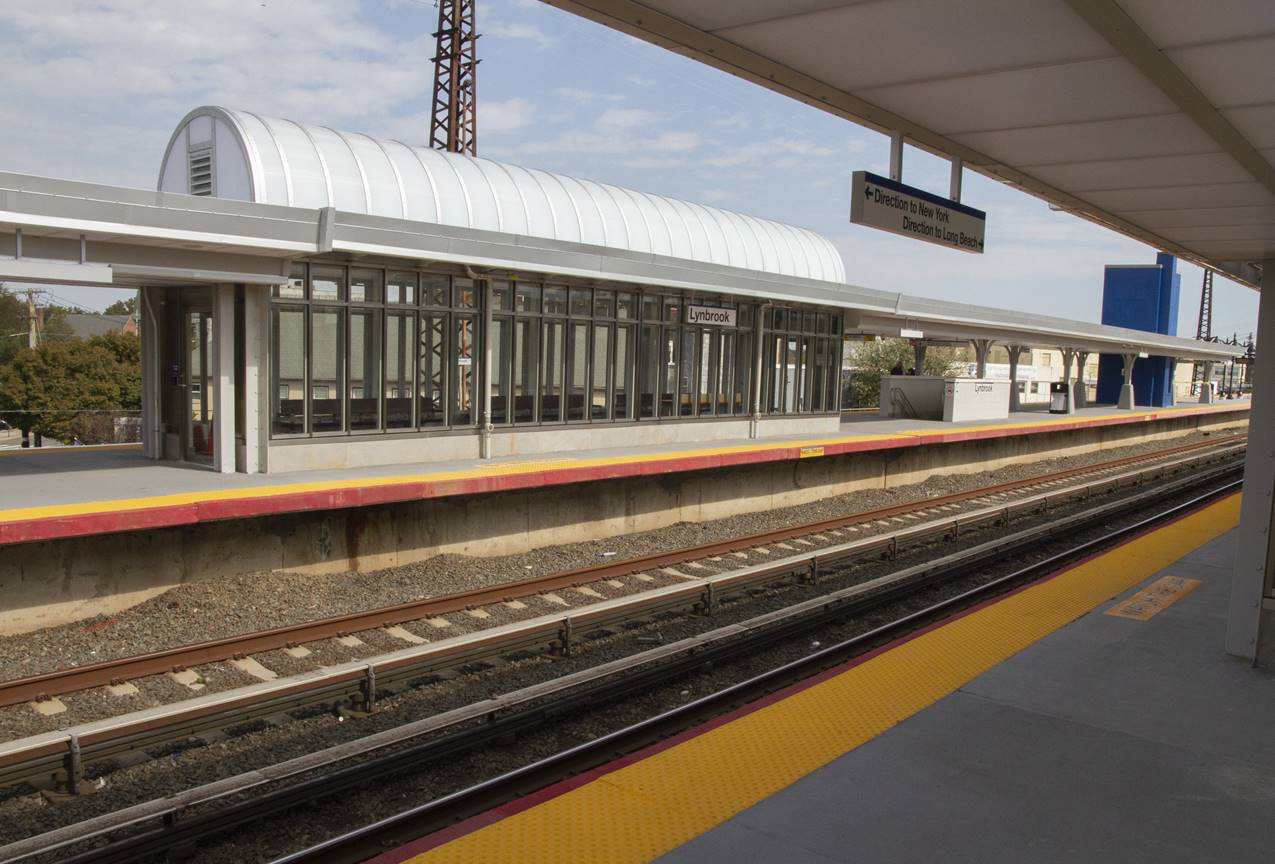 Along with its innovative gutter system, the system's polycarbonate panels avoid the unsightly "fiber bloom" and yellowing associated with fiberglass. Without the extra precautions needed to handle fiberglass, fabrication and installation of lightweight polycarbonate systems also can be easier and faster. This further contributes to keeping projects on schedule and within budget.
Lynbrook Station remained operational throughout its renovation. Minimizing disruption to passengers and trains, Zion Contracting's team worked off-peak hours to install EXTECH's systems on both of the new platforms.
"We've worked with EXTECH on a couple of successful projects before this and it has been a great partner. During the production process they kept us informed and were always helpful with the installation process and the documentation we needed," complimented Zion's Duarte. "It's a team effort. Everybody contributed to the success of the project and to finish ahead of schedule, within budget and safely."
He added, "Aesthetically, it's a beautiful canopy system. From a performance perspective, it does what is required to protect the passengers from the weather exposure".
Along with the new skylight and canopy system, the total scope for Lynbrook Station's renewal project also included:
• Improving the existing drainage system
• Repairing the two station platforms
• Rehabilitating the platform structure
• Placing new signage throughout the platforms
• Installation of LED lighting, cameras and free customer Wi-Fi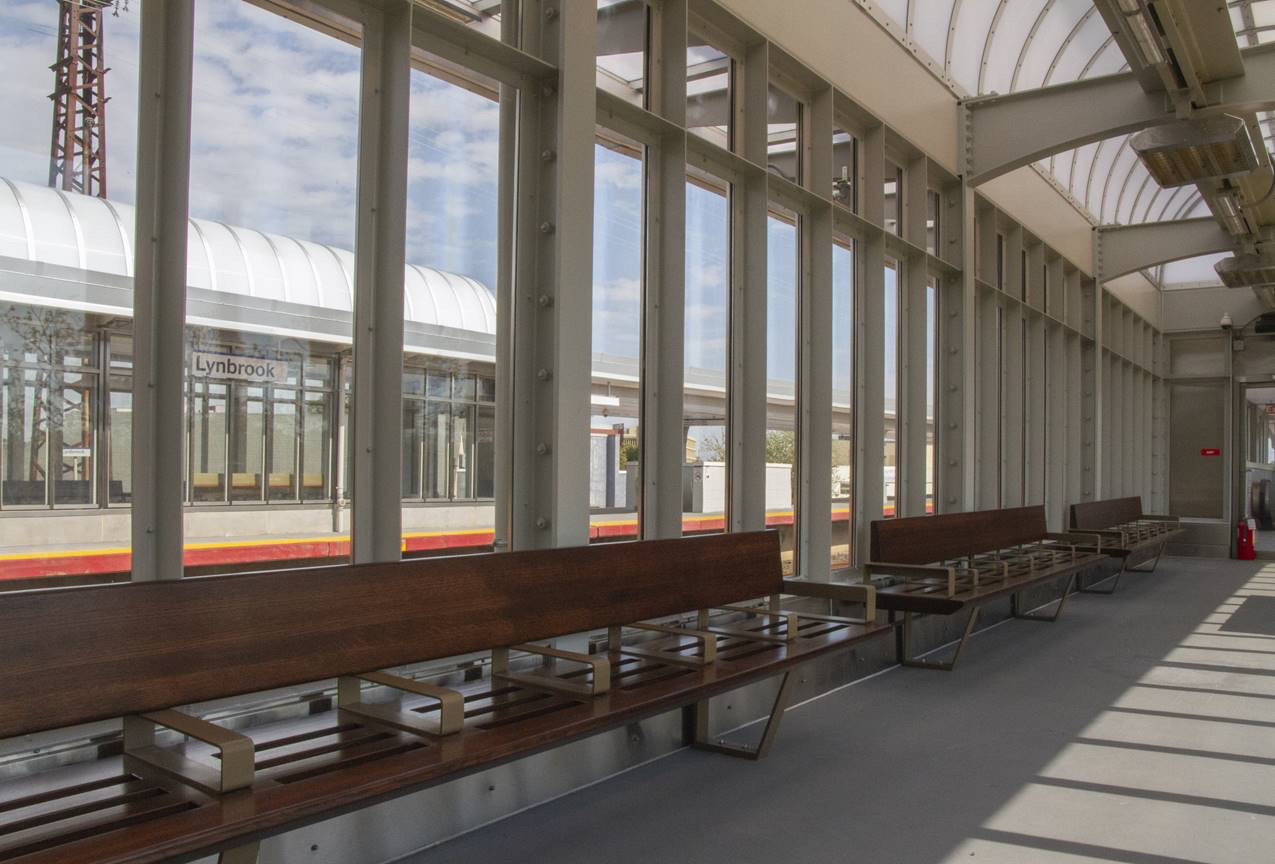 "The upgrades at this station are the result of the partnerships and teamwork that allow the LIRR to connect communities, and work with community leaders and elected officials who understand the importance of taking action," said LIRR's president Phil Eng at the Lynbrook Station's re-opening event in October.
"I'm pleased to see that after years of cooperation between the Village of Lynbrook and the state, Lynbrook residents will now have access to a safe and modern train platform that will improve the quality of our commutes," said Senator Todd Kaminsky (D-Long Beach). "These upgrades have brought the platform into the 21st century, which is a remarkable transformation from its prior pre-war state. I'm excited for Lynbrook residents to take advantage of the upgrades."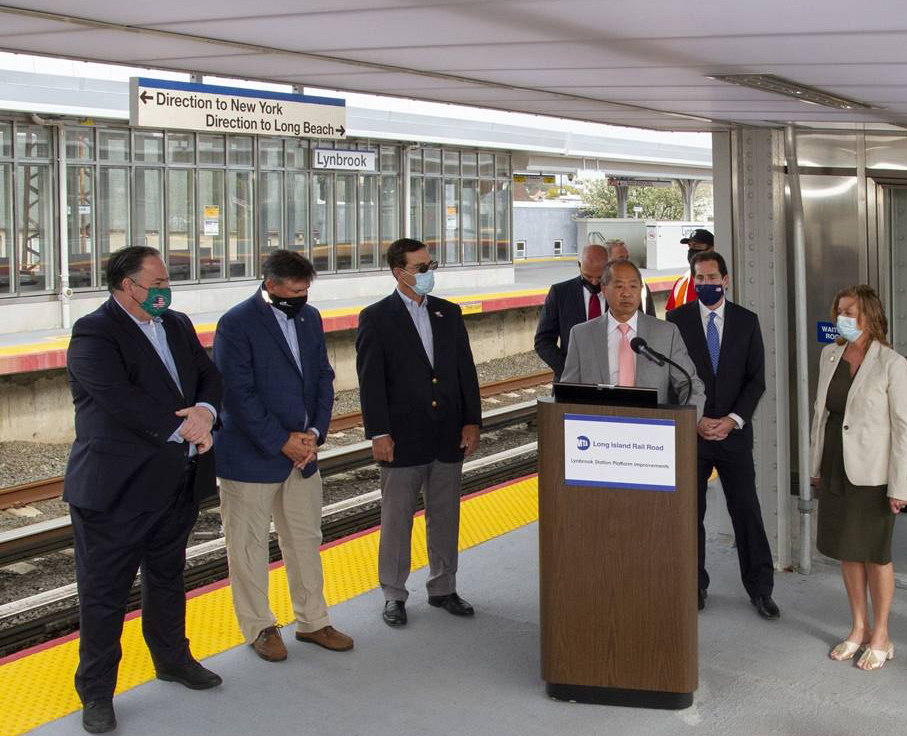 Mayor of Lynbrook Alan Beach added, "Lynbrook is one of Long Island's premier villages and now it will have a premier train station to compliment the resurgence happening in our downtown corridor."
Located at Sunrise Highway between Peninsula Boulevard and Broadway in the Village of Lynbrook, the stations provides passengers access to Babylon and Long Beach branches with connecting transportation services to the Nassau Inter-County Express (NICE) bus routes. The rehabilitated Lynbrook Station is part of a broader effort to modernize 39 LIRR stations and contribute to the economic development of the region.
**
Long Island Rail Road (LIRR), Lynbrook Station, Lynbrook, New York 11563; https://www.amodernli.com/project/lynbrook-station-enhancement
• Owner: Metropolitan Transportation Authority; New York; https://www.mta.info/lirr
• General and installing contractor: Zion Contracting, LCC; Lynbrook, New York; https://www.zioncontracting.com
• Skylight and canopy system manufacturer: EXTECH/Exterior Technologies, Inc.; Pittsburgh; https://extechinc.com
• Before and during photos: courtesy of Zion Contracting
• After photos: courtesy of Metropolitan Transportation Authority, New York
EXTECH/Exterior Technologies, Inc.'s mission is to improve lives through innovation in daylighting systems, natural ventilation and other unique building envelope systems. Redefining the intersection between the natural and built environments, EXTECH manufactures and designs wall, window, skylight, canopy and custom façade systems.
Learn more by calling 800-500-8083, emailing info@extechinc.com or visiting https://extechinc.com.
###
---
Filed under: Projects
---
Story Resources
Word document
Request high res photographs for publication