Client News: RHEINZINK America and Fairview announce strategic partnership and highlight zinc cladding on New York luxury residential project
Posted on October 10th, 2019 by Heather West
Exhibiting at METALCON: RHEINZINK booth #647, Fairview #504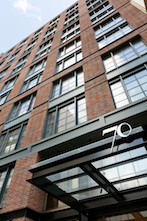 RHEINZINK America, Inc., and Fairview Architectural North America have formed a strategic partnership. Demonstrating their successful collaboration, the two companies recently worked together to provide architectural zinc wall cladding systems on 70 Charlton St., a new 22-story luxury residential building in New York City.
Designed with sustainable goals and constructed with long-lasting natural materials like zinc, 70 Charlton was LEED® Certified through the U.S. Green Building Council and recognized for meeting the provisions of New York City Department of Planning's "Zone Green" resolution. The 92-unit building was the first of its kind to be developed in West SoHo's newly rezoned Hudson Square.
Strategic Partnership
A leading manufacturer of architectural metal wall and roof systems, Fairview serves as a systems partner for RHEINZINK. Fairview can incorporate prePATINA® blue-gray and graphite-gray on its Vitrabond® Zinc Composite Material (ZCM) products. In addition to façade cladding, RHEINZINK products are used for roofing, gutter systems, as well as ornamental and interior applications.
"We're excited about the increased opportunities that this relationship brings for Fairview," said Charles (Chip) McGowan, president of RHEINZINK America. "Fairview's approach for incorporating our zinc products into their Vitrabond zinc composite allows them to offer ZCM with an array of completed tests and approvals."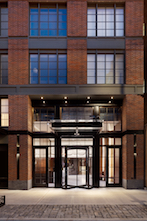 Fairview's general manager, Jerry Fossey, agreed and added, "RHEINZINK has long been known for its architectural appeal and timeless beauty, which directly aligns with Fairview's track record of having the widest range in colors and finishes available to our customers and project stakeholders."
Product Attributes
With RHEINZINK on the face side of its 4mm Vitrabond ZCM, Fairview's fabricator and installer clients can provide an expanded product offering for architectural wall cladding, rainscreen and façade systems.
Vitrabond ZCM products are lightweight, rigid cladding manufactured in a continuous coil. They are resistant to blows, breakage and pressure; and have high bending, buckling and breaking strengths. Supporting these durable products, Fairview offers up to a 20-year material warranty on Vitrabond Graphite and Blue Grey ZCM. At the end of its useful life on the building's exterior, it remains 100% recyclable.
Complementing both contemporary and traditional architectural styles, RHEINZINK prePATINA products are specially processed to achieve the natural, pre-weathered patina during production. Their natural finish will continue to weather and patina over time.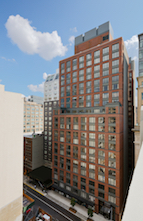 "In addition to its progressive design characteristics, the ZCM also merges the self-healing, corrosion-resistant performance of zinc finishes with the quality and durability of Vitrabond that our clients have come to expect," continued Fossey. "Unlike steel, zinc has the ability to resist corrosion due to a unique reaction that occurs when exposed to moisture and the carbon dioxide in our atmosphere. It develops a protective layer called a zinc-carbonate layer that creates a beautiful patina that is unique and appealing and can last over 60 years in most climates."
Project Success Story
Developed by Extell and designed by architectural firm Beyer Blinder Belle, 70 Charlton opened in 2017. Its 92 one- to four-bedroom units are nestled around a private park in the heart of downtown New York.
Described as "attainable luxury," the 208,000-square-foot property encompasses two 22-story wings connected by a common lobby and courtyard, plus a 2,800-square-foot retail concourse. Amenities include a residents-only fitness center, outdoor sports court, indoor salt water swimming pool, children's playroom and 24-hour concierge.
Vitrabond ZCM with RHEINZINK prePATINA graphite-grey create the building's distinctive horizontal symmetry at the street level, on the mid-level set-back before the top eight stories, and between each window bay. Fairview supplied more than 5,400 square feet of Vitrabond ZCM products, which were fabricated and installed by BAMCO Inc. The natural zinc material complements the brick façade, steel entry and historically inspired windows to attain an enduring and dynamic aesthetic.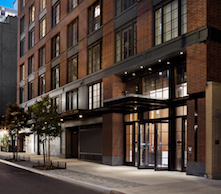 Beyer Blinder Belle's firm partner, Richard Metsky, FAIA, elaborated, "Our design for 70 Charlton is inspired by Hudson Square's architectural heritage as the Printing District. In the spirit of this neighborhood, the design reflects the solidity and robustness of the surrounding masonry industry buildings with their rhythmic and beautifully proportioned façades. Together, with a complementary palette of brick, zinc, stainless steel and glass, and contemporary details and finishes, the building is designed to enhance the richness and character of the existing urban fabric."
Following the enactment of New York City's "Zone Green" resolution, Hudson Square rezoning was the largest privately initiated rezoning in New York City, allowing for the creation of more residential and retail developments, as well as an elementary school and open public spaces.
"The blocks surrounding 70 Charlton are in the midst of transformation," notes the property's website. "Located north of TriBeCa and south of the West Village, this neighborhood is an emerging centerpiece of refined downtown living. ...Just north, [The Village] is a place where the grid gets rumpled like a good bed sheet, and a luminous patina is valued over a polished sheen. TriBeCa and the reborn Financial District are minutes to the south, where the city is ever-transitioning from work to play to rest. Quiet streets and riverfront parks make it easy to roam. Whichever direction you head, there's something to discover right outside your door."
70 Charlton St., New York, NY 10014; https://www.70charlton.com
• Developer: Extell Development Company; New York; https://extell.com
• Architect: Beyer Blinder Belle; New York; https://www.beyerblinderbelle.com
• Architectural metal wall systems – fabricator and installer: BAMCO Inc.; Middlesex, New Jersey: https://www.gobamco.com
• Architectural metal wall systems – metal composite material manufacturer: Fairview Architectural North America; Bloomfield, Connecticut; https://www.fairview-na.com
• Architectural metal wall systems – zinc material manufacturer: RHEINZINK America Inc.; Woburn, Massachusetts; https://www.rheinzink.us
• Videos by Extell: https://extell.com/film
RHEINZINK America, Inc. led the introduction of architectural zinc in North America and continues to offer one of the industry's most reliable, trusted brands. Architects and contractors are supported by unparalleled customer service and technical assistance. RHEINZINK is readily available through an established network of qualified distributors and systems partners across the United States, Canada and Mexico. Ideal for roofing, façade, gutter and interior applications. RHEINZINK is environmentally friendly, 100 percent recyclable and offers a potential lifespan of 100 years or more.
 For more information on RHEINZINK, call 781-729-0812 or visit http://www.rheinzink.us.
###
---
Filed under: Projects, RHEINZINK
---
Story Resources
Word document
Request high res photographs for publication