Client News: Public Safety Training Center in Texas clad in blue and gray metal wall panels finished by Linetec
Posted on April 14th, 2019 by Heather West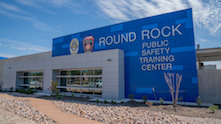 Helping protect the growing community of Round Rock, Texas, the City recently opened a new Public Safety Training Center to provide its police officers, firefighters and other first responders with real-world, educational experience in a controlled, convenient location.
Drawing respectful inspiration from the uniforms worn by the first responders trained there, blue and gray panels clad the 65,000-square-foot building's façade. Linetec applied Sherwin-Williams Fluropon® coatings to finish 11,600 square feet of Dri-Design's painted aluminum panels. The multi-colored panels were installed by Kidd Roofing in a staggered pattern to add visual appeal to the box-shaped, modern building.
Collaborating with the City of Round Rock, Hart Gaugler + Associates led the master planning for the 73-acre project's development. Brinkley Sargent Architects designed the three-story Public Safety Training Center, in association with G2 Solutions Group. Chasco Constructors oversaw the $29 million building's construction, which was completed in time for the September 2018 grand opening.
"Quality training is critical to our community," said Laura Hadley, city manager for Round Rock. "Providing the best possible training environment for our public safety officers is essential to keep up with the demands of our growing city and will control training costs long-term."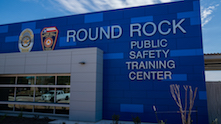 The new center creates a shared space that allows first responders from multiple agencies, including those from neighboring counties, to train in a cooperative setting. Exercises include addressing car fires, fuel spills, train derailments and residential safety threats. The main building houses administrative offices, a gymnasium, a 50-yard indoor shooting range and flexible classrooms for more than 200 students.
To ensure the building's lasting appearance and resilient performance, Brinkley Sargent Architects specified 70 percent, two-coat, PVDF resin-based Fluropon® architectural extrusion coatings. Four different hues were selected for the aluminum panel system on Round Rock's Public Safety Training Center building. Two additional red tones were chosen to finish the architectural aluminum components on the facility's standalone signage.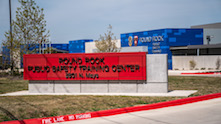 The breadth of colors offered in Fluropon durable coatings make them a popular choice for architects, specifiers and aluminum architectural product manufacturers. Linetec currently offers more than 50,000 colors and its in-house blending laboratory can match or make almost any conceivable color. For Round Rock's safety training center, the coating names are as colorful as their appearance: Blue Blood, Blue Chip, City Scape, Musket Gray, Crushed Tomatoes and Red Gumball.
"Color communicates and a building's color communicates with an entire community," commented Linetec's marketing manager, Tammy Schroeder, LEED® Green Associate. "Not only do blues, grays and reds call to mind the uniforms worn by those we turn to in the event of an emergency, they also convey a sense of calm, comfort and caution."
"Fluropon coatings are formulated for premium durability; they retain their color and gloss, and resist long-term chalking, to hold up under the intense Texas sun and climate," added Schroeder. "These 70 percent PVDF resin-based coatings shield the aluminum against weathering, pollution and aging, as well intense UV radiation."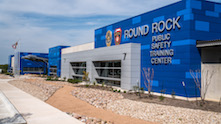 High-performing Fluropon coil and extrusion coatings, manufactured by the Sherwin Williams, meet the stringent, industry-leading American Architectural Manufacturers Association (AAMA) 2605 specification. This specification's rigorous testing performance standards include more than 4,000 hours of salt spray, and heat- and humidity-resistance.
When applying liquid coatings, Linetec uses a 100 percent air capture system to safely contain and destroy VOCs before they leave its facility. When the finished aluminum arrives at the jobsite, there is no adverse environmental impact. The material is ready to be installed to support the project's sustainable, low-maintenance goals.
Contributing to Round Rock's Public Safety Training Center's goals, Schroeder concluded, "We are proud to have played a part in creating this vibrant, contemporary building that will serve the community, and its fire and police departments, for many years to come."
**
Round Rock Public Safety Training Center; 2801 N. Mays St., Round Rock, TX 78665
* Owner: City of Round Rock; Round Rock, Texas; https://www.roundrocktexas.gov
* Master plan consultant: Hart Gaugler + Associates; Dallas; http://www.hartgaugler.com/civil
* Architect: Brinkley Sargent Wiginton Architects; Dallas; https://www.bsw-architects.com
* Associate architect: G2 Solutions Group, Inc.; New Braunfels, Texas; http://www.g2sg.com
* General contractor: Chasco Constructors LTD LLP; Round Rock, Texas; http://www.chasco.com
* Metal panel systems – installing contractor: Kidd Roofing; Austin, Texas; https://www.kiddroof.com
* Metal panel systems – manufacturer: Dri-Design; Holland, Michigan; http://www.dri-design.com
* Metal panel systems – finishing provider: Linetec; Wausau, Wisconsin; https://linetec.com
* Metal panel systems – paint manufacturer: The Sherwin-Williams Company; Cleveland; https://www.coil.sherwin.com
* Photos by Ethan Lankford, City of Round Rock, Texas
About Linetec
Located in Wisconsin, Linetec serves customers across the country, finishing such products as aluminum windows, wall systems, doors, hardware and other architectural metal components, as well as automotive, marine and manufactured consumer goods. The company is a subsidiary of Apogee Enterprises, Inc. (NASDAQ: APOG).
Linetec is a member of the Aluminum Anodizers Council (AAC), the American Architectural Manufacturers Association (AAMA), the American Institute of Architects (AIA), the Association of Licensed Architects (ALA), the National Glass Association/Glass Association of North America (NGA/GANA), the U.S. Green Building Council (USGBC) and the Window and Door Manufacturers Association (WDMA).
###
---
Filed under: FGIA, Linetec, Projects
---
Story Resources
Word document
Request high res photographs for publication