Client News: Vertically expanded Philadelphia office renovation re-clad in glass and aluminum with wood grain finishes by Linetec
Posted on October 14th, 2019 by Heather West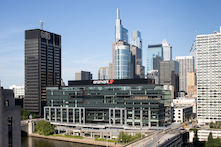 Originally constructed in the early 1920s as a four-story Hudson Motor Car Company fabrication plant, Philadelphia's 2400 Market Street property was adaptively reused as an office building. Previously known as the Marketplace Design Center, it was reimagined and vertically expanded into a nine-story, mixed-use, Class A office and positioned as a vibrant part of Center City's riverfront renewal. Now home to Aramark's corporate headquarters, the building's updated design incorporates innovation and sustainability features in pursuit of LEED® Gold certification.
The new design was conceived by architecture firm Gensler, with Varenhorst serving as the executive architect. The old, existing structure was a concrete slab with concrete columns, sufficient to permit a five-story overbuild above the roof line to create the block-wide, 600,000-square-foot development. The renovated and expanded building was re-clad in a modern, high-performance façade. Its fresh exterior showcases Viracon's glass within Wausau Window and Wall Systems' aluminum-framed window wall system finished by Linetec.
Enduring Finishes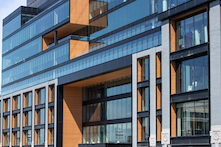 As a single source solution, Linetec provided the aluminum-framed systems' continuous polyamide thermal barrier, as well as finished approximately 627,000 square feet in clear and black anodize, and 16,000 square feet in European Cherry wood-grain finishes.
Linetec's European Cherry wood grain finishes for aluminum present the look of wood without the maintenance of actual lumber. "Wood is a popular way to integrate biophilic design into a project and to connect with the outdoors," noted Linetec's marketing manager, Tammy Schroeder, LEED Green Associate. "Unlike natural wood, the finished aluminum does not swell, rot, warp or attract insects. The finishes also are fire retardant; resist corrosion, water and humidity; and meet the American Architectural Manufacturers Association's AAMA 2604 specification standard."
Class I clear and black anodize further highlights 2400 Market Street's modern aesthetic. Linetec's anodizing provides industry-leading performance, meeting AAMA 611 specification standard. These durable finishes also are easy to maintain and recognized for their enduring longevity.
High-Performing Window Wall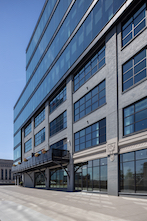 Wausau Window and Wall Systems engineered and factory-glazed more than 112,000 square feet of HR and HRX INvision™ unitized window wall, finished in the wood grain and anodize coatings by Linetec.
Linetec improved the anodize finished aluminum framing systems' thermal performance by separating the metal profile into two parts and adding polyamide insulating strips (thermal strut). This method of thermal improvement maintains the systems' structural and long-term durability, while reducing heat transfer and condensation, and providing residents with a comfortable interior temperature year-round.
The systems also incorporated 1-inch insulated glass units composed of Viracon's VNE-63 low-e glass. The combination of glazing and thermally improved framing offer low U-Factors to meet Model Energy Codes, provide high condensation resistance and sound mitigation, and allow broad expanses of vision glass.
The high-performance window wall systems also promote daylighting, while maintaining comfortable interiors for the office workers, retail shoppers and other occupants. The glass and metal building envelope also contribute to reducing the need for electric lighting, lowering HVAC loads, and minimizing associated emissions and energy costs. Variable refrigerant flow HVAC systems and water-saving plumbing fixtures also bolster the energy-efficiency of the building.
Lasting Benefits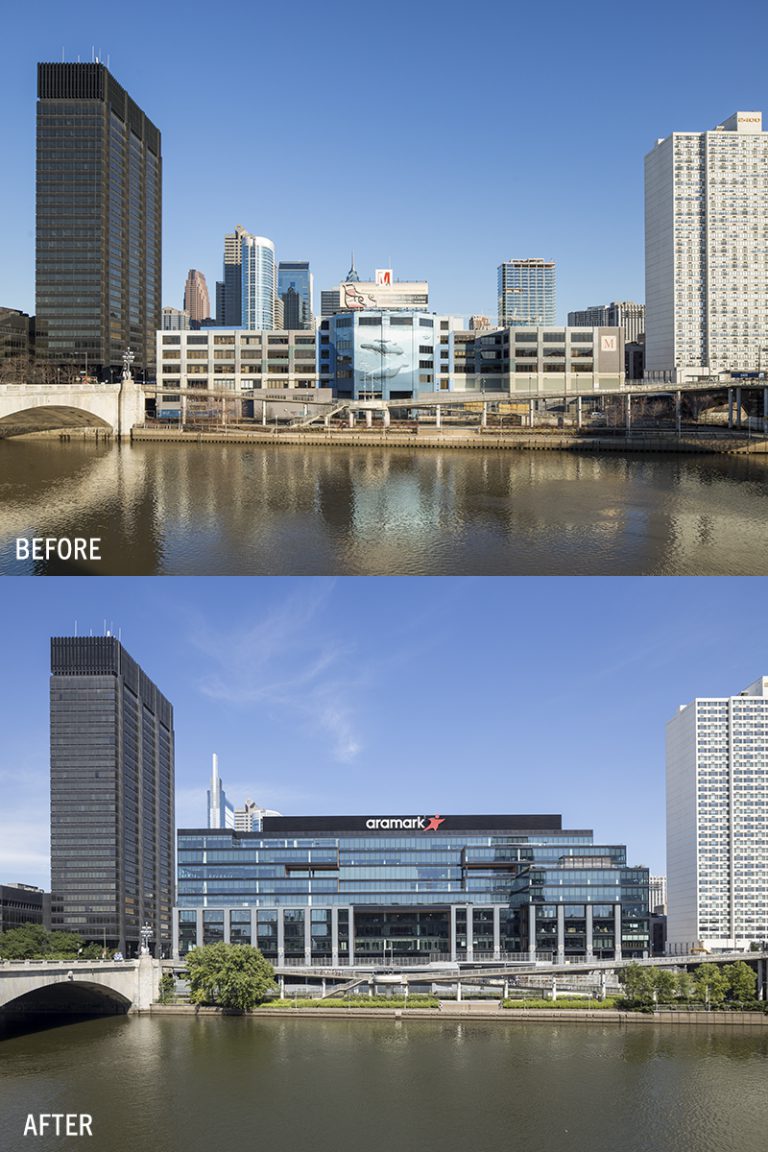 These features and attributes, combined with the window wall systems' durable finishes further support the building's longevity and sustainability. The property's creative re-use and renovation, and its redevelopment of the surrounding riverfront extend the benefits to the surrounding community. A new promenade along the building's west side overlooks the Schuylkill River Trail and the river itself, linking Chestnut and Walnut Streets.
Enjoying the views and amenities of 2400 Market Street, more than 1,000 Aramark associates occupy the top five floors. Eric Foss, CEO of Aramark, said, "This is a location that's going to allow us as a company to continue to live up to our mission, which is all about enriching and nourishing lives for our consumers, for our clients, for our associates, and for our communities."
The property is jointly owned by Lubert-Adler and PMC Property Group. Dean Adler, CEO and co-founder of Lubert-Adler, noted that "2400 Market is the gateway to Philadelphia," referring to the property's position across from University City, 30th Street Station, near Rittenhouse Square, the Central Business District, as well as near Interstate 76 and the Schuylkill Expressway. "This is one of the most ideal locations for any type of use. It is in the heart of two places that are exploding and you're at the epicenter of town."
**
2400 Market Street, Philadelphia, PA
• Owner – joint venture:
   PMC Property Group; Philadelphia; https://www.pmcpropertygroup.com
   The Lubert-Adler L.P.; Philadelphia; http://www.lubertadler.com
• Architect: Gensler; Philadelphia; https://www.gensler.com
• Executive architect: Varenhorst; Philadelphia; http://www.varenhorst.com
• Construction services: C. Erickson & Sons, Inc.; Philadelphia; https://cerickson.com
• Structural engineer: The Harman Group; Philadelphia; https://harmangroup.com
• Glazing system – window wall manufacturer: Wausau Window and Wall Systems; Wausau, Wisconsin; http://www.wausauwindow.com
• Glazing systems – glass fabricator: Viracon, Inc.; Owatonna, Minnesota; http://www.viracon.com
• Glazing systems – aluminum finisher: Linetec; Wausau, Wisconsin; https://linetec.com
• Photos by: Greg Benson Photo
About Linetec
Located in Wisconsin, Linetec serves customers across the country, finishing such products as aluminum windows, wall systems, doors, hardware and other architectural metal components, as well as automotive, marine and manufactured consumer goods. The company is a subsidiary of Apogee Enterprises, Inc. (NASDAQ: APOG).
Linetec is a member of the Aluminum Anodizers Council (AAC), the American Architectural Manufacturers Association (AAMA), the American Institute of Architects (AIA), the Association of Licensed Architects (ALA), the National Glass Association/Glass Association of North America (NGA/GANA) and the U.S. Green Building Council (USGBC).

To learn more about Linetec's finishing and value-added services, please call 888-717-1472, email sales@linetec.com or visit https://linetec.com.
###
---
Filed under: FGIA, Linetec, Projects, Wausau Window and Wall Systems
---
Story Resources
Word document
Request high res photographs for publication