Client News: DuPage Airport's new hangar doors rely on EXTECH systems to enhance aesthetics and energy efficiency, while supporting design/build goals
Posted on September 8th, 2017 by Heather West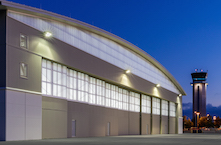 Chicagoland's DuPage Airport Authority, located in the western suburban area, is home to the largest concentration of corporate aircraft in Illinois. It supports more than 400 based aircraft, from single-engine piston to the largest corporate jet with a full array of amenities. It is the only general aviation airport in Illinois with four active runaways, two instrument landing system approaches and a 24-hour Federal Aviation Administration (FAA) Air Control Tower, U.S. Customs and 24-hour onsite aircraft rescue and firefighting capabilities. The internationally recognized DuPage Flight Center provides service and amenities including fuel, catering, car rental, concierge service, crew and passenger lounges, conference rooms, and overnight hangar facilities.
In addition to the aircraft based on site, the airport receives numerous daily transient aircraft, and corporate aircraft diverted from surrounding airports, such as Chicago Midway International Airport, in cases of inclement weather. To better accommodate and store both the daily transient aircraft and diverted aircraft, the DuPage Airport Authority will open a new hangar this August, reflecting its goal to build and maintain a world-class facility in the heart of the United States.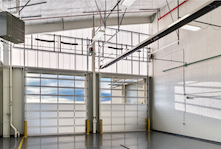 The new 31,000-square-foot hangar spans 244 feet wide by 134 feet deep with 29-foot-high doors. It features LIGHTWALL 3440® and SKYGARD 3300® polycarbonate systems from Exterior Technologies, Inc. (EXTECH) as installed by Anthony Roofing.
"An airport really has two front doors," observes Mark Doles, director of aviation facilities and properties, and director of DuPage Flight Center. "There's the one most people see on the land side, and there's the one that aircraft crews and passengers see on the air side. From both sides, we wanted the new hangar to be aesthetically pleasing and as efficient as possible."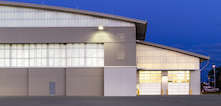 Specified as the basis of design for DuPage Airport's new hangar, EXTECH's innovative LIGHTWALL and SKYGARD systems use highly insulating, 100 percent recyclable structural cellular polycarbonate with aluminum framing. The systems are manufactured in Pittsburgh, within 500 miles of the Chicagoland site. Based in Aurora, Illinois, Anthony Roofing installed 6,620 square feet of LIGHTWALL 3440 interlocking wall system as clerestory windows in the hangar and 2,480 square feet of SKYGARD 3300 surface mounted skylights on the large hangar doors.
Multi-Function, Multi-Panel Hangar Door
The new hangar is situated on the main apron for shorter towing, located adjacent to the DuPage Flight Center and control tower. It can accommodate aircraft as large as those within the classification of FAA Design Group III, with a single large open bay accessed from the airside by multi-panel sliding hangar doors.
On the north end of the hangar, an attached 4,000-square-foot equipment storage facility houses de-icing trucks, tugs for aircraft relocation and other ground support equipment.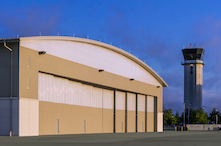 According to Doles, the DuPage Airport Authority planned this project for several years. Together with long-time partner and engineering consultant CH2M, they created the basic schematic design and bridging documents. Door Engineering and Manufacturing worked closely with CH2M and EXTECH to perfect the hangar door design.
"They like our 'Smart Rail' design and how easy the door system is used when in this type of building," says Dale Larson, technical sales aviation with Door Engineering. "It's a fabulous solution for fixed-base operations because the Smart Rail multi-panel, bottom-rolling, top-guided hangar door system requires no pockets and no defined stacking point. It lets you move the door sections to stack all left, all right, bi-part from center or partially open to allow smaller aircraft to enter and exit the hangar without disturbing other aircraft."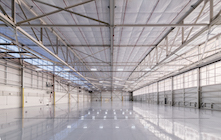 Enhancing the functionality and appearance of the 29-foot-high, 10-panel hangar doors, Door Engineering recommended incorporating EXTECH's system. They previously partnered on another successful airport project in White Plains, New York. Larson continues, "On DuPage, we worked together with EXTECH from the earliest stage throughout the nearly three years of the project's development and value engineering with Harbour Contractors."
Harbour Contractors was selected by the Authority as a pre-qualified design/build contractor. Harbour Contractors then selected Burns & McDonnell as the architect of record for civil/structural and architectural elements.
On Budget, On Time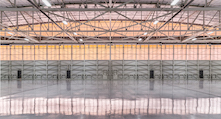 The project broke ground in May 2016 with a total estimated budget of $9.9 million with a guaranteed maximum price. Doles elaborates, "It took a lot of coordination by the design/build team due to the associated site work and infrastructure. For example, we needed proper grading so we would be able to easily move the aircraft. Throughout each step of the project, there was smooth collaboration and the team was always looking out for the best interests of the owner. They suggested ways to save money, while respecting the design and timeline."
Ken Williams, Harbour Contractors' superintendent, agrees and adds, "I personally spent hours of coordination with the engineers at EXTECH to ensure that all design criteria were met. This project came in on time and under budget due to the project team that was put together. Many of the trades, including Anthony Roofing, went above and beyond, working countless weekends, to maintain the project schedule."
Prairie Style Design Details

To understand the new hangar's design inspiration, Williams provides a retrospective of the airport's most notable buildings.
The DuPage Flight Center, opened in 1993, serves as the main Terminal Building. It is a highly visible structure due to its location, orientation and iconic character. The three-story, semicircular structure wraps around the east side of the air traffic control tower, topping out at nearly 80 feet high, with a mansard-style roof crowning a continuous promenade of full-height, arch-topped windows that surrounds the building. On the north side of the terminal, a modern Airfield Rescue and Fire Fighting station was completed in 2013. The new station is low-slung, with a modern appearance, evoking Prairie Style architectural design, horizontally accented by scale-appropriate vertical elements.
The new hangar has a complementary aesthetic style to these two buildings, while exhibiting deference to the well-recognized Terminal Building. The most notable elements of the terminal are the curving plan and arch-top windows. The new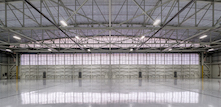 hangar's primary building components consist of a reinforced concrete foundation, structural steel frame, insulated metal panel system and precast concrete wall panels with polycarbonate glazing system, and a large-radius, arched roof.
Williams continues, "One of the key architectural features was to mimic the mullion pattern of the arched windows on the adjacent terminal building with the translucent panels on the hangar doors."
"To achieve this aesthetic, along with the performance requirements, we adapted the framing system of our SKYGARD 3300 for the hangar doors," explains EXTECH Director of Product Application and Development Kevin Smith, R.A.
"They match well enough to be a mirror image," praises Anthony Roofing's project manager Tony Orlando. "Specific attention was given to the look, including the actual dimensions of the mullion separations."
Borrowed Light Benefits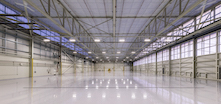 "Often, monolithic metal panels are what you see on hangar doors," notes Doles. "We chose EXTECH's systems to give us the architecturally attractive look we wanted and the translucent polycarbonate lets us take advantage of the borrowed light. With the natural light, we usually will not have to utilize any electric lighting at all during the day. When we do illuminate the hangar, it's stunning to see at night."
In addition to reducing dependence on electric lighting and accentuating the building's appearance, the diffusing characteristics of the cellular polycarbonate reduce solar heat gain into the building envelope. "Having an opening that's several hundred feet wide isn't inherently efficient for heating and cooling, especially in winter," Doles acknowledges. "When the door is closed, the EXTECH systems help mitigate the utility costs associated with heating."
Proven Performance
Anthony Roofing began work on the hangar in mid-November and installed EXTECH's tongue-and-groove, polycarbonate LIGHTWALL 3440 and SKYGARD 3300 in a two-week timeframe.
The team completed the installation in February, seven weeks ahead of schedule. "Both systems were designed with high performance in mind and for easy installation to meet the aggressive construction schedule," says Smith.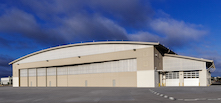 "We love working with EXTECH's lightweight products. It's so easy to work with. It installs easily and quickly," emphasizes Orlando. "It's also rigid enough to hold up to the forceful winds that are always associated with airports."
Along with meeting high winds and thermal performance, EXTECH's LIGHTWALL 3440 interlocking polycarbonate translucent wall system met the project's fire rating, UV resistance, air infiltration and water penetration requirements. Tested and proven to meet these criteria, the products also are backed with a 10-year warranty.
"EXTECH was great in helping solve problems, when components had to be changed due to build variances. They were able to help settle redesign issues to get the parts faster. They have a sense of family that helps work out the issues rather than bicker about them," praises Orlando.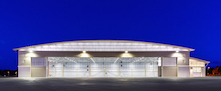 "This was the job that started the relationship that we now enjoy with EXTECH." In particular on the DuPage hangar project, Orlando compliments EXTECH's senior project engineer Alan Lohr and adds, "I consider all the people at EXTECH that I've had the pleasure to work with as my friends."
Doles concludes, "All in all, it was a very good project."
**
DuPage Airport's Transient Aircraft Hangar, 2700 International Dr., West Chicago, IL 60185; http://www.dupageairport.com
* Owner: DuPage Airport Authority; West Chicago, Illinois; http://www.dupageairport.com
* Design schematic and bridging documents: CH2M; Chicago office; https://www.ch2m.com
* Architect: Burns McDonnell; Chicago office; http://www.burnsmcd.com
* General contractor: Harbour Contractors, Inc.; Plainfield, Illinois; http://www.harbour-cm.com
* Engineering and manufacturing – door systems: Door Engineering and Manufacturing, LLC, a Senneca Company; Kasota, Minnesota; http://www.doorengineering.com
* Installing contractor – polycarbonate systems: Anthony Roofing Ltd., a business of Tecta America; Aurora, Illinois; http://www.tectaamerica.com/aurora-illinois
* Manufacturer – polycarbonate systems, LIGHTWALL 3440® interlocking wall system and SKYGARD 3300® customized surface mounted skylights system: Exterior Technologies, Inc. (EXTECH); Pittsburgh; https://extechinc.com
* Photos ©balloggphoto.com
**
Exterior Technologies, Inc. (EXTECH) is an award-winning manufacturer and designer of wall, window, skylight, canopy and custom façade systems. The company delivers solutions for a variety of industries and applications, and are committed to collaboration, innovation and exceptional engineering. Learn more by calling 800 500 8083, emailing info@extechinc.com or visiting www.EXTECHinc.com.
###
---
Filed under: Projects
---
Story Resources
Word document
Request high res photographs for publication