Association News: Dean Lewis of AAMA passes away
Posted on March 8th, 2018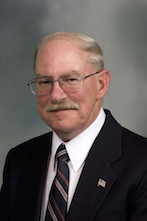 Dean Lewis of the American Architectural Manufacturers Association (AAMA) passed away March 7 after battling cancer. He spent 45 years in the fenestration industry and was 69 years old.
Lewis joined AAMA in 1999, utilizing his technical and industry experience to advance many of the programs and services offered by the association. During his tenure with AAMA, he worked in both certification and education. After retiring as Technical Manager, Training & Education last year, he continued to consult for the association. His experience in technical training helped to advance the FenestrationMasters® professional certification program, as well as other education initiatives.
"Dean Lewis was one of a kind. He gave AAMA 19 years of his time, knowledge and expertise, and we are a better organization for it. We called him 'Dean the Answers Man,' and lucky for us all, he was always willing to share his wisdom, whether it benefitted long-time experts or those new to the industry. We miss him terribly, and our thoughts are with his wife, Terri, and the rest of his family and loved ones," said AAMA President and CEO Rich Walker.
Lewis began his career in the fenestration industry in 1973 at PPG Industries with positions in project engineering, product design, and sales and customer technical support, and served on committees of the American National Standards Institute (ANSI), the American Society of Heating, Refrigerating and Air-Conditioning Engineers (ASHRAE) and ASTM International.
Earlier experience included teaching in the industrial and military sectors, and nearly 40 years of managing technical training, publishing and certification. Lewis held a Bachelor of Science in physics with graduate work in engineering management. He served on standards and certification committees of a dozen national and international organizations.
AAMA celebrated Lewis's retirement at a luncheon last year and commemorating the occasion with anecdotes and memories from staff.
Visitation will be held Fri., March 9, 4-8 p.m. Funeral services will take place Sat., March 10 at 10 a.m. at Smith-Corcoran Funeral Home in Palatine, Illinois, with mass following at St. Theresa Church at 10:30 a.m.
In lieu of flowers, donations may be made to St. Jude Children's Hospital. Family and friends may read the full obituary and offer condolences on the Smith-Corcoran website.
AAMA is the source of performance standards, product certification and educational programs for the fenestration industry.SM
###
---
---
Story Resources
Portrait: Dean Lewis
Word document
Request high res photographs for publication