Association News: UL/CLEB seminar breaks down Canadian CSA A500 Building Guards Standard
Posted on June 24th, 2019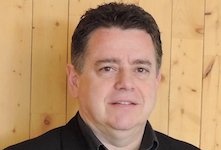 Principal engineer Robert Jutras (UL/CLEB) hosted a seminar called, "The Canadian CSA A500 Building Guards Standard, Explained" during the 2019 Joint American Architectural Manufacturers Association (AAMA) and Insulating Glass Manufacturers Association (IGMA) Summer Conferences in Victoria, British Columbia, (June 17-20).
The CSA A500 Building Guards Standard was developed in response to stakeholders who saw the need for a standard for materials, design, construction, testing and performance of building guards, said Jutras. The standard is important because these protective barriers prevent accidental falls from one level to another.
Jutras's presentation dealt specifically with Part 5 of the standard, covering confirmatory tests, lab tests, anchor and fastener testing, penetration cone testing, markings and in-situ testing.
"Every guard installation must undergo confirmatory testing, including testing on re-installation of existing and reused guards," Jutras quoted from the standard.
Jutras went over test references A and B in the standard. The former tests for rigidity and resistance under different loading conditions, and the latter focuses on impact tests and retention after breakage.
The third test is one with the penetration cone, made in accordance with section 4.8.3 of CSA A500. The purpose of the test, he explained, is to verify the opening criteria between guard components of 100 mm (4 in.)
Jutras said that, dependent on the test performed the standard defines the number of tests to be successful, for a test to be considered a pass.
However, for the anchors and fasteners performance evaluation, a silver lining of testing is that it does not need to be replicated every single time with each new design, he said.
"If your anchors and fasteners are the same in a new design, you can use previous test data," said Jutras.
"However, at least one engineer must be present throughout testing in order for it to be valid."
Visit aamanet.org and igmaonline.org for more information about these organizations.
###
---
---
Story Resources
Portrait: Robert Jutras, UL/CLEB
Word document