Association News: AAMA updates requirements for rigid PVC exterior profiles
Posted on November 5th, 2018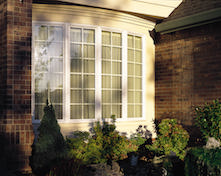 The American Architectural Manufacturers Association (AAMA) updated a document describing minimum requirements for various factors pertaining to rigid polyvinyl chloride (PVC) exterior profiles used in windows, doors and skylights. AAMA 303-18, "Voluntary Specification for Rigid Polyvinyl Chloride (PVC) Exterior Profiles," was first released in 2000 and was last updated in 2012.
This voluntary specification establishes the minimum requirements for dimensional stability, impact resistance, weatherability, heat resistance, weight tolerance, heat build-up and lead compound content of rigid PVC exterior profiles including:
* Ones used as frames, sash and all structural profiles related to glass retention and/or profiles that structurally divide lites within a common master frame of all vinyl products
* Ones as described above, but are used in composite structures where PVC is combined with other materials such as wood, aluminum, steel, reinforced thermosets and reinforced thermoplastics
* Ones used as cladding over wood, aluminum, steel, reinforced thermosets and reinforced thermoplastics
These profiles include, but are not limited to, those with decorative finishes such as paint, laminates and co-extruded capping compounds.
"Several new sections were added, including one giving base profile requirements for organically coated profiles, and one laying out co-extruded profile requirements," said Jeff Franson (Quanex Building Products), chair of the AAMA 303 Vinyl Profile Performance Standard Maintenance Task Group. "Other sections were updated as needed to reflect industry changes since 2012."
AAMA 303-18, as well as other AAMA documents, may be purchased from AAMA's online store. More information about AAMA and its activities can be found on the AAMA website, https://aamanet.org.
AAMA is the source of performance standards, product certification, and educational programs for the fenestration industry.SM
###
---
Filed under: FGIA, People, Products
---
Story Resources
Word document
Request high res photographs for publication