Client News: Minnesota's new Metro Transit shelters feature Linetec finishes
Posted on March 11th, 2018 by Heather West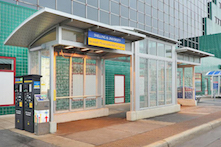 Minnesota's Metro Transit owns and maintains more than 700 transit shelters throughout the Twin Cities. Recently, the region's first Bus Rapid Transit (BRT) – the A Line – added 38 shelters and 40 signage pylons engineered by Duo-Gard. Constructed of aluminum and finished by Linetec in a clear anodize, the shelters and signage offer high-traffic durability in every season.

Metro Transit emphasizes accessible, public transportation that fits into the communities it serves. The A Line serves the busy corridor of Snelling Avenue, Ford Parkway and 46th Street. These A Line stations will serve as a model for future BRT stations located in 11 other metro corridors across the region.

"It was important that the design be easily replicable for future expansion, as well as easily maintainable," says Katie Roth, project manager for Metro Transit BRT/Small Starts. "We wanted the aesthetic to convey speed of service, shown in the sleek curvature of the arched roofs. Of course, we needed weather protection and personal security, and we also wanted to maintain openness and an easy flow."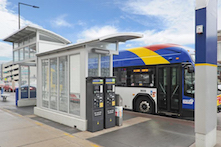 "Duo-Gard's team collaborated closely with Metro Transit to achieve the customer's goals," said Kevin Chown, Duo-Gard's sales manager for outdoor structures.

"Anodized aluminum resists the ravages of time, temperature, corrosion, humidity and warping, contributing to its long life cycle and minimal maintenance," explained Tammy Schroeder, Linetec's senior marketing specialist. "Its durable performance withstands Minnesota's extreme temperature changes and weather conditions, constant exposure to vehicle exhaust, oversprayed salt de-icing on slippery roads, and daily use by passengers."

She added, "Along with the high performance of an anodize finish, the clear color also highlights Duo-Gard's aluminum construction for a clean, contemporary aesthetic." Further accentuating the modern, metallic appearance, the curved, standing-seam aluminum roofs are complemented by corrugated steel panels on their undersides.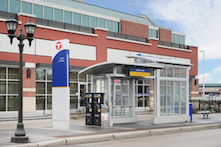 The shelters are sized in small, medium and large, ranging from 7 by 17 feet to 7 by 40 feet, and are installed according to site conditions and ridership patterns. The signage pylons accompanying the shelters are 13 feet high, 24 inches wide and 8 inches deep. In addition to contributing to Metro Transit's branding with a custom logo on top, the pylons provide real-time information and serve as a beacon for riders.

The station platforms integrate fare collection machines, transit signal priority and security elements, as well as push-for-heat buttons and plates, and edge-lit LED map cases. All of the electrical wiring is concealed inside the finished aluminum framing. Duo-Gard first demonstrated this engineered frame design in plastic, as a 3-D printed corner column. "Our ability to design the column and then print it in actual size enabled all involved to visualize and finalize this important element," noted Chown.

Brought to life in finished aluminum, the framing members feature narrow sightlines and maximum viewing areas. Duo-Gard also developed a new T-extrusion for glass retention to meet this architectural element and the design team's intent.

Working with Metro Transit, Minneapolis-based Luken Architecture created the concept for the BRT shelters as part of an overall design team led by Kimley Horn and Associates, Inc. More than 1,000 riders also contributed to the design by stating their preferences for improved appearance and functionality.

"Our riders are at the forefront of the design of the A Line and its stations," said Brian Lamb, Metro Transit's general manager. "Features including heated shelters with improved lighting, security cameras and real-time displays that let riders know when buses will arrive are only a few of the things that show how we work to act on our riders' needs. By doing this, we have worked to make good on our commitment to improving service in one of the busiest transportation corridors in the area."

Opened June 2016, the A Line is the first of a dozen planned BRT routes that will serve core arterial streets, strengthening Metro Transit's most-used routes. The A Line offers up to 25 percent faster service because the buses make fewer stops, and riders purchase or validate their fares before boarding. Buses pick up and drop off passengers at stations placed every half mile with a high frequency to speed service and connect customers to major destinations.

The A Line now serves 4,500 riders each day. The stop at Snelling and University is among those reporting an increase of 32 percent.

Following the success of the A Line, the Metro Transit C Line is scheduled for construction this spring. "The entire Duo-Gard team is proud of the A Line's success, and we're eager to begin work on shelters for the new C Line," concluded Chown.

**

Metro Transit's Bus Rapid Transit Shelters, Minneapolis and St. Paul, Minnesota
* Owner: Metro Transit, a service of the Metropolitan Council; Minneapolis; https://www.metrotransit.org
* Design team:
- Kimley-Horn and Associates, Inc.; St. Paul, Minnesota; https://www.kimley-horn.com
- Luken Architecture, PA; Minneapolis
* BRT shelter and signage pylon manufacturer: Duo-Gard Industries Inc.; Canton, Michigan; http://www.duo-gard.com
* Anodize finishing service provider: Linetec, Wausau, Wisconsin; http://www.linetec.com
* Photos courtesy of: Duo-Gard
Located in Wisconsin, Linetec serves customers across the country, finishing such products as aluminum windows, wall systems, doors, hardware and other architectural metal components, as well as automotive, marine and manufactured consumer goods. The company is a subsidiary of Apogee Enterprises, Inc. (NASDAQ: APOG).
Linetec is a member of the Aluminum Anodizers Council (AAC), the American Architectural Manufacturers Association (AAMA), the American Institute of Architects (AIA), the Association of Licensed Architects (ALA), the Glass Association of North America (GANA), the U.S. Green Building Council (USGBC) and the Window and Door Manufacturers Association (WDMA).
###
---
Filed under: Linetec, Projects
---
Story Resources
Word document
Request high res photographs for publication