Client News: Linetec honored with Manufacturing Excellence Award
Posted on October 20th, 2017 by Heather West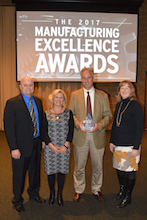 Wausau Region Chamber of Commerce honored Linetec with a Manufacturing Excellence Award in the category of Large Manufacturers (300+ employees). The award recognizes the company's contributions to growing the region's economy, operations, innovation, workplace culture, quality jobs, supply chain management and commitment to the region.
"Linetec feels very honored to receive this award, especially considering the number of distinguished manufacturers that are based in the Wausau area," said Rick Marshall, president of Linetec. "We would like to thank the 570 employees of our company. They are the ones that drive our positive culture and our core values, enabling Linetec to perform well and consistently for our customers."
Along with Marshall, Linetec's Mike Schauls, vice president of operations; Tammy Schroeder, senior marketing specialist; and Jane Kessel, vice president of human resources; represented Linetec at the awards program on Oct. 17. The event was part of the Chamber's celebration of Manufacturing Month.
For more information about Linetec, please call 888-717-1472, email sales@linetec.com or visit http://www.linetec.com.
Located in Wisconsin, Linetec serves customers across the country, finishing such products as aluminum windows, wall systems, doors, hardware and other architectural metal components, as well as automotive, marine and manufactured consumer goods. The company is a subsidiary of Apogee Enterprises, Inc. (NASDAQ: APOG).
Linetec is a member of the Aluminum Anodizers Council (AAC), the American Architectural Manufacturers Association (AAMA), the American Institute of Architects (AIA), the Association of Licensed Architects (ALA), the Glass Association of North America (GANA), the U.S. Green Building Council (USGBC) and the Window and Door Manufacturers Association (WDMA).
###
---
---
Story Resources
Photo
Word document
Request high res photographs for publication