Jabil Corporate Headquarters' modern, open office design promotes collaboration, while meeting acoustic comfort and sustainability goals with Rockfon ceilings
Posted on January 18th, 2023 by Heather West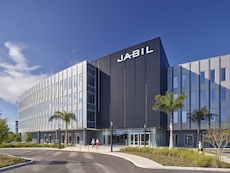 Designed by Gensler's architectural team, Jabil Inc.'s new corporate headquarters in St. Petersburg overlooks Blue Heron Lake. Reflecting the company's sustainable and collaborative goals, the new building promotes a connection with its natural outdoor surroundings and with colleagues working inside. The curved building showcases an attractive glass exterior complemented by a bright, modern interior.
"The building is comprised of two wings connected by a central four-story atrium that looks out onto the lake," said Gensler's associate interior designer, Noel Keesee, NCIDQ. "This new, 170,000-square-foot building [serves] as the headquarters and 'Global Connector' for Jabil team members to come together."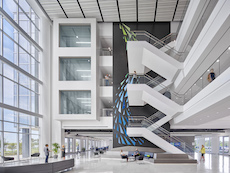 Rebuilding and expanding its former two-story structure, the new facility allowed Jabil to stay at its same location and bring together approximately 2,000 employees who previously had been working at eight different locations.
"Jabil's move into their new headquarters presented a big shift to a more open office environment," explained Keesee. "Acoustics were a primary concern of the Jabil team, since this would be a new style of working environment."
"We offered Gensler a choice of sound-absorbing ceiling panels for Jabil that met the project's goals for optimized acoustics and modern aesthetics as well as sustainability and employee well-being," said Rockfon's architectural sales representative, Amy Neumann, IIDA, RID, Allied. AIA, CSI.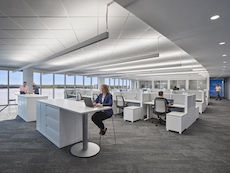 "The project was budget-driven and the design team was challenged to keep the materials simple and highly functional," continued Keesee. "We worked with Amy to find the products with the highest acoustic value at a price point that was appropriate for the product."
Gensler selected three of Rockfon's acoustic stone wool ceiling panels to meet the specified requirements for Jabil's offices: Rockfon Sonar®, Rockfon Tropic® and Rockfon® Hygienic Plus™. Acousti Engineering Company of Florida supplied and installed all of Rockfon's ceiling systems for Jabil. The project was completed on schedule in March 2021 and in March 2022, employees gathered in-person to celebrate the return to their new headquarters.
Jabil employs more than 200,000 people at 100 locations in 30 countries who provide manufacturing and supply chain solutions to bring a broad range of technologically advanced products to market. Along with its corporate headquarters, other St. Petersburg facilities include its design engineering and technology center, and its manufacturing center specializing in solving customers' challenges with mission-critical systems.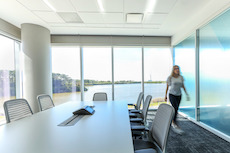 As part of Jabil's commitment to continuously "do the right thing in the right way," sustainability and inclusivity are clear priorities. The company contributes to the achievement of 12 of 17 United Nations Sustainable Development Goals (UN SDGs). It partners with customers and promotes efforts to enhance a circular economy, helping reduce carbon emissions and smaller environmental footprint for a net-positive impact opportunity. Walking the talk, Jabil slashed year-over-year greenhouse gas emissions by 19 percent in 2021, while increasing its operational efficiency. The company is ranked #6 on Forbes 2021 Green Growth 50 list.
Jabil's diversity, equity and inclusion initiatives also are recognized in both its community involvement and volunteerism. The company committed to 1 million service hours in 2022, including participating in the 2022 Special Olympics USA Games held in Orlando. Its inclusive and collaborative values also are apparent in Jabil's own business practices and leadership where people are encouraged to grow, innovate and be their true selves.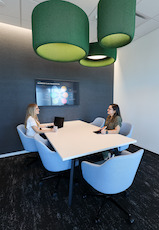 "Our people are our first priority because they're the ones that take care of our customers," said Mark Mondello, Jabil's CEO. "I want people working here that have a desire to do great things. I want our people to feel like they can come to work every day and work in an environment that's safe, where their voices are heard, and everybody is treated fairly."
"Ensuring everyone feels safe and heard meant designing a workplace with a good acoustic experience that supports employees' well-being and allows them to perform at their best," explained Rockfon's Neumann.
Noise Reduction Coefficient (NRC) is the metric used to describe the sound absorbing capability of ceiling panels. To optimize acoustics for a productive and comfortable workplace, Neumann and Rockfon's acoustic specialist, Gary Madaras, PhD, recommend sound-absorbing ceiling panels with an NRC of 0.80 or higher, full-height walls and proper background sound levels.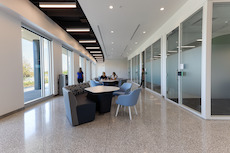 Gensler specified Rockfon Tropic with an NRC of 0.85 for the majority of the offices and meeting rooms. In the kitchen, where noisy activities are common, Rockfon Hygienic Plus panels deliver an 0.90 NRC with an easy-to-clean surface. In Jabil's main multi-purpose conference, where room speech privacy and intelligibility were key expectations, Rockfon Sonar sound-absorbing ceiling panels provide an 0.95 NRC for best-level acoustics.
Positioned at an exterior corner, the main conference room also features large window walls with views onto the lake. Throughout the majority of the office floorplan, window views are accessible to all. Open office workstations, private offices, meeting and conference rooms and other collaboration spaces are inset from the exterior window walls. Maximizing daylight, the smooth white surface of Rockfon Tropic acoustic stone wool ceiling panels reflect 86 percent of the light into the interior. This helps reduce demand on electric lighting, contributing to the building's energy efficiency.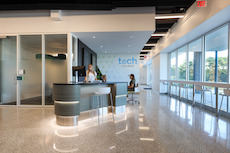 Deepening the daylight within the building's interior, enclosed conference and meeting rooms also feature large glass entrances on the exterior-facing walls. In contrast to these quiet enclosed spaces, the materials used in the open area immediately outside the meeting rooms reflect rather than absorb sound. Examples include the glass walls, hard flooring and partially open plenums. Serving a different function, these circulation zones and informal lounge areas pulse with activity, fostering impromptu connections and lively conversations along the office perimeter.
"We know that workers around the world still place a great deal of value in the physical workplace for social interaction, mentorship, deep concentration, and collaborative work," shared Gensler in "Design Forecast 2022: Resilient Design Strategies for the Human Experience."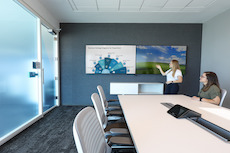 "The workplace must become a compelling destination," stated Gensler, citing this as a "meta trend" affecting the future of work. "We're seeing a shift to the new role of the workplace as a 'destination' – creating experiences that employees can't get working remotely. Top-performing companies understand the power of the physical workplace for their people to thrive, as well as drive creativity and innovation."
Along with providing a compelling destination, other meta trends highlighted by Gensler found in Jabil Corporate Headquarters include workplaces that foster equity and inclusion, and those that invest in health and well-being.
Throughout Jabil's workspaces, Rockfon's stone wool products also contribute to healthy indoor air quality. All Rockfon's ceiling panels for Jabil have earned UL® GREENGUARD® Gold certification for low-emissions. Without the use of added chemicals, stone wool does not support the growth of mold, mildew or other potentially harmful microorganisms. Made from natural basalt rock and recycled material, stone wool inherently resists fire, water, moisture as well as Florida's humidity.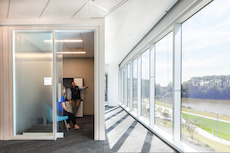 "We were happy to share our knowledge and product solutions to help Jabil and Gensler achieve what the architectural vision and office experience they intended. Our values around sustainability also align at the highest levels as Rockfon is part of ROCKWOOL, which shares a commitment to achieving 10 of the 17 UN SDGs," added Neumann. "It's a beautiful project and we're proud to have contributed to its success."
**
Jabil Corporate Headquarters, 10800 Roosevelt Blvd. N., St. Petersburg, FL 33716
• Owner: Jabil, Inc.; St. Petersburg; https://www.jabil.com
• Architect: Gensler; Tampa, Florida; https://www.gensler.com
• Construction manager: Skanska USA; Tampa, Florida; https://www.usa.skanska.com
• Ceiling systems – installing contractor and distributor: Acousti Engineering Company of Florida; https://acousti.com
• Ceiling systems – manufacturer: Rockfon; Chicago; https://www.rockfon.com
• Photographers:
©Kelly Toups, courtesy of Gensler
©2021 Halkin Mason Photography LLC
About Rockfon
Rockfon is part of the ROCKWOOL Group and is offering advanced acoustic ceilings and wall solutions to create beautiful, comfortable spaces.
At the ROCKWOOL Group, we are committed to enriching the lives of everyone who experiences our product solutions. Our expertise is perfectly suited to tackle many of today's biggest sustainability and development challenges, from energy consumption and noise pollution to fire resilience, water scarcity and flooding. Our range of products reflects the diversity of the world's needs, while supporting our stakeholders in reducing their own carbon footprint.
Stone wool is a versatile material and forms the basis of all our businesses. With approximately 11,500 passionate colleagues in 39 countries, we are the world leader in stone wool solutions, from building insulation to acoustic ceilings, external cladding systems to horticultural solutions, engineered fibers for industrial use to insulation for the process industry, and marine and offshore.
###
---
Filed under: Projects, Rockfon
---
Story Resources
Word document
Request high res photographs for publication