Client News: New Standard Wood Ceiling Program available from Rockfon
Posted on April 7th, 2020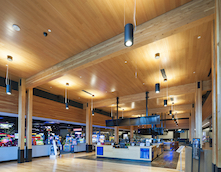 Rockfon North America, part of the ROCKWOOL Group, introduces a new Standard Wood Ceiling Program. Featuring four popular finishes, the highly anticipated program is specifically designed to meet the growing demand for wood products in smaller-sized projects. This interior wood ceiling product collection provides U.S. customers with a curated selection of the most popular systems, styles and finishes.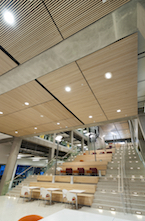 By combining the natural aesthetics of a real wood veneer with the durable, long-lasting performance of an MDF core, the collection offers a holistic solution for interior spaces. The choice of White Maple, Douglas Fir, Cherry and Walnut wood species with a clear, low-VOC finish creates a versatile product ideal for any wood ceiling project.
Within this new collection, Rockfon offers Geopanel grilles, linear planks, tegular panels and semi-concealed side groove panels. This selection of styles allows for complete design freedom even on smaller projects.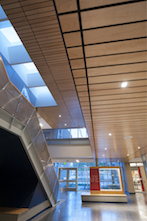 "Whether installed across an entire room or to accent key elements, modern ceiling designs increasingly are incorporating wood products. Combining the warmth of wood with a sleek, contemporary style, wood grilles are by far our most popular product. Our linear wood planks provide a similar feel in a wider design," said Warren Dudding, Rockfon's vice president of marketing and business development. "For a more traditional look, our wood panels deliver the desired aesthetic in perforated or non-perforated formats. Our collection undoubtedly has a wood solution for every small project."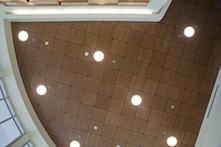 Installation of Geopanel wood ceiling products can be accomplished with Rockfon's 15/16-inch Chicago Metallic® heavy-duty suspension system. These wood ceiling systems expand and complement Rockfon's extensive portfolio of acoustic stone wool ceiling panels, specialty metal ceilings, ceiling suspension systems and accessories.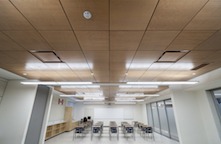 Rockfon's Geopanel wood ceiling products and systems are made possible through an exclusive agreement with Geometrik Manufacturing Inc. – manufacturers of innovative, acoustical, wood ceilings and wall panels.
To learn more about Rockfon's wood ceiling selection, please call 800-323-7164, email cs@rockfon.com or visit https://www.rockfon.com.
About Rockfon
Rockfon is part of the ROCKWOOL Group and is offering advanced acoustic ceilings and wall solutions to create beautiful, comfortable spaces.
At the ROCKWOOL Group, we are committed to enriching the lives of everyone who experiences our product solutions. Our expertise is perfectly suited to tackle many of today's biggest sustainability and development challenges, from energy consumption and noise pollution to fire resilience, water scarcity and flooding. Our range of products reflects the diversity of the world's needs, while supporting our stakeholders in reducing their own carbon footprint.
Stone wool is a versatile material and forms the basis of all our businesses. With approximately 11,000 passionate colleagues in 39 countries, we are the world leader in stone wool solutions, from building insulation to acoustic ceilings, external cladding systems to horticultural solutions, engineered fibers for industrial use to insulation for the process industry, and marine and offshore.
###
---
Filed under: Products, Rockfon
---
Story Resources
Word document
Request high res photographs for publication