Twin Cities to Two Rivers: 13 spots worth stopping across Wisconsin on the way to Hamilton Wood Type & Printing Museum
Posted on August 25th, 2017 by Heather West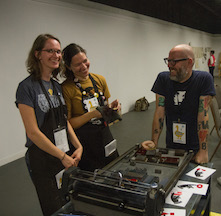 When you're traveling to the east side of Wisconsin from the Twin Cities, you have some ground to cover. Mark Simonson and Pat Thompson look for off-the-beaten-path oddities that show Wisconsin at its weird best. Simonson is owner of Mark Simonson Studio based in St. Paul, Minnesota, and a type designer, best known for his font Proxima Nova. Thompson is a graphic designer and community volunteer who serves on the board of directors of St. Paul's Creative Enterprise Zone.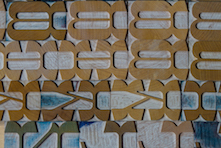 Both are big fans of the Hamilton Wood Type & Printing Museum in Two Rivers, Wisconsin, which they visit frequently. When they make the five-hour drive across Wisconsin, they stop to see historic and artistic sites. And eat some food, too.
Here's their list of 13 spots to stop on the way to visit the museum.
Traveling from west to east, you'll find:
1. The classic spot to stop for breakfast or lunch is the Norske Nook in Osseo, not far from the interchange of I-94 and Highway 10. Or if you prefer a 1950's vibe, try Moe's Diner.
2. Following Highway 10 east, stop at Pavilion Cheese & Gifts in Neillsville. Yes, you can buy cheesehead hats and there's a giant fiberglass cow out front, but the yellow-roofed Jetson-era building was also the Wisconsin Pavilion at the 1964 World's Fair. Nice display of World's Fair memorabilia downstairs, including a collection of wax dinosaurs from the Sinclair exhibit.
3. On a detour south of Route 10 onto Highway 34, don't miss the Rudolph Grotto Gardens in the town of Rudolph. It's a full sculptural environment created by a Catholic priest with 26 shrines, gardens and a Wonder Cave. So many ways to use rocks. Who knew?
4. Steven's Point, back on Highway 10, has a quaint college-oriented downtown. Visit the Stevens Point Area Co-op to pick up some road food. And hey, you may get to spot writer Patrick Rothfuss on the street.
5. Just north of Oshkosh on Route 45 (detouring south of Route 10) is M. Schettl Freight Sales. It's an open yard of oddities, mostly large fiberglass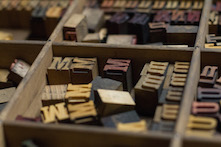 animals, but also metal things like flying saucers and found objects.
6. Hamilton Wood Type & Printing Museum, Two Rivers – You've arrived!
Taking the more southerly route on the way back west from the museum (start by going south on I-43):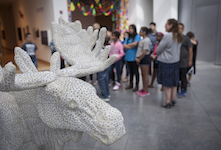 7. John Michael Kohler Arts Center in downtown Sheboygan, with the most beautiful public restrooms in the U.S., and a continually changing list of exhibits focused on outsider artists. Don't miss the outdoor sculpture garden. Good lunch specials in the café, too. (Tour of the Exhibition Super Natural at the John Michael Kohler Arts Center, June 2016)
8. Just off highway 23 going west is Fond du Lac and its Lakeside Park with its miniature train, an old-fashioned carousel and petting zoo. Also, visit the spot downtown at the corner of Main and Division Streets where temperance reformer Carrie Nation swung her famous ax to destroy a bar that sold demon rum.
9. Take Highway 151 out of Fond du Lac as far as Fall River, then Highway 16 to Portage. There you connect to Highway 33 to Baraboo, where it's worth a stop at Jen's Alpine Café & Soup Kitchen for lunch. Original wood booths, tin ceiling and good food.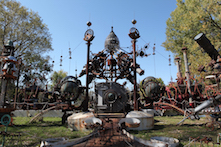 10. Take Highway 12 south a few miles to the Forevertron, Dr. Evermore's outdoor sculpture park. Working adjacent to a junkyard, his pieces range from small to spaceship-sized. Featuring a full marching band of birds made from old musical instruments and farm implements, plus the indescribable Forevertron, part Jules Verne, part hallucination. (Forevertron is the centerpiece sculpture in Dr. Forevermore's Park in Sumpter, Wisconsin. Photo by Tya Kottler.)
11. Head back north on Highway 12 to the International Crane Foundation just south of Lake Delton. See the restored prairie plantings and crane species from around the world.
12. As you drive up Highway 12 into Wisconsin Dells, watch for some of the great motel signs from the golden age of road trips. In the Downtown Dells is the H.H. Bennett photography studio, showcasing the lesser-known history of the Dells. See the original studio of the photographer who made the Dells a well-known tourist spot long before the invention of the waterslide.
13. Heading back to the cities on I-94, stop into the Hixton School House Antique Mall in Hixton. More than 80 dealers share the former k-12 brick school that was a key part of this small town. Shop on the stage, in the cafeteria and in all of the former classrooms. Nice collections of Americana, mid-century packaging and especially, signage.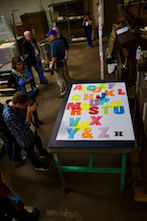 About Hamilton Wood Type & Printing Museum
The Hamilton Wood Type & Printing Museum is the only museum dedicated to wood type preservation, study, production and printing. With 1.5 million pieces of wood type and more than 1,000 styles and sizes of patterns, Hamilton's collection is one of the premier wood type collections in the world. In addition to wood type, the museum is home to an amazing array of advertising cuts from the 1930s through the 1970s, all of the equipment necessary to make wood type and print with it, as well as equipment used in the production of hot metal type, tools of the craft and rare type specimen catalogs.
Hamilton Wood Type began producing type in 1880 and within 20 years became the largest provider in the United States. Today, volunteers of the Two Rivers Historical Society preserve this legacy and host educational demonstrations, field trips, workshops and offer opportunities with this vast wood type collection.
Follow Hamilton Wood Type & Printing Museum on Twitter at @hamiltonwoodtyp, on Facebook, Flickr, Instagram or YouTube, or visit www.woodtype.org.
###
---
---
Story Resources
Museum friends proof type and share laughs during a recent workshop. Photo from Hamilton Wood Type & Printing Museum; by Jeff Dawson/Lester Public Library.
Freshly cut wood type makes up a fragment of the 1.5 million-piece collection of type in the museum. Photo from Hamilton Wood Type & Printing Museum; by Jeff Dawson/Lester Public Library.
In addition to cutting wood type Hamilton Manufacturing also made their mark on the printing industry by producing the ubiquitous California Job Case, the drawers that organized the letters by frequency of use. Photo from Hamilton Wood Type & Printing Museum; by Jeff Dawson/Lester Public Library.
Workshop attendees admire a freshly printed poster at the museum. Photo from Hamilton Wood Type & Printing Museum; by Jeff Dawson/Lester Public Library.
Request high res photographs for publication