Client News: Linetec introduces Brushed Stainless anodize finish
Posted on October 17th, 2017 by Heather West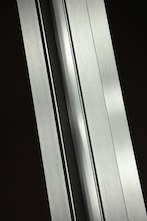 Linetec elevates the aesthetics of anodize to new heights with the addition of a proprietary Brushed Stainless finish. Helping enhance and protect architectural aluminum products, Linetec's Brushed Stainless anodize finish emulates the clean, bright surface that architects and specifiers find desirable in stainless steel. Brushed Stainless anodize creates a similar look on aluminum offering a more cost effective, lightweight option.
"Stainless steel has long been used in the architectural construction industry for its luster, richness and highly reflective appearance. This unique look could only be found in stainless steel until now, with the introduction of our Brushed Stainless anodized finish," says Jon Close, Linetec's vice president of sales and marketing.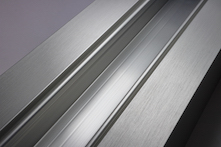 "Due to cost, stainless steel can be value-engineered out of a project. Our new Brushed Stainless finish offers the popular look of stainless steel at less cost and almost one-third the weight of actual steel, with greater fabrication flexibility and all the strengths of anodize," explains Close. Brushed Stainless anodize finish resists fingerprints and scratching, and requires minimal maintenance including in high-traffic areas offering excellent wear and abrasion resistance.
The brushed pattern simulates the appearance of stainless steel. Close adds, "Typically, anodize finishes have a limited color range from champagne to dark bronze and black. Linetec successfully challenged this accepted color palette with an exclusive copper anodize that does not patina. We expect a similar, enthusiastic reception from the architectural community for Brushed Stainless."
A high-performance anodized finish has an extremely long life span, has exceptional stability to ultraviolet rays, is non-hazardous and produces no harmful or dangerous by-products. In line with Linetec's core value of Environmental Responsibility, Linetec has implemented the newer electro-polishing technology to achieve the highly reflective aesthetic properties of stainless steel on aluminum. The traditional process used for brightening aluminum surfaces is known as bright dip. Bright dip emits toxic fumes, which can be hazardous to those working around it, and are extremely corrosive to the equipment and buildings it is housed within. In contrast, electro-polishing has no hazardous discharge.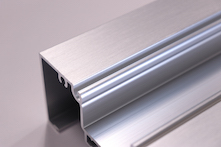 Linetec's anodize finishes meet the requirements of the American Architectural Manufacturers Association's stringent Class I specification standard, AAMA 611-14. The anodized aluminum resists the ravages of time, temperature, corrosion, humidity and warping, for a long product life cycle. Anodized aluminum may be specified with recycled content and is 100 percent recyclable. An inert material, it is not combustible and poses no health risks.
For more information about Linetec's new Brushed Stainless anodize and other finishing services, please call 888-717-1472, email sales@linetec.com or visit http://www.linetec.com.
Located in Wisconsin, Linetec serves customers across the country, finishing such products as aluminum windows, wall systems, doors, hardware and other architectural metal components, as well as automotive, marine and manufactured consumer goods. The company is a subsidiary of Apogee Enterprises, Inc. (NASDAQ: APOG).
Linetec is a member of the Aluminum Anodizers Council (AAC), the American Architectural Manufacturers Association (AAMA), the American Institute of Architects (AIA), the Association of Licensed Architects (ALA), the Glass Association of North America (GANA), the U.S. Green Building Council (USGBC) and the Window and Door Manufacturers Association (WDMA).
###
---
Filed under: FGIA, Linetec, Products
---
Story Resources
Photo 1
Photo 2
Photo 3
Word document
Request high res photographs for publication