Client News: "A-House" imaginative dragon-scale roof design realized with RHEINZINK zinc panels
Posted on September 7th, 2020 by Heather West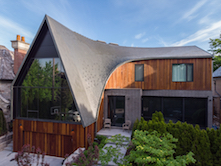 Inspired by the enduring, metal-paneled roof designs of Europe, homeowner Farhad Kazmian envisioned a curving zinc-tiled roof to crown his custom-built 5,300-square-foot, two-story residence. Known as "A-House" for its A-shaped soaring peak, the roof's undulating, draping, fantastical "dragon scale" pattern was brought to reality through the collaborative team of developer and builder ABOND Inc., architecture firm Bortolotto, fabricator and installer Alpro Sheet Metal Ltd., and zinc material supplier RHEINZINK America, Inc.
"A-House arrays its program around the front courtyard and plunge pool, empowering a swooping curve to define massing. Subsequently, the front face of the house is split in plan, providing a strong sense of depth to the front elevation, reminiscent of the styles traditional to the site," described Kazmian.
In addition to being A-House's owner, Kazmian also is the owner of ABOND. His goals in bringing this inventive residential design to life was both to enjoy it for himself and also to encourage prospective clients to be imaginative in creating their homes. Along with its unique presentation, the home's roof also exemplifies practical performance; the resilient, sustainable zinc roof can last for decades with minimal maintenance.
A-House combines both modern and traditional styles for an eclectic mix favored in the Toronto area. A palette of natural tones and materials – glass, wood, brick and zinc – entwine and complement each other into a seamless application.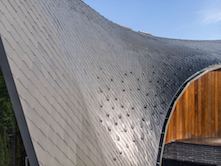 "The house pulls inspiration from materials that were found in the typologies of old within Lawrence Park," said Kazmian. "The house is comprised of wood construction, with moments of articulated heavy timber. To face the building, rift-cut ipe wood is reinterpreted from linear elements to a solid surface, expressing texture of the wood itself. The roof is skinned with zinc tiles perfectly suited to follow the curvaceous shape of structure and built to last."
For A-House, RHEINZINK zinc roof tiles create a timeless aesthetic with a natural patina and time-tested performance that can last generations. RHEINZINK prePATINA® graphite-grey are specially processed to accelerate the desired appearance of a pre-weathered patina. The zinc material's natural finish will continue to weather and patina over time.
All of RHEINZINK's products rely on high-grade zinc with trace elements of titanium and copper. RHEINZINK products meet the ASTM standard specification B69-16 Architectural Rolled Zinc Type 1 and Type 2. Currently, RHEINZINK is the only manufacturer with a Type 2 designation, which was received for its prePATINA graphite-grey alloy. RHEINZINK prePATINA products derive their color based on their alloy.
"The prePATINA graphite-grey has a greenish hue due to the zinc alloy's copper content that works beautifully with the wood siding on this home," said Richard Strickland, RHEINZINK's regional sales manager. "The Type 2 alloy is an excellent choice for a darker natural zinc color, especially on roofs. The zinc roof tile will constantly evolve in its depth, complexity and rich appearance and continue adding texture and character throughout the home's lifespan."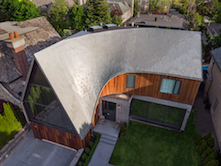 With a lifespan of more than 80 years, zinc's ability to create a protective patina through weathering contribute to RHEINZINK's self-healing, low-maintenance, corrosion-resistant performance. At the end of its useful life on the building's exterior, it remains 100% recyclable.
Arranging RHEINZINK's diamond flat lock roof tiles into the complicated pattern and shape involved complex geometry. "This double-convex roof concaves 90 degrees, while changing from a 28:12 pitch to a 5:12 pitch, which give it that curving and twisting look," explained Alex Prothmann, Alpro's CEO and chief estimator.
For three years, Prothmann and his team worked with Kazmian to accomplish the precise look and functionality of A-House's roof. He recounted, "ABOND originally sent us pictures of buildings in Europe asking if we could replicate the look of them. Farhad wanted to mimic the fish-scale pattern of their tiled roofs. It reminded us of the sort of roof pattern you might see on Game of Thrones, so we started calling it 'dragon scale.'"
He continued, "When Farhad came to me with the set of drawings in 2016, I could not wait to sink my teeth into it. There are not many roofs like it, not to mention contractors with the ability and know-how required to take on a project of this magnitude. I really enjoy my trade and have a knack for taking on jobs that other contractors won't even consider. Farhad and I clearly have this trait in common."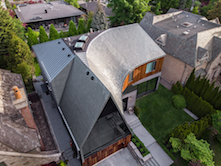 With more than 15 years of metal roofing experience, Prothmann began his career in the field and earned his certification of qualification as a journeyman roofer. After founding Alpro in 2016, Prothmann and ABOND have partnered on two previous projects. This is their first together using RHEINZINK.
"For Farhad's house, we worked on design and budget aspects for a about a year back and forth with ABOND. With RHEINZINK's material, we were able to design and fabricate a tile to their satisfaction," said Prothmann.
He added that RHEINZINK's name is widely known in the Toronto area as providing great quality zinc. "RHEINZINK is fantastic and really easy to deal with. Richard, our sales contact, is very responsive. We love the product itself; it looks beautiful. What makes it easy to work with is its unpainted, prepatina'd surfaces."
Even with premium zinc material, Alpro found fabrication to be one of its biggest challenges on A-House. Prothmann elaborated, "All of the tiles were custom sized and cut to achieve the radius look. They change in size as they go up the roof and turn 90 degrees as they go around the roof in a continuous pattern. ABOND was insistent on all the tile edges being factory cut; nothing is hand cut. This provides a much cleaner, better quality edge."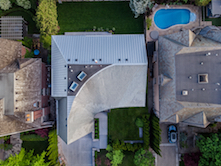 To deliver this exceptional quality, Alpro's in-house fabrication staff used a jig system and foot shear to custom fabricate RHEINZINK's 0.8mm prePATINA graphite-grey zinc. "Each tile has six cuts. There are approximately 20,000 tiles in the whole 3,500-square-foot roof. That's 200 days in the fabrication shop," calculated Prothmann.
Another challenge in A-House's roof design was how to direct the water off the roof, and to manage snow in the winter. "The gutter system is fairly typical, but the snow guard system is our own design. We used shorter pieces of zinc to follow the curve of the roof. It was approved almost instantly by ABOND because of its design and durability," Prothmann said proudly. "We used the same zinc materials to avoid reactions between dissimilar metals, as well as to provide an exact color match between the roof, the gutters and the snow guards."
After nearly two years of designing, engineering and planning the fabrication and installation, Prothmann said, "We got to the point of getting the zinc tiles on the roof. After all the upfront work, it was a pretty typical install."
Alpro began installation in January 2019 with concurrent, ongoing fabrication delivering materials in phases. In July 2019, the custom zinc-tiled roof was fully completed. The interior finishes on A-House were finalized in early 2020.
**
"A-House" Private Residence, North York, Toronto, Ontario, Canada
* Homeowner: Farhad Kazmian
* Developer, builder, interior and landscape designer: ABOND Inc.; Toronto; #abondhomes
* Architect: Bortolotto; Toronto; https://www.bortolotto.com
* Roof fabricator and installer: Alpro Sheet Metal Ltd.; Angus, Ontario; https://www.alprosheetmetal.com
* Roof zinc material supplier: RHEINZINK America, Inc.; Woburn, Massachusetts; https://www.rheinzink.us
* Photographer: Greg van Riel Photography
RHEINZINK America, Inc. led the introduction of architectural zinc in North America and continues to offer one of the industry's most reliable, trusted brands. Architects and contractors are supported by unparalleled customer service and technical assistance. RHEINZINK is readily available through an established network of qualified distributors and systems partners across the United States, Canada and Mexico. Ideal for roofing, façade, gutter and interior applications. RHEINZINK is environmentally friendly, 100 percent recyclable and offers a potential lifespan of 100 years or more.
For more information on RHEINZINK, call 781-729-0812 or visit https://www.rheinzink.us.
###
---
Filed under: Projects, RHEINZINK
---
Story Resources
Word document
Request high res photographs for publication