UC Davis Teaching & Learning Complex features Rockfon's ceiling systems; blends configurable, comfortable spaces with a modern appearance and sustainable strategies
Posted on March 23rd, 2023 by Heather West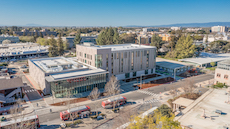 The University of California-Davis Teaching & Learning Complex (UC Davis TLC) adds the first general assignment classroom building on campus in more than 50 years, and one of the largest. The new four-story facility spans more than 101,000-square-foot providing approximately 2,000 students with 20+ modern learning spaces, a 426-seat auditorium, and multiple indoor and outdoor group study areas. The project blends the latest active learning techniques, interactive technologies, highly configurable spaces, a welcoming modern appearance and sustainable strategies aligned with LEED® v4 Gold criteria.
UC Davis guided the TLC's design-build with architects at SmithGroup leading the design and DPR Construction serving as the contractor. Meeting the project's aesthetic and sustainability goals and acoustic performance requirements, the design team specified Rockfon Alaska® acoustic stone wool ceiling panels.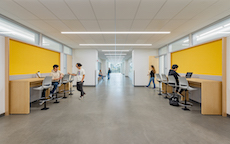 Complementing the TLC's modern appearance, Rockfon Alaska ceiling panels feature an elegant, smooth white surface with a large selection of sizes and edges. Supporting comfortable, accessible learning spaces, the panels achieve best-level sound absorption, demonstrated with a Noise Reduction Coefficient of up to 0.90 NRC.
For UC Davis TLC, Westside Building Material supplied DPR Construction with nearly 200,000 square feet of Rockfon Alaska acoustic stone wool ceiling panels, installed in a Chicago Metallic® 1200 Seismic 15/16-inch and 4000 Tempra™ 9/16-inch suspension systems.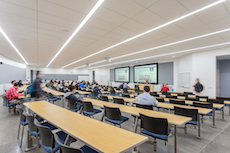 New Era for Learning
The new TLC facility replaced a collection of one-story modular structures built in the '60s and '70s that had been intended as temporary spaces and had surpassed their useful lifecycle. DPR Construction began work on site in July 2019 and the project was substantially completed in February 2022. Students, professors and staff began using the TLC's new classrooms in the spring, while interior build-out on the fourth floor continued through the summer.
Active Learning and Optimized Acoustics
Acoustics play an important role in active learning and innovative teaching practices in multifunctional spaces. In small group discussion, one-to-one conversations, short lectures, interactive technologies and experiential exercises, clear communication is key.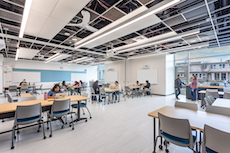 Full-height walls within the facility block noise from other rooms on the same floor, while floor slabs offer sound isolation between rooms above or below each other. The appropriate background sound level ensures that any sound that does get through is masked and not heard.
In the classrooms and informal collaborative areas inside UC Davis TLC, Rockfon Alaska acoustic stone wool ceiling panels absorb the sounds in a room, reducing noise and reverberation, while increasing acoustic comfort and privacy.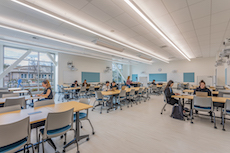 Visual Comfort and Light Reflectance
Along with acoustic comfort, visual comfort contributes to effective learning and teaching, and the health and well-being of the students and instructors. The TLC's design employs strategic use of exterior windows for outside views and daylighting.
Rockfon Alaska ceiling panels' bright white surface reflects 86 percent of light. The reflected light results in a softly diffused illumination, which reduces glare on white boards, computer screens and other educational interactive devices. Reducing glare also helps reduce eye strain and associated health issues, improves readability and by extension, enhances comprehension.
The stone wool ceiling panels' high light reflectance also optimize the TLC's natural light and LED lighting. Occupancy sensors and controls, further maximize the all-electric building's energy efficiency.
Safety and Sustainability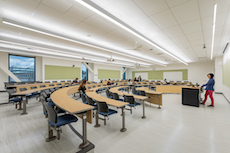 The TLC project adheres to the UC Davis Campus Design Guide and the University of California Seismic Safety Policy, which requires compliance with the provisions of the California Building Code (CBC) and anchorage for seismic resistance of nonstructural building elements.
Rockfon offers Chicago Metallic suspension systems suitable for fire-rated ceiling assemblies and for seismic design categories. These systems are third-party certified to meet ASTM standards and are listed in ICC Evaluation Services (ICC ES), reference report ESR-2631 for more information.
Rockfon Alaska ceiling panels are available with an Environmental Product Declaration (EPD), a Health Product Declaration (HPD) and a Declare Label.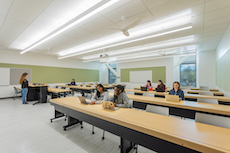 Chicago Metallic suspension systems can be specified with high recycled content and is 100 percent locally recyclable at the end of its use in the ceiling. Rockfon stone wool ceiling panels are made from natural basalt rock and recycled content. They inherently resist fire, water, moisture and do not support the growth of mold, mildew or other microorganisms – without the use of added chemicals.
Rockfon Alaska acoustic stone wool ceiling panels are UL® GREENGUARD® Gold low-VOC certified and meet the State of California's Department of Public Health Services Standard Practice for Specification Section 01350 for testing chemical emissions. Recognized by LEED, GREENGUARD Gold certified products support indoor air quality, contributing to healthy interior spaces.
Further assisting design teams in their thoughtful material selection and evaluation.
Energy Savings Yields More Study Space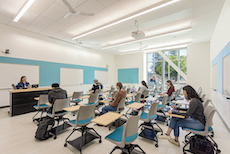 The University of California's Sustainable Practices Policy required the UC Davis TLC project to register with the U.S. Green Building Council as pursuing LEED v4 for New Construction, striving for Gold certification.
In addition to the benefits of Rockfon's natural stone wool ceiling panels, the building features such sustainable solutions as: east-west building orientation for better control of solar heat gain, efficient mechanical systems with radiant heating/cooling and displacement ventilation, high-performance building envelope, large-scale ceiling fans, and a rooftop solar array that doubles as shading canopy over an outdoor stepped gathering space. Students and visitors learn about these cutting-edge sustainability and carbon reduction features from the interactive building information monitor on the first floor.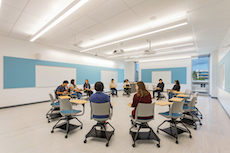 Energy modeling showed the TLC could outperform the university's sustainable policy targets for energy use intensity (EUI) and carbon emissions. Applying the savings gained through sustainable strategies, SmithGroup's design significantly expanded the study spaces without exceeding the project budget.
A Great Addition
TLC was envisioned as part of UC Davis' 2020 Initiative, a strategic plan to build on the institution's excellence, create a more diverse community of scholars, and achieve financial stability. The plan expanded enrollment by 5,000 students, along with corresponding increases in graduate students, faculty, staff and facilities. New classrooms, student services and research space were added to support the initiative and continued success.

University of California-Davis Teaching and Learning Complex (UC Davis TLC); 468 Hutchison Drive, Davis, California, 95618; https://cee.ucdavis.edu/tlc
• Architect: SmithGroup; Sacramento, California; https://www.smithgroup.com
• General contractor and ceiling systems installing contractor: DPR Construction; Sacramento, California; https://www.dpr.com
• Ceiling systems – distributor: Westside Building Material; Oakland, California; http://www.westsidebmc.com
• Ceiling systems – manufacturer: Rockfon; Chicago; https://www.rockfon.com
• Photographer: ©Emily Hagopian Photography, Inc.
• Videos:
2022 construction timelapse: https://app.oxblue.com/open/dpr/ucdavisteachingcomplex
2020 beam signing: https://www.youtube.com/watch?v=ascjPiT9yWY&t=1s
• Podcast on design-build process: https://www.arcat.com/podcast/15

About Rockfon
Rockfon is part of ROCKWOOL Group and is offering advanced acoustic ceilings and wall solutions to create beautiful, comfortable spaces.
At ROCKWOOL Group, we are committed to enriching the lives of everyone who experiences our product solutions. Our expertise is perfectly suited to tackle many of today's biggest sustainability and development challenges, from energy consumption and noise pollution to fire resilience, water scarcity and flooding. Our range of products reflects the diversity of the world's needs, while supporting our stakeholders in reducing their own carbon footprint.
Stone wool is a versatile material and forms the basis of all our businesses. With approximately 12,200 passionate colleagues in 40 countries, we are one of the world leaders in stone wool solutions, from building insulation to acoustic ceilings, external cladding systems to horticultural solutions, engineered fibers for industrial use to insulation for the process industry, and marine and offshore.
For more information, visit www.rockfon.com.
###
---
Filed under: Projects, Rockfon
---
Story Resources
Word document
Request high res photographs for publication