Association News: New skylight fall prevention informational web page available on AAMA website
Posted on May 31st, 2018
Information previously included as a fact sheet about avoiding skylight falls has been updated and posted as a web page by the American Architectural Manufacturers Association (AAMA). This safety-focused web page provides statistics about falls and offers helpful tips for avoiding them.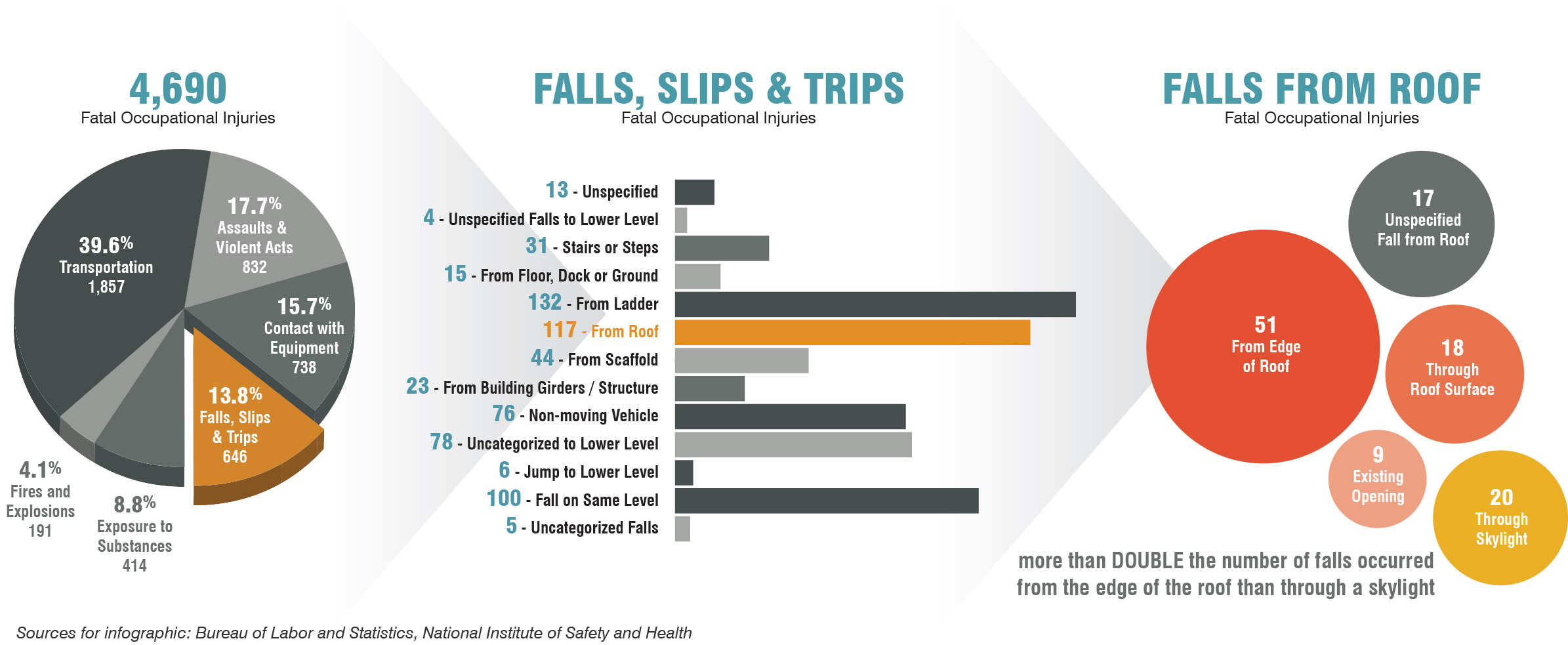 "The issue of fall protection is not a new one, and every fall fatality is avoidable," said John Westerfield (CrystaLite), chair of the Skylight Fall Protection Task Group, which led efforts to develop the web page. "Fall protection needs to be a continued focus for employers and building owners post-construction, as many non-construction related tradesmen often access flat roofs."
Currently, there is not a standardized method for testing a skylight for its ability to withstand an impact from a falling human. The U.S. Occupational Safety and Health Administration (OSHA), and similar authorities, have established regulations – but the skylight industry generally agrees that these regulations are vague and open to different interpretations. ASTM has drafted a standard and test method to validate a skylight's (or related product's) ability to support the effect of the impact from a large male, and the extensive review process is underway.
"The AAMA Skylight/Sloped Glazing Council has worked for over 30 years to establish performance standards and design guidelines in which safety has been an important consideration," Westerfield added. "Manufacturer members of the council have been proactive in improving the safety performance of their products."
Visit https://aamanet.org/PreventSkylightFalls to access this online resource.
About the Skylight/Sloped Glazing Council
AAMA's Skylight/Sloped Glazing Council is an information provider and promoter of unit skylights, sloped glazing, tubular daylighting devices and smoke vents in the fenestration and related building products industry. The Skylight/Sloped Glazing Council is committed to providing the latest information regarding the benefits of daylighting and the affect it has on energy savings.
More information about AAMA and its activities can be found via the AAMA website, https://aamanet.org.
AAMA is the source of performance standards, product certification and educational programs for the fenestration industry.SM
###
---
---
Story Resources
Infographic
Word document
Request high res photographs for publication