Client News: EXTECH's LIGHTWALL system transforms old power plant into Beloit College's new Powerhouse for student recreation
Posted on February 15th, 2021 by Heather West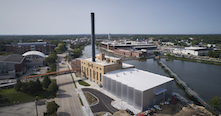 Opened in Aug. 2020, Beloit College transformed a decommissioned coal-burning power station located along Wisconsin's Rock River into a new field house focused on student recreation and wellness.
The former Blackhawk Generating Station was composed of three buildings constructed mostly of brick and concrete from 1908 to 1949. Studio Gang re-imagined the structure as a unified, 120,000-square-foot student union and recreation center. Now known as the Powerhouse, the $38 million renovated building is targeting LEED® Silver certification through the U.S. Green Building Council.
The field house features a light-filled, impact-resistant, high-performance, attractive facility. Helping bring this architectural vision to reality, EXTECH/Exterior Technologies, Inc. created a customized, translucent LIGHTWALL system to meet multiple aesthetic and performance requirements. Employing a collaborative approach, EXTECH's team worked closely with Studio Gang to develop the signature façade system.
Design-Assist Collaboration
"From the onset, Studio Gang's design included a translucent, daylit field house," said EXTECH's director of product application and development, Kevin Smith, RA. "Given our recent work with them on the translucent clerestories for Chicago's Eleanor Boathouse at Park 571, they turned to EXTECH for this project."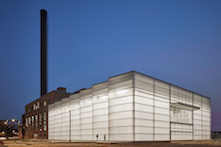 "Architects and owners are increasingly looking for a unique aesthetic for their projects," said EXTECH's general manager, Jim Leslie. "Given that the façade is the most public element, more than ever, designers are seeking distinctive forms and building elements of greater complexity that showcase their creativity."
EXTECH's involvement with Beloit College's Powerhouse project began during Studio Gang's schematic design phase in March 2017. Smith continued, "A collaborative design-assist approach places the manufacturer's materials and methods expertise within the designer's tool chest in the earliest phases of a project. This early and ongoing involvement increases the likelihood of success for the project because incremental design decisions are immediately communicated, monitored and evaluated by the manufacturer."
Leslie agreed and added, "Design-assist is EXTECH's specialty. As much as 50% of our projects have a design-assist component. As part of these design-assist projects, we are willing to start from our standard products and customize them. If necessary, we also can approach the project with a blank slate and design a new system from scratch that meets all of the project's goals."
"We don't simply walk into the architect's office and slap down a product catalog," Smith remarked. "To ensure the design intent is upheld, we listen. We listen, discuss, solidify and document the vision of the designer on behalf of its client to develop a system. This then becomes the measure of all follow-on decisions. This is done before discussions of cost and schedule. By doing this, the vision is maintained and executed within the project's budget and time allowances.
Customized, Translucent Façade System
For Beloit College's field house, EXTECH's LIGHTWALL 3440 interlocking wall system was customized to meet the field house's specific goals. "Our 3440 LIGHTWALL checked all their aesthetic and performance boxes," said Smith.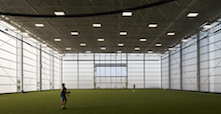 He elaborated, listing the LIGHTWALL system's many unique features:
• Continuous, 45-foot-tall, impact-resistant, translucent walls that are unbroken by vertical or horizontal framing
• Vertical, frameless, all-polycarbonate corners forming a sawtooth pattern that continued the rhythm of the vertical fenestrations of the brick power station
• Overhead door cladding that blended seamlessly with the façade
• A mounting system that minimized shadowing of the supporting horizontal steel structure
Smith continued, "We worked extensively with our polycarbonate supplier and the architectural team to develop a clear resin panel with matte surfaces that met their desired translucency and light diffusion."
Durable, Sustainable Performance
Beyond aesthetic goals, the Powerhouse had numerous performance-based requirements. Smith noted, "As a sports field house that includes baseball practice, impact resistance was a primary motive for the use of polycarbonate. The polycarbonate had to meet ASTM E-84 Class A flame/smoke as well as CC-1 flame spread. We met all air, water and thermal performance requirements."
Further contributing to the college's sustainable, LEED Silver building goals, the LIGHTWALL system's 40mm polycarbonate material and aluminum framing members were manufactured with recycled content.
The LIGHTWALL system's aluminum framing was finished in a Class I clear anodize. The most durable, scratch-resistant finish option for architectural aluminum products, it also is recognized for its environmental attributes. This no-VOC, low-emission finish supports healthy indoor air quality. Its durability also means that it requires minimal maintenance, reducing the need for repair, replacement and associated labor to care for it. At the end of its lifespan on the building, it can be locally recycled.
Regional Manufacturing and Installation
EXTECH engineers and manufactures its daylighting products at its facility in Pittsburgh to ensure performance as specified. Pennsylvania-based Richard Dembski Construction installed the project at the Wisconsin job site. Approximately 250 polycarbonate panels with aluminum perimeter framing enclose the 142-foot-long by 123-foot-wide by 45-foot-tall field house. Each panel was 19.68 inches wide by 1.5 inches thick.
Due to the Powerhouse's close proximity to the riverfront, the field crew worked off swing-stages suspended from the roof to install each panel. "Our system is tied back to their steel structure. Bent steel clips hold the translucent panels proud of the steel," explained Smith. "This allowed the interior light to bypass the supporting girt to minimize shadowing and to provide an even and more uniform surface glow."
At night, the soft glow of the illuminated Powerhouse serves as a beacon to students. During the day, the translucent building envelope maximizes and diffuses the natural lighting providing a comfortable interior experience.
Smart, Innovative Student Space
Inside, the Powerhouse features a 10,000-square-foot fitness center and 17,000-square-foot recreational gym, including a three-lane track and eight-lane competition pool, as well as spaces for conversation, collaboration and study. Additional amenities include a coffee shop, student lounges, club rooms, conference center and a lecture hall/theater. The field house opens to a town park and a public walkway connects the building to the river, the campus and the community.
The Powerhouse opened for the 2020-21 academic year, following protective practices with respect to the pandemic. Beloit College described the new facility as:
"A glorious 21st century use for a quintessentially 20th century facility, the building provides a spectacular space for the community to come together to work, train, eat and play.
It is a showcase of sustainable design and is housed in one of the state's most important historic buildings, tying the college and the city of Beloit closer to the Rock River.
The Powerhouse is a first-of-its-kind facility in the country – one that interlaces student life spaces with recreational facilities, further connects campus with the community and preserves history while looking to the future. Smart, innovative, historic, economical, unique."
**
Beloit College, The Powerhouse; 850 Pleasant St., Beloit, WI 53511; https://www.beloit.edu/offices/the-powerhouse
• Owner: Beloit College; Beloit, Wisconsin; https://www.beloit.edu
• Architect: Studio Gang; Chicago; https://studiogang.com
• Associate architect, electrical engineer, plumbing engineer, fire protection engineer, structural engineer, LEED consultant, commissioning consultant: Angus-Young Associates; Janesville, Wisconsin; http://www.angusyoung.com
• Construction manager: Corporate Contractors, Inc. (CCI, Inc.); Beloit, Wisconsin; https://www.cciwi.com
• Polycarbonate wall system – installing contractor: Richard Dembski Construction; Homestead, Pennsylvania
• Polycarbonate wall system – manufacturer: EXTECH/Exterior Technologies, Inc.; Pittsburgh; https://extechinc.com
• Photographer: Tom Harris
• Facility 3-D model – videos: https://www.beloit.edu/live/news/243-powerhouse-design-development-is-complete
• Facility tour – video: https://youtu.be/jC8N3io042k
EXTECH/Exterior Technologies, Inc.'s mission is to improve lives through innovation in daylighting systems, natural ventilation and other unique building envelope systems. Redefining the intersection between the natural and built environments, EXTECH manufactures and designs wall, window, skylight, canopy and custom façade systems.
Learn more by calling 800-500-8083, emailing info@extechinc.com or visiting https://extechinc.com.
###
---
Filed under: Projects
---
Story Resources
Word document
Request high res photographs for publication