Client News: Rockfon introduces Plenum Barrier Board
Posted on October 2nd, 2017 by Heather West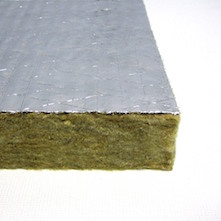 Rockfon introduces its new Plenum Barrier Board, created to improve sound isolation and privacy between rooms in commercial interiors. Combining plenum barriers with the proven performance of Rockfon ceiling systems, high sound isolation – tested up to STC 52 – can be achieved between adjacent rooms without needing to build bulkheads above demountable partition systems or extend the walls to full height.
"Rockfon® Plenum Barrier Board helps modern buildings comply with more stringent sound isolation requirements in acoustic standards," says Gary Madaras, Ph.D., Assoc. AIA, Rockfon's acoustics specialist. "Using ceilings alone with an open plenum above to block sound no longer meets occupants' expectations and does not comply with performance requirements in most U.S. and Canadian acoustic standards."
Used in either new construction or post-occupancy remediation, Rockfon Plenum Barrier Board is well suited for corporate settings between private offices and meeting rooms, schools and universities between classrooms, and health care facilities between patient, exam and treatment rooms.
Rockfon Plenum Barrier Board's foil-faced, stone wool barrier installs quickly above interior partitions. It is placed vertically in the plenum above the ceiling along interior walls that stop at ceiling height. The lightweight material is easy to cut and lift into position. It conforms around pipes and ducts, and expands and contracts with deflection.
In addition to its acoustic qualities, stone wool resists humidity, fire and water. It has no nutritional value and therefore, it provides no sustenance to harmful microorganisms or mold. These attributes and the advantages offered by Rockfon complete ceiling systems contribute to safe, healthy, sustainable, comfortable and beautiful buildings.
To learn more about Rockfon Plenum Barrier Board, acoustic stone wool ceiling products, metal ceilings and suspension systems, please visit www.rockfon.com. To learn more about optimized acoustics, please see www.optimizedacoustics.com. For additional support, please call 800-323-7164 or email cs@rockfon.com.
###
---
Filed under: Products, Rockfon
---
Story Resources
Photo: Rockfon Plenum Barrier Board
Word document
Request high res photographs for publication