Association News: Registration now open for FGIA Virtual Fall Conference
Posted on September 9th, 2020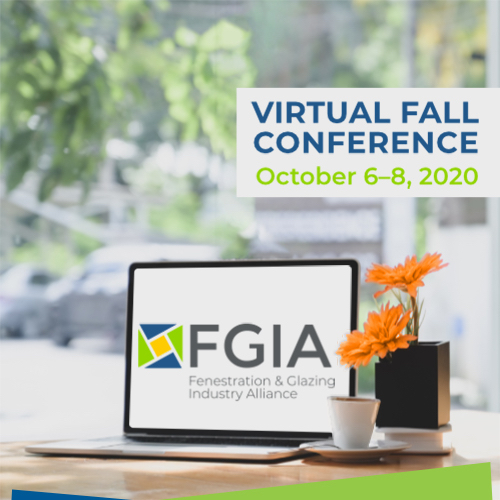 Registration for the Fenestration and Glazing Industry Alliance (FGIA) Virtual Fall Conference is now open, with early bird rates available through Sept. 28. The Virtual Fall Conference will take place Oct. 6-8 and will feature updated market size and economic forecasts, as well as residential and commercial construction trends resulting from the continually evolving COVID-19 pandemic. Additionally, FGIA has assembled extensive technical forums designed for interactivity and dynamic discussion reflective of the work being conducted by FGIA's many councils, committees and task groups including its regular codes and regulatory sessions.
"FGIA listened to feedback from those who were involved in our well-attended Virtual Summer Conference, and as a result, there will be more of an emphasis placed on technical content as well as the committee and task group work that moves the industry forward," said Janice Yglesias, FGIA Executive Director. "To accommodate this, dual tracks will be available at times, allowing participants a choice between different technical topics of interest."
Those participating in the Virtual Fall Conference will gain access to several speakers in across the board sessions including:
* A keynote address from Dr. Chris Kuehl (Armada Corporate Intelligence) on the post-COVID-19 economy, titled "Ten Patterns Likely to Change"
* An FGIA members-only market study update from researcher Nick Limb (DuckerFrontier)
* A presentation on safety awareness from Michael Cook (Oldcastle BuildingEnvelope)
* "Fenestrations of the Future – Today!" by Matt Risinger (Risinger Build)
* A U.S. and Canadian legislative and regulatory report, as well as a codes update from FGIA U.S. Codes & Regulatory Affairs Manager, Kathy Krafka Harkema, and FGIA Glass Products and Canadian Industry Affairs Director, Marg Webb
* A session titled, "How to Get People to do What You Want: Two Processes You Can Follow to Increase Your Influence with People" with Oak Moser (Coaching2Connect)
* Insight into commercial design trends, including exterior, fenestration and glazing requirements, offered by William Babbington (Studio NYL)
Participants will also have their choice of several themed happy hour events on Tuesday and Wednesday after the conclusion of the days' sessions.
Sponsorships for the conference are now available as well, although space is limited and opportunities close Sept. 21.
Early bird registration for members is $249. Non-member register is $499. For an additional fee of $249 (members) and $499 (non-members), an upgrade to the registration can be purchased that includes unlimited company employees participating from unlimited locations and/or connections.
For more information about FGIA and its activities, visit https://FGIAonline.org.
Your trusted industry resource, setting the standards for fenestration and glazing.
###
---
---
Story Resources
Image
Word document
Request high res photographs for publication